Inducted on November 13, 2003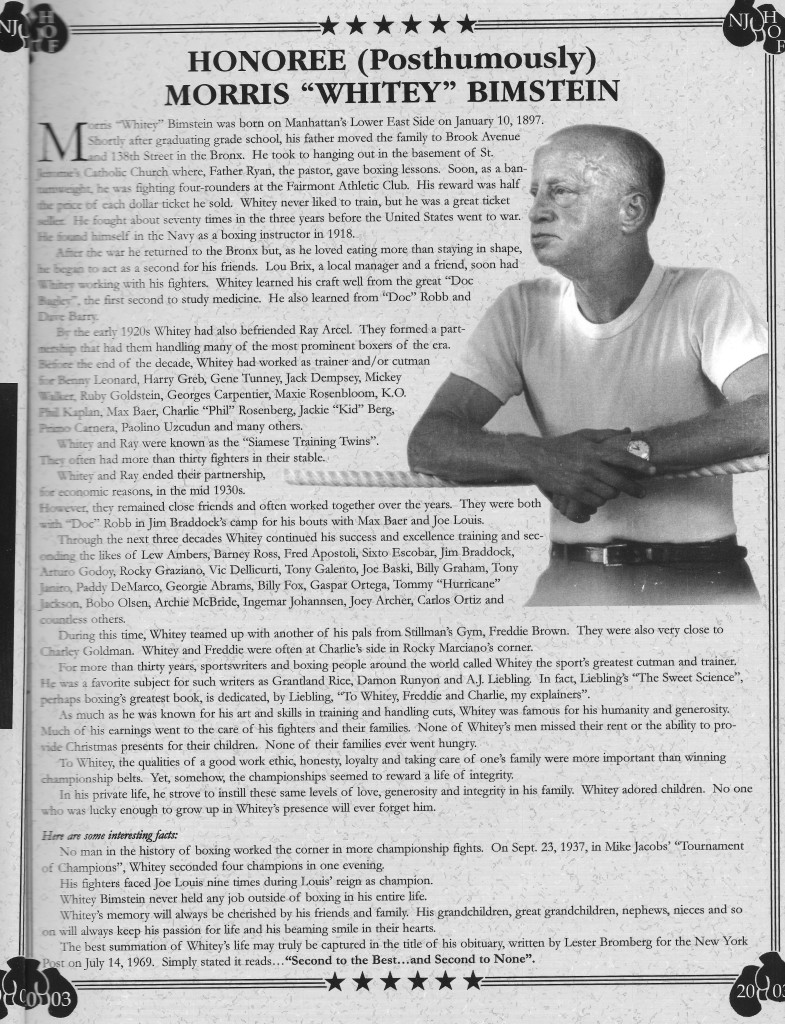 Morris "Whitey" Bimstein was born on Manhattan's Lower East Side on January 10, 1897. Shortly after graduating grade school, his father moved the family to Brook Avenue and 138th Street in the Bronx. He took to hanging out in the basement of St. Jerome's Catholic Church where, Father Ryan, the pastor, gave boxing lessons. Soon, as a bantamweight, he was fighting four-rounders at the Fairmont Athletic Club. His reward was half the price of each dollar ticket he sold. Whitey never liked to train, but he was a great ticket seller. He fought about seventy times in the three years before the United States went to war. He found himself in the Navy as a boxing instructor in 1918.
After the war he returned to the Bronx but, as he loved eating more than staying in shape, he began to act as a second for his friends. Lou Brix, a local manager and a friend, soon had Whitey working with his fighters. Whitey learned his craft well from the great "Doc Bagley", the first second to study medicine. He also learned from "Doc" Robb and Dave Barry.
By the early 1920s Whitey had also befriended Ray Arcel. They formed a partnership that had them handling many of the most prominent boxers of the era. Before the end of the decade, Whitey had worked as trainer and/or cutman for Benny Leonard, Harry Greb, Gene Tunney, Jack Dempsey, Mickey Walker, Ruby Goldstein, Georges Carpentier, Maxie Rosenbloom, K.O. Phil Kaplan, Max Baer, Charlie "Phil" Rosenberg, Jackie "Kid" Berg, Primo Carnera, Paolino Uzcudun and many others.
Whitey and Ray were known as the "Siamese Training Twins". They often had more than thirty fighters in their stable.
Whitey and Ray ended their partnership, for economic reasons, in the mid 1930s. However, they remained close friends and often worked together over the years. They were both with "Doc" Robb in Jim Braddock's camp for his bouts with Max Baer and Joe Louis.
Through the next three decades Whitey continued his success and excellence training and seconding the likes of Lew Ambers, Barney Ross, Fred Apostoli, Sixto Escobar, Jim Braddock, Arturo Godoy, Rocky Graziano, Vic Dellicurti, Tony Galento, Joe Baski, Billy Graham, Tony Janiro, Paddy DeMarco, Georgie Abrams, Billy Fox, Gaspar Ortega, Tommy "Hurricane" Jackson, Bobo Olsen, Archie McBride, Ingemar Johannsen, Joey Archer, Carlos Ortiz and countless others.
During this time, Whitey teamed up with another of his pals from Stillman's Gym, Freddie Brown. They were also very close to Charley Goldman. Whitey and Freddie were often at Charlie's side in Rocky Marciano's corner.
For more than thirty years, sportswriters and boxing people around the world called Whitey the sport's greatest cutman and trainer. He was a favorite subject for such writers as Grantland Rice, Damon Runyon and A.J. Liebling. In fact, Liebling's "The Sweet Science", perhaps boxing's greatest book, is dedicated, by Liebling, "To Whitey, Freddie and Charlie, my explainers".
As much as he was known for his art and skills in training and handling cuts, Whitey was famous for his humanity and generosity. Much of his earnings went to the care of his fighters and their families. None of Whitey's men missed their rent or the ability to provide Christmas presents for their children. None of their families ever went hungry.
To Whitey, the qualities of a good work ethic, honesty, loyalty and taking care of one's family were more important than winning championship belts. Yet, somehow, the championships seemed to reward a life of integrity.
In his private life, he strove to instill these same levels of love, generosity and integrity in his family. Whitey adored children. No one who was lucky enough to grow up in Whitey's presence will ever forget him.
Here are some interesting facts:
No man in the history of boxing worked the corner in more championship fights. On Sept. 23, 1937, in Mike Jacobs' "Tournament of Champions", Whitey seconded four champions in one evening.
His fighters faced Joe Louis nine times during Louis' reign as champion.
Whitey Bimstein never held any job outside of boxing in his entire life.
Whitey's memory will always be cherished by his friends and family. His grandchildren, great grandchildren, nephews, nieces and so on will always keep his passion for life and his beaming smile in their hearts.
The best summation of Whitey's life may truly be captured in the title of his obituary, written by Lester Bromberg for the New York Post on July 14, 1969. Simply stated it reads…"Second to the Best…and Second to None".