Inducted on November 12, 2009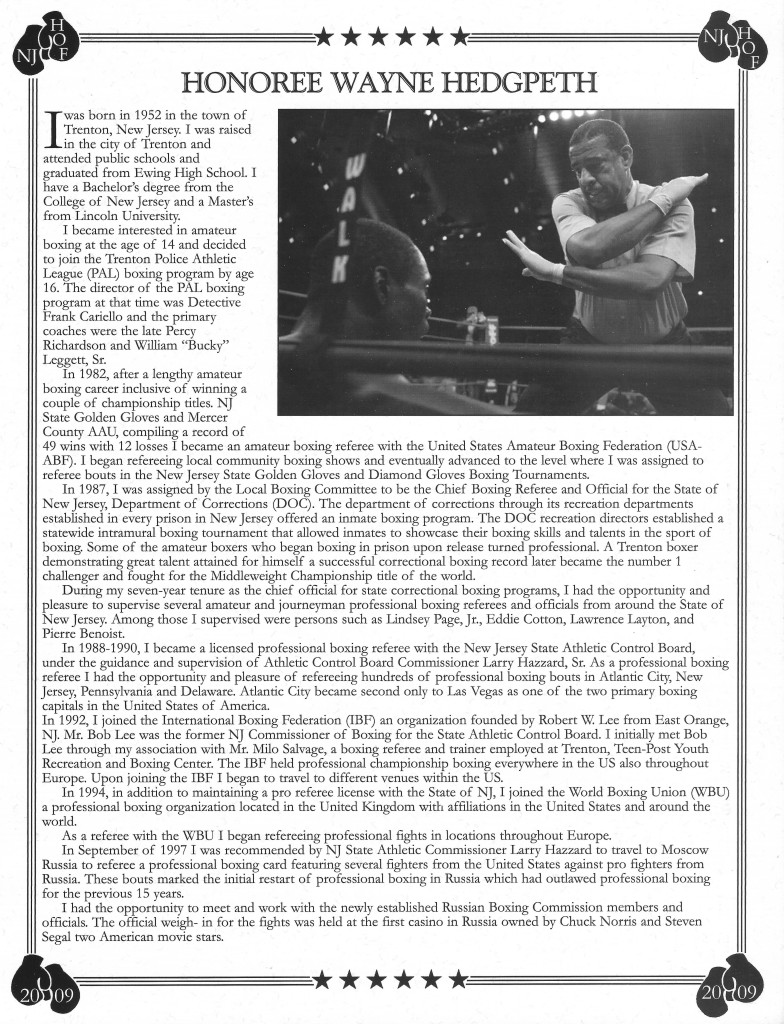 I was born in 1952 in the town of Trenton, New Jersey. I was raised in the city of Trenton and attended public schools and graduated from Ewing High School. I have a Bachelor's degree from the College of New Jersey and a Master's from Lincoln University.
I became interested in amateur boxing at the age of 14 and decided to join the Trenton Police Athletic League (PAL) boxing program by age 16.
The director of the PAL boxing program at that time was Detective Frank Cariello and the primary coaches were the late Percy Richardson and William "Bucky" Leggett, Sr.
In 1982, after a lengthy amateur boxing career inclusive of winning a couple of championship titles. NJ State Golden Gloves and Mercer County AAU, compiling a record of 49 wins with 12 losses I became an amateur boxing referee with the United States Amateur Boxing Federation (USA-ABF). I began refereeing local community boxing shows and eventually advanced to the level where I was assigned to referee bouts in the New Jersey State Golden Gloves and Diamond Gloves Boxing Tournaments.
In 1987, I was assigned by the Local Boxing Committee to be the Chief Boxing Referee and Official for the State of New Jersey, Department of Corrections (DOC). The department of corrections through its recreation departments established in every prison in New Jersey offered an inmate boxing program. The DOC recreation directors established a statewide intramural boxing tournament that allowed inmates to showcase their boxing skills and talents in the sport of boxing. Some of the amateur boxers who began boxing in prison upon release turned professional. A Trenton boxer demonstrating great talent attained for himself a successful correctional boxing record later became the number 1 challenger and fought for the Middleweight Championship title of the world.
During my seven-year tenure as the chief official for state correctional boxing programs, I had the opportunity and pleasure to supervise several amateur and journeyman professional boxing referees and officials from around the State of New Jersey. Among those I supervised were persons such as Lindsey Page, Jr., Eddie Cotton, Lawrence Layton, and Pierre Benoist.
In 1988-1990, I became a licensed professional boxing referee with the New Jersey State Athletic Control Board, under the guidance and supervision of Athletic Control Board Commissioner Larry Hazzard, Sr. As a professional boxing referee I had the opportunity and pleasure of refereeing hundreds of professional boxing bouts in Atlantic City, New Jersey, Pennsylvania and Delaware. Atlantic City became second only to Las Vegas as one of the two primary boxing capitals in the United States of America.
In 1992, I joined the International Boxing Federation (IBF) an organization founded by Robert W. Lee from East Orange, NJ. Mr. Bob Lee was the former NJ Commissioner of Boxing for the State Athletic Control Board. I initially met Bob Lee through my association with Mr. Milo Salvage, a boxing referee and trainer employed at Trenton, Teen-Post Youth Recreation and Boxing Center. The IBF held professional championship boxing everywhere in the US also throughout Europe. Upon joining the IBF I began to travel to different venues within the US.
In 1994, in addition to maintaining a pro referee license with the State of NJ, I joined the World Boxing Union (WBU) a professional boxing organization located in the United Kingdom with affiliations in the United States and around the world.
As a referee with the WBU I began refereeing professional fights in locations throughout Europe.
In September of 1997 I was recommended by NJ State Athletic Commissioner Larry Hazzard to travel to Moscow, Russiato referee a professional boxing card featuring several fighters from the United States against pro fighters from Russia. These bouts marked the initial restart of professional boxing in Russia which had outlawed professional boxing for the previous 15 years.
I had the opportunity to meet and work with the newly established Russian Boxing Commission members and officials. The official weigh-in for the fights was held at the first casino in Russia owned by Chuck Norris and Steven Segal two American movie stars.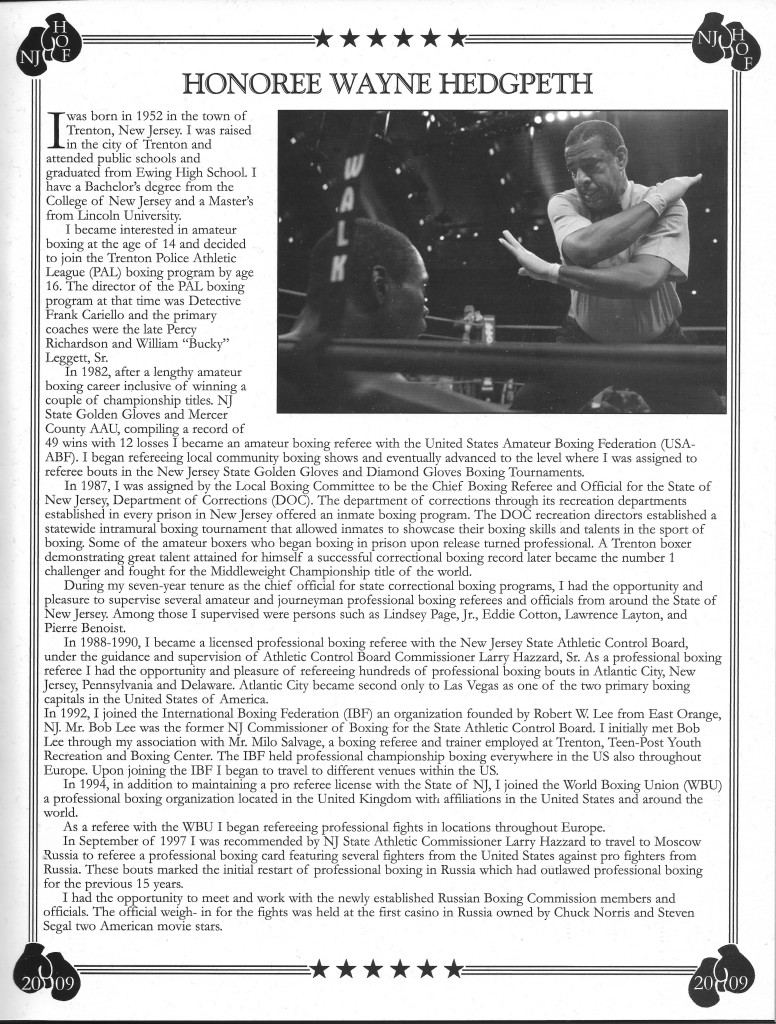 Name: Wayne Hedgepeth
Birthplace: New Jersey, USA
Hometown: California, USA

Judging Record: click
Refereeing Record: click
Wayne Hedgepeth is an American referee in the state of California.
Notable Fights Refereed