Inducted on November 11, 2010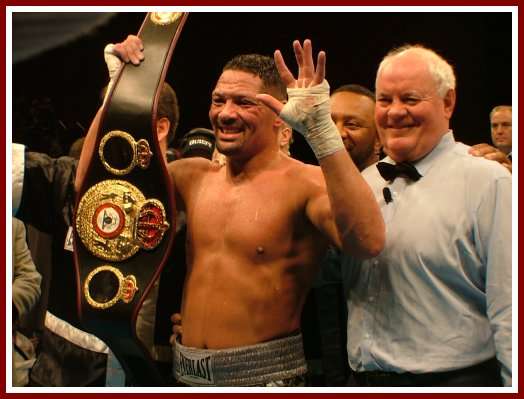 Virgil Eugene Hill (born January 18, 1964 in Clinton, Missouri) was a Joplin, Missouri fighter, partly of Native American heritage, who forged a solid connection between the State of North Dakota and the sport of boxing.
In 1984 Hill, then age 20, won a silver medal in the 1984 Summer Olympics representing the United States as a Middleweight in Los Angeles in a close decision loss in the 165-lb. final (the USA's only loss on decision in Los Angeles). In addition, Hill was the 1984 National Golden Gloves champion at Middleweight.
After going eighteen straight fights without a loss to start his pro career, 'Quicksilver' (his nickname) was a challenger to Leslie Stewart of Trinidad for the latter's WBA light heavyweight title in September 1987 in Atlantic City. After an even match in the early going, Hill floored the defending title holder twice in the fourth round – first with a left hook and the second time with an uppercut – to take the title on a TKO win.
A series of ten successful defenses followed, mostly in his adopted hometown of Bismarck, ND. Offers were being made for Hill to fight in Las Vegas and other cities, but Virgil chose the place of his 'roots' and 'hometown fans' to be the place of the majority of his defenses. Opponents in his first run as champion included Bobby Czyz, James Kinchen, Joe Lasisi, and Ramzi Hassan. Then superstar Thomas Hearns would meet – and defeat – Hill in Las Vegas by decision in June 1991 to end Hill's first reign as champion.
After a couple of fights over the next year or so, it was Hill pitted against 1984 Olympic teammate Frank Tate in September 1992 for the vacant WBA 175-lb. title (the same title that Hearns won from Hill, but which was vacated after Iran Barkley dethroned Hearns afterward). It was a 'grudge match' between the two, and Hill won the decision (and the title) on his home turf of Bismarck. Another string of ten defenses would follow, including a rematch with Tate, a close decision over Lou Del Valle (who almost upset Hill), and a decision over IBF title holder Henry Maske to unify the belts, before German/Polish fighter and WBO title holder Dariusz Michalczewski scored a unanimous decision over Hill in June 1997 to unify the WBA, WBO and IBF titles.
Hill continued to fight, including against Roy Jones Jr. the following year, and was stopped in four. It was then on to the cruiserweights for the aging Hill, and he won a title at age 36 – the WBA cruiserweight title – by knocking down Fabrice Tiozzo three times to win the title in Villeurbanne, France by TKO in the first. He made his first defense, also in France, against Jean-Marc Mormeck, but would lose both match and title on cuts after nine rounds. He then decisioned Donny Lalonde in July 2003 in a North Dakota-Manitoba 'border fight', but later lost a disputed decision to Mormeck in a title rematch in South Africa in May 2004.
On Saturday January 27, 2006 Virgil Hill defeated previously undefeated Russian cruiserweight Valery Brudov by unanimous decision to win the 'regular' WBA World Cruiserweight championship. Despite being cut on the face in the sixth round, Hill was able to out hustle and out work his much younger opponent to capture his fifth world title at the age of 42.
His next to last fight was held in Germany on March 31, 2007. He faced Henry Maske, whom Hill had beaten in 1996 to unify the WBA and IBF light heavyweight titles. Maske had announced his retirement prior to that fight and was frustrated to end his career with a loss, the only loss in his professional career. When he heard about Hill capturing the world title again at the age of 42, he decided to challenge him for a rematch. Hill lost this fight after 12 rounds, making Maske's unforeseen comeback possible.
Boxing Record on BoxRec – Virgil Hill
Trainers: Freddie Roach, Mike Hall; Eddie Futch
Manager: Bill Sorenson
Amateur Career
1984 National Golden Gloves Middleweight Champion
Won the Silver Medal, while representing the United States as a Middleweight at the 1984 Olympic Games. His results were:
Defeated Edward Neblett (Barbados) RSC 2
Defeated Brian Schumacher (Great Britian) 5-0
Defeated Damir Skaro (Yugoslavia) 4-1
Defeated Mohamed Zaoui (Algeria) 5-0
Lost to Shin Joon-Sup (South Korea) 2-3
Failed Drug Tests
On July 17th, 2002, France's Council to Prevent and Fight Doping announced that Hill tested positive for two banned substances in his post-fight drug test following his first meeting with Jean-Marc Mormeck. According the the announcement, the tests revealed traces of a banned diuretic and a drug used to treat inflammation. Hill did not appear at the hearing or contest the results and was subsequently banned for two years from fighting in France. [2]
Hill also allegedly failed a 2007 post-fight drug test following his loss to Firat Arslan.
Other
Has a record of 24-5 (7 KO) in World Title fights.
Has a record of 11-7 (3 KO) against former or current world titleists.
Scored victories over Marvin Camel, Leslie Stewart, Bobby Czyz, Frank Tate (twice), Adolpho Washington, Fabrice Tiozzo (twice), Lou Del Valle, Henry Maske, and Donny Lalonde.
Named The Ring magazine Comeback of the Year fighter for 2000.
Hill's ex-wife, Denean Howard-Hill was an Olympic 4 x 400 meters relay team medalist, winning the Gold in 1984, and Silver in 1988.