Inducted on October 14, 1979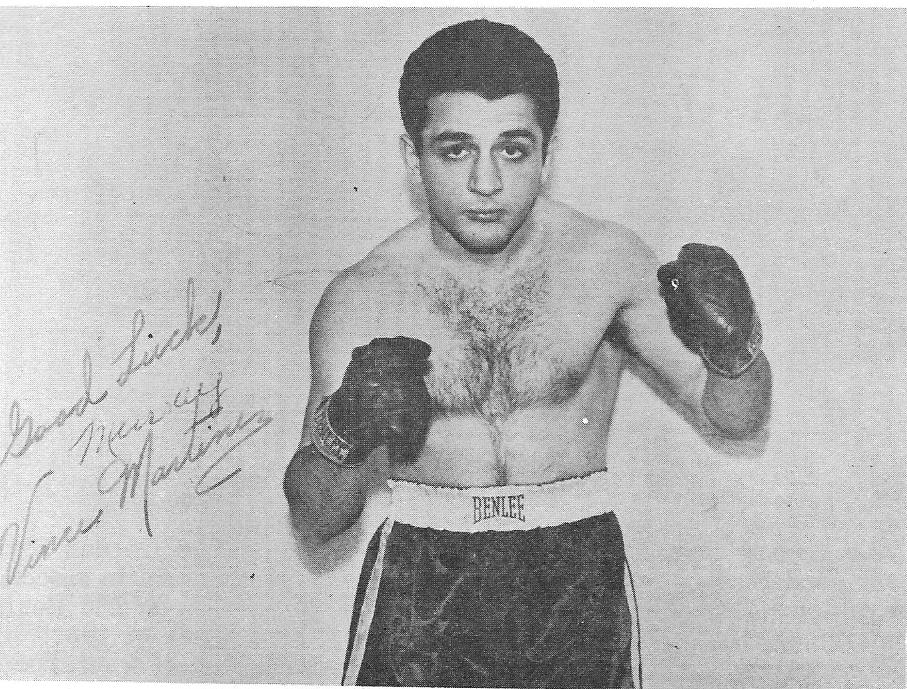 Vince Martinez was born On May 5, 1929 in Mt. Kisco, New York.
At a young age, the Martinez family moved to Paterson, New Jersey. He attended Central High School in Paterson, but began boxing at the Newark Boy's Club. Vince became an accomplished trumpet player and a draftsman for Westinghouse in Bloomfield, N.J. But it was boxing that Martinez excelled at, as he turned into the finest boxer from New Jersey in the last thirty years.
Vince was an outstanding amateur, winning the finals of the 1948 Paterson and Passaic Diamond Gloves. He joined the New Jersey National Guard and rose to the rank of sergeant. He turned pro in 1949 under the management of Bill Daly and Tex Pelte, and trainer "Shine" Fiorita. By 1952, he was going great guns and was voted rookie of the year. In addition to his fine defensive boxing ability, he had developed a hard right hand knockout punch. That power won him knockouts over Don Williams, Johnny DeFazio, Tony Pellone, Sal DiMartino, Chuck Davey, Carey Mace, Rocky Casillo, Peter Mueller, Stefan Redl and Armand Savoie. In addition, he also defeated Gil Turner, Kid Gavilan (twice), Chico Vejar, Art Aragon, Lester Felton, Chico Varona, Bob Provizzi and Sammy J uliani.
Vince boxed for the welterweight title, only to lose via a 4th round KO to Virgil Akins. It was a heartbreaking loss for him and meant the end of his title hopes. His career came to end in the early 1960's. In all, he had 77 bouts, winning 36 by knockout, 32 by decision, losing 7 decisions, and 2 by knockout. He never boxed a draw, never committed a foul, and was never warned by a referee. A record to be proud of.
Vince is married, resides in Hollywood, Florida, with his wife and four children. He has three brothers, Phil, Anthony and Johnny. His father, Anthony, also resides in Florida.
Martinez is a member of NVBA Ring No. 7 in Miami, Florida. He attended last year's VBA convention at the Eden Roc in Miami Beach. A welcome and deserving entrant into the New Jersey Boxing Hall of Fame is Vince Martinez, a true credit to the game.
Boxing Record: click