Inducted on November 10, 1989

He is the father of the Atlanta Hawks' coach and is an erstwhile middleweight boxer once known as "The Hackensack Hurricane."
I was born in Brooklyn, Oct. 16, 1916. I thought I was too smart and I quit school before I was 16, after one year of high school. I was one of the fellas who stayed in the back of the room all the time, you know, listened to everybody else talk. Shy is what I was. The good-looking guys got the girls and I never fooled with girls because I felt I never had a chance, so let it go at that The teachers kept failing me in English. They want~d me to do oral reports, but I shook In fronta class. In 10th grade, they took me' to the principal's office and I said "If you gonna fail me, I'm not ,oming to school no more." So I quit I guess the principal, he could care less, too. My fatha saw m~ at home and said, like an italian, '! What are you do?" I said, '1 quit school." He said, "Get a job,"
: I worked at my wife's father's supermarket, Costa's – of course, she wasn't my wife back then – and later I went to work at the Packard-Bamberger supermarket. My job there was lugging. I was seen carrying 150-pound boxes of potatoes and 150-pound boxes of lettuce and couple guys say, "Hey, Vince, you're so strong, why don't you fight zi. an amateur?" That's. how. I got started in boxing, see. First time In the ring, guy hits me in the mouth and I thought all my teeth would fall out. I con tell you I later beat this same man twice in championship fights. Benny Rausar was his name, just died a couple months ago, He became captain of the Hackensack police department and lie was a close friend of the famous tap dancer from Maywood, N.J., Hal Leroy. I knew Hal Leroy! too, because he used to buy all his suits In Hackensack and would stop in our store. Very famous man.
My first real amateur fight?
Very simple. I beat my man. Knocked him out and I went on to win the championship in 'thirty-six .. or, 'thirty-seven, I came back as an open-class fighter, a middleweight. Always a middleweight. I'm 5-foot-7, l weighed 156 pounds, Most of my opponents were 5-10 or 6-foot, but I never had no trouble with 'em. I was a hard-knock, a real fighter, that's according to them, I was a southpaw and I continued to knock my opponents out. Whoever I came across seemed pretty easy for me. Won the 'thirty-six Diamond Gloves sponsored by the Bergen Evening Record newspaper and went to Paterson, N.J. to fight their team sponsored by the Paterson Evening News, Three years in a row, Bergen and Passaic champion. I went to Pennsylvania and Buffalo then, appearing on amateur fights. I won the New York Journal-American newspaper title in 'thirty-eight, too. Fought that in Detroit and Joe Louis was the referee. I idolized him, though he certainly didn't idolize me.
, I was a mauler, Jack Dempsey style. You know, bob and weave. Rough. I didn't fear nobody. I fought about 100 fights as an amateur and a hundred more as a pro. Never got knocked of my feet. Won about 95 percent of em. Got some buckles I won at home in a cigar' box. They're for Michael. They got, diamonds in 'em, too .
When I got married  Nov. 16, 1941, I told my father I wouldn't fight no more. I had been the seventh-ranked middleweight by the New Jersey boxing commissioner. My father was old-fashioned, He loved prizefighting, like the days of the. Romans. He had predicted, "You gonna be champion of world." He thought me quitting boxing was the biggest mistake of my life and we didn't talk for about two years after I told him I was quittin'.: He was mad, but it was me that didn't talk to him. I made the mistake doing that. But I told him, "I can't fight no more if my wife doesn't want me to."
I probably coulda been champ, too. But I couldn't get fights. They'd ignore "me, We offered to fight Rocky Graziano once when we were both training at Stillman's Gym in New York My manager talked to Graziano's manager, Frankie Carbo, the famous racketeer. Carbo's dead now. Little guy, wore spats. Got a newspaper clip about him at home somewhere. But Frankie Carbo said, "Vince will never get in the same ring with Graziano.' That's because I was a spoil'a. I boxed Milio Bettina and Gus Lesnevich – lightheavy cham peens of the world – in the gym and 1 did pretty good, too. This was in about 1940. So I got married and I stopped fighting.
I got inducted into the service on Dec. 11, 1942 and spent 2-1/2 years In Europe. I was in a hospital unit, serving the air force in England, germany and then in France, out of a chateau. J was a mess sergeant in the kitchen. Got some medals and' put 'em in the cigar box with my boxing buckles. They're for Michael, too. I wrote my wife every day from Europe. Mighta been the same line, .~. every letter: "I love you very much. XXXXX." Her letters were the same, too. What do I know to write about love?
When I came back home in 1946, I weighed 245 pounds. I gained about 80 pounds in the service. I worked in the kitchen, so what do you want? I told my wife, "I wanna make a comeback." and she said, "It that's what you want.
My father was happy. "That's a'nice," he said. It took me about two-three 'My son is gonna win the title months to lose the weight. Did my four miles of roadwork every day. Shadow-boxed for two rounds and sparred for two-three rounds. I fought about 12 more fights after that and won them all. Beat the Canadian champ by the name of Solly Salter and I fought an Irishman, local guy named Jim Mulligan, I think his name was. I was fighting at the Grotto Auditorium in Jersey City making about $350 a fight.
Then in 1946, Marie got pregnant with Michael. My wife had complications during the pregnancy – she's such a little girl, 96 pounds and she needed blood transfusions. I knew the baby would be a boy. We were gonna name him Michael for a boy and Michelle for a girl – for my father, the greatest man I ever knew. The doctor said after Michael was born that Marie shouldn't have any more babies, you know. So we didn't.
That's when I gave up fighting for good. After Michael was born, my wife says, "I can't take no more.
I'm suffering with you fighting." I was ready for a championship fight,' I think, but I quit for my son. And for my wife, of course. I mean she's the boss, right?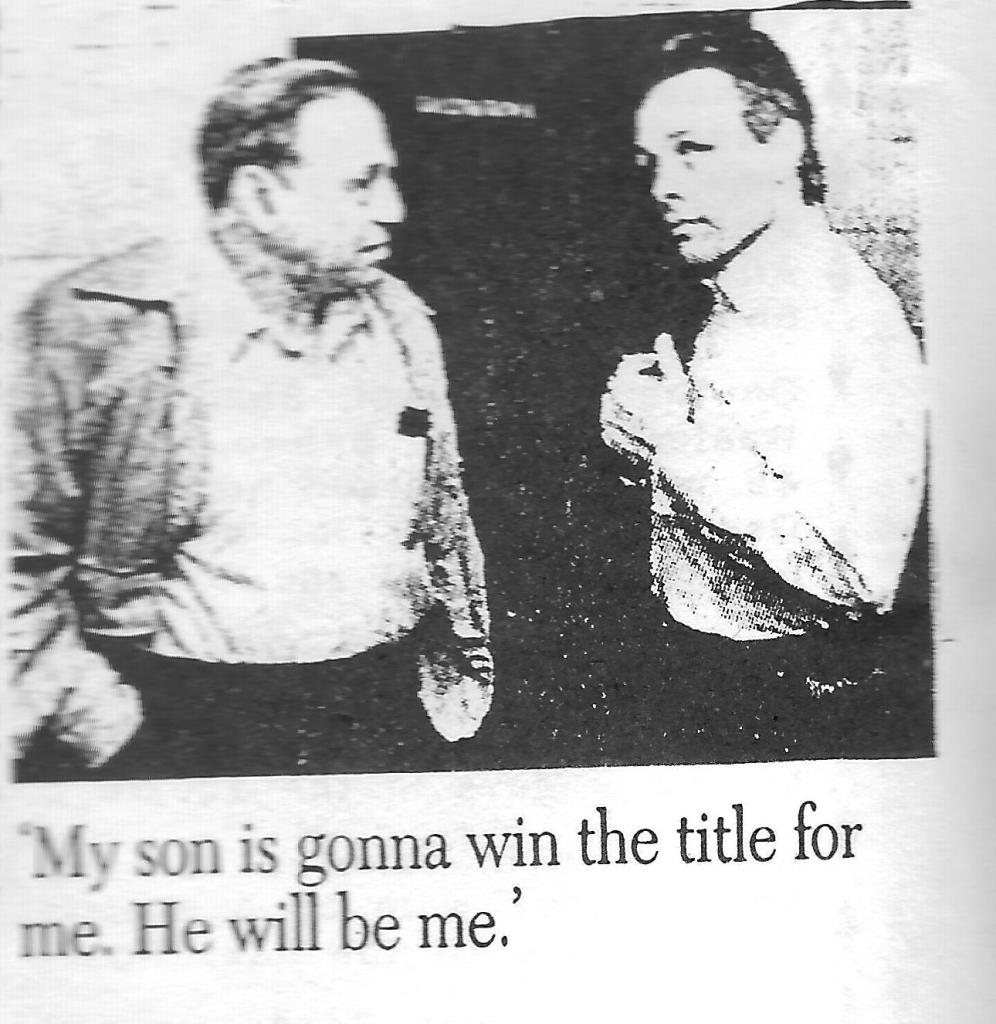 In 1939 Vince Fratello won the New York Golden Gloves Tournament of Champions at middleweight.
Boxing Record: click