Inducted on November 13, 2003
Fellow Inductees:
Let me start by saying how excited and very proud to be inducted into the New Jersey Boxing Hall of Fame. I am also extremely honored to be celebrated with such distinguished other inductees.
I began boxing at the age of fourteen in Philadelphia, PA, at a local Police Athletic League, and I loved it ever since. My amateur career record was 56 wins and 6 losses. Also, during my amateur career I won a Golden Gloves title and I made the All Army Boxing team while I was in the service. I turned pro in 1980, winning a six-round fight against an opponent with a 6-0 record. My third fight I took on the night before the fight in Washington, DC. Thank God I was in shape because this fight, in my mind, was the fight that convinced me that I had the talent to compete at the next level.
As a professional I won two boxing titles. The first one in September 1982, I defeated Al "Earthquake" Carter in a hard 12-round fight, winning the ESPN Lightweight Championship. Then in June 1985 I won the United States Boxing Association Championship by defeating former IBF Lightweight Champion Charlie "Choo Choo" Brown. This fight was voted Fight of the Year by the USBA Committee.
Although no title was at stake, I feel my biggest fight was October 8, 1983 against No. 1 Lightweight contender Robin Blake. This fight put me in the top 10 world rankings. After getting in the top 10 rankings and working my way up to be the number 1 contender in the WBA and IBF, it took two years to get a championship bout against WBA Lightweight Champion Livingstone Bramble.
My last fight was in 1998. I retired shortly after from the sport I truly love. At the end, my record reflected 22 wins with 2 losses. I am proud of both my amateur and professional accomplishments. I continued to love the sport and remain a loyal supporter and fan.
Personally, I have a rich and fulfilling career as a Philadelphia Police Officer assigned to the Police Athletic League (PAL). I am the Director at the PAL Center in North Philadelphia, working with children between the ages of 8 and 18 years old. Some of these inner city youths have social and emotional predicaments. This, to me, is just a bigger challenge than anything that I have done in life. My ultimate hope is that they learn by example, from me.
I have been married to Gina Crawley for fourteen years. We have two wonderful sons: Tyrone, Jr., 18 years old, a freshman at Penn. College of Technology; and Kevin, 15, a tenth grader.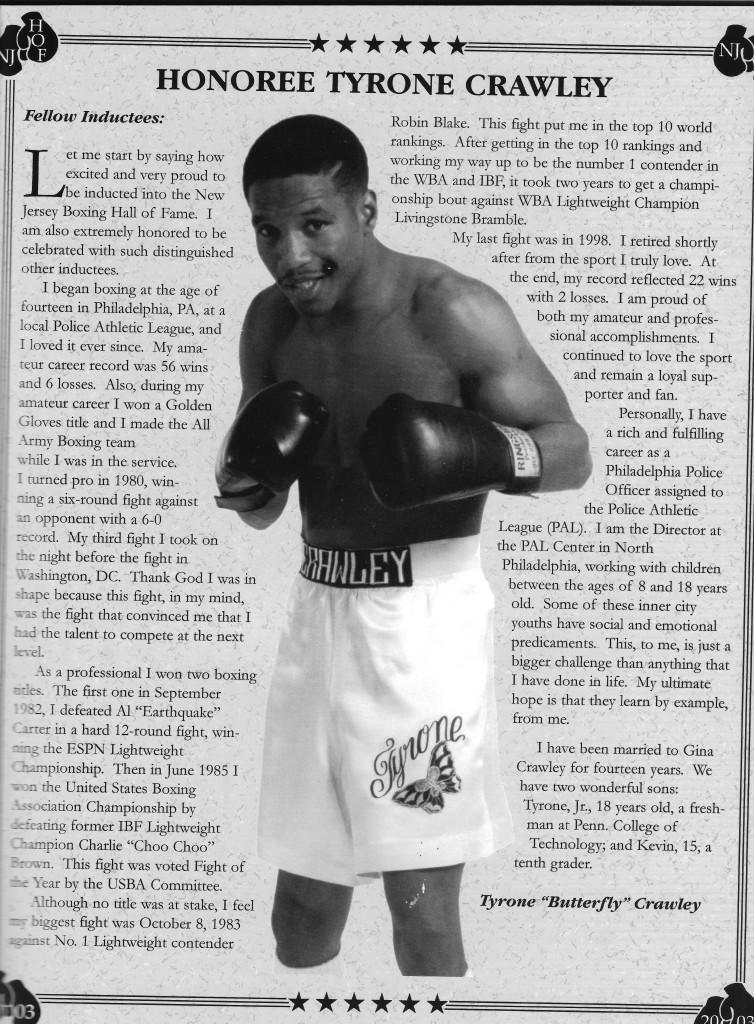 Boxing Record: click