Inducted on November 1, 1981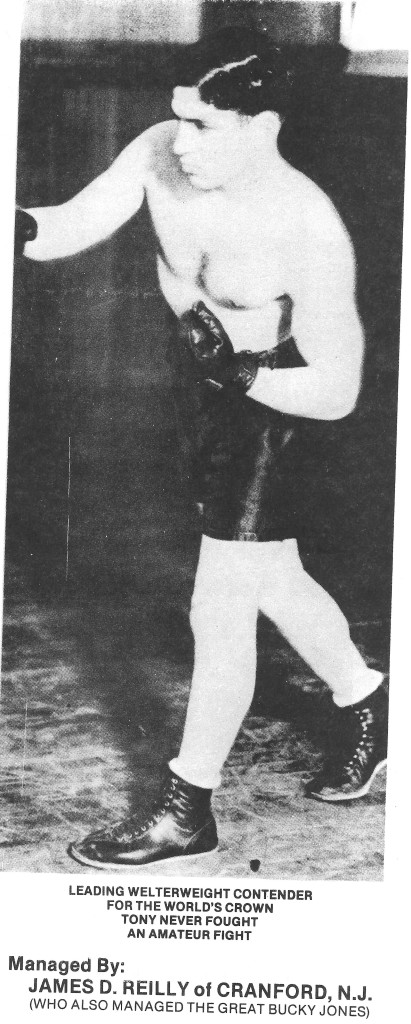 TONY SCIORTINO POSTHUMOUSLY INDUCTED INTO NEW JERSEY BOXING HALL OF FAME 1981 – NOMINATED BY I.B.V.A .. Ring #103 South River, N.J.
"Battling" Tony Sciortino
Anthony "Tony" Sciortino, was born April 10,1909, in Bacheria Sicily, he came to the U.S. at the age of 9. He started boxing by accident and became champ at age 16, fighting throughout the East. He defeated the toughest men of the time including Eddie Marks, Mickey Terry, Murray Elkins, Al Coughlin, Paulie Walker and many neighboring state champs. Tony knocked out 80 opponents. On March 12, 1981 he was honored on the floor of the U.S. Senate by Bill Bradley and the following was inserted in the Congressional Record:
CONGRESSIONAL RECORD-SENATE S2115
March 12, 1981
Washington, D.C.
IN HONOR OF TONY SCIORTINO
SENATOR BRADLEY. Mr. President, I wish to take this opportunity to call to the attention of my colleagues the recent loss of a true athlete, competitor, and humanitarian. On November 29, 1980, Anthony "Tony" Sciortino, a citizen of Perth Amboy, N.J., passed away at the age of 71. This is certainly a painful loss for his family members and admirers alike. There will forever be a great feeling of absence within the community that considered Mr. Sciortino to be not only a champion athlete, but a man whose compassion for others earned him the respect and admiration of all who knew him.
Mr. Sciortino was considered by many as New Jersey's most popular boxer. He first won acclaim in the boxing world by becoming New Jersey's featherweight champion at the young age of 16, a truly amazing accomplishment. Tony won 170 of his 182 bouts in his 9-year career as a boxer, accumulating along the way the prestigious titles of welterweight and lightweight champion of New Jersey. He also had the quickness of foot and professional stamina to attain the distinction of never having been knocked out.
In December of last year, the New Jersey State Senate and Assembly approved resolutions memorializing the life and heartfelt loss of this eminent individual. At this time, I would like to pay tribute to the memory of Anthony Sciortino and in offering sincere condolences to the Sciortino family.
Boxing Record – Tony Sciortino