Inducted on June 14, 1970
TONY GALENTO, THE FAMED "TWOTON" TONY, WITH THE THUNDEROUS LEFT HOOK, WAS BORN ON MARCH 12, 1910, IN ORANGE, N. J.
TONY STARTED HIS BOXING CAREER IN THE AMATEUR RANKS IN 1926. WITH 3 YEARS IN THE SIMON-PURES, GALENTO WON 29 OUT OF 31 CONTESTS.
IN JANUARY OF 1929, TONY WITH HIS FRIEND SAM MAGEE, WENT TO THE LAUREL GARDEN IN NEWARK TO TAKE IN THE FIGHTS. WHEN ONE OF THE SCHEDULED MAIN EVENT BOUT FIGHTERS DID NOT SHOW, TONY SEATED AT RINGSIDE WAS ASKED TO SUBSTITUTE. GALENTO OBLIGED AND WENT ON TO SCORE A 3 ROUND KNOCKOUT IN HIS FIRST "PRO" BOUT, BEING PROBABLY THE ONLY FIGHTER TO START IN A MAIN EVENT IN HIS FI RST PROFESSIONAL CONTEST.
TONY WENT ON TO SCORE 59 KNOCKOUTS IN 114 BOUTS FOR A METEORIC CAREER. IN DETROIT, MICH., ON AUG. 6, 1931, TWO TON FOUGHT 3 MEN IN ONE NIGHT, WINNING EACH BY A KAYO.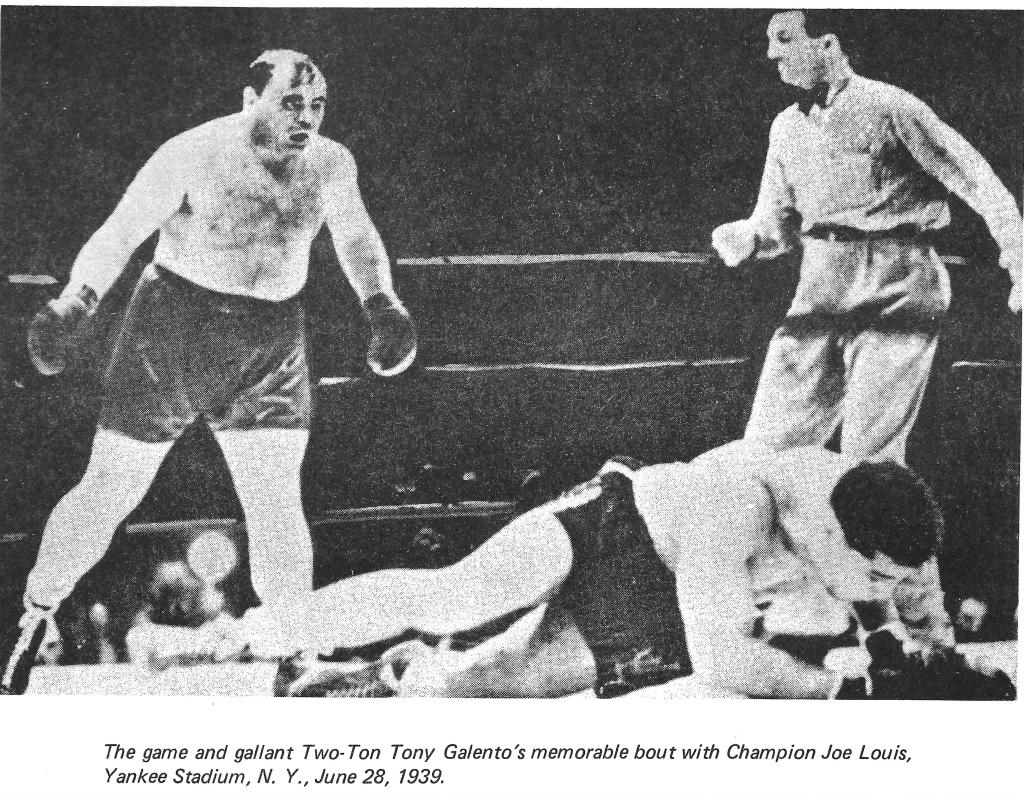 THE TWO MOST SUCCESSFUL BOUTS OF HIS CAREER WERE WITHIN 3 MONTHS OF EACH OTHER IN 1939. ON JUNE 28, HE MISSED WINNING THE HEAVY WEIGHT CROWN BY A FEW SECONDS IN THE THIRD ROUND OF A 15 ROUND TITLE GO WITH THE GREAT JOE LOUIS, WHEN HE HAD THE CHAMP DOWN FOR THE NINE COUNT WITH A TERRIFIC LEFT HOOK.
THE OTHER BOUT WHICH WILL ALWAYS BE REMEMBERED WAS HELD IN PHILADELPHIA ON SEPTEMBER 15, WHEN LOU NOVA, HIGHLY TAUTED CALIFORNIAN CONTENDER ASSIMILATED SO MUCH PUNISHMENT, THE REFEREE HALTED THE BOUT IN THE 14th ROUND GIVING TONY A WIN BY A T.K.O.
TONY'S LAST FIGHT OF HIS CAREER IN WICHITA' KANSAS, WITH GALENTO SCORING A 3 ROUND KNOCKOUT AGAINST JACK SUZEK ON DECEMBER 4,1944.
TONY IS MARRIED TO THE FORMER MARY GROSSO SINCE 1945 AND THEY RESIDE IN ORANGE, N. J., WHERE THEIR SON, TONY, JR., IS A MEMBER OF THE POLICE DEPT.
SINCE HIS RETIREMENT TONY HAS BEEN A GOOD WILL AMBASSADOR FOR THE FRATERNAL ORDER OF EAGLES, F.O.E., AND TRAVELS TO ALL PARTS OF THE COUNTRY. THE LIKEABLE AND GOOD-HEARTED TONY, KNOWN F ROM COAST TO COAST, IS ALSO CALLED UPON FOR MANY CHARITABLE APPEARANCES; AND IS IN DEMAND BY EVERYONE THAT RUNS ANY KIND OF A HELPING HAND FUNCTION.
TONY, THIS PAST APRIL, OPENED A LARGE RESTAURANT AND BAR, TONY GALENTO'S SPORTS PALACE IN ORANGE, N.J.
WELCOME INTO THE NEW JERSEY BOXING HALL OF FAME, TONY. CONGRATULATIONS AND GOOD LUCK!
Division: Heavyweight
Managers: Joe Jacobs; Harry Mendel
Tony Galento Gallery
Factoids
Featured on the cover of the August 1938 The Ring magazine
Sometimes called the "Jersey Night Stick" because Galento put his opponents "to sleep for the evening."
Galento wasn't the most skilled boxer but he wasn't a complete rough and tumble brawler either. A relatively short heavyweight, he fought out of a very low crouch, and would feint his way into a position to launch his fairly quick left hooks and right crosses. He could also use a decent double jab when he wanted to. Galento was an outstanding natural puncher, and is said to have had one of the hardest left hooks of all time.
Acted in the Marlon Brando film, On The Waterfront.
Fought an exhibition tour in 1943 including a bout against Mike Red Ryan 11/5/43. Galento won by KO in round 4 of 10. He entered the fight at 225 lbs and Ryan entered at 185.
According to a segment of the October 19, 2009 episode of Seattle's King-5 TV series Evening Magazine, many years ago Ivar Haglund–who became locally famous as the founder of Ivar's Acres of Clams and many other Puget Sound-area seafood restaurants and "fast-food" franchises–paid Galento to come wrestle Oscar the Octopus as a publicity stunt (although "Oscar" was actually a dead animal when the wrestling "bout" occurred).
External Link
Boxing Record: click