Inducted on November 13, 2003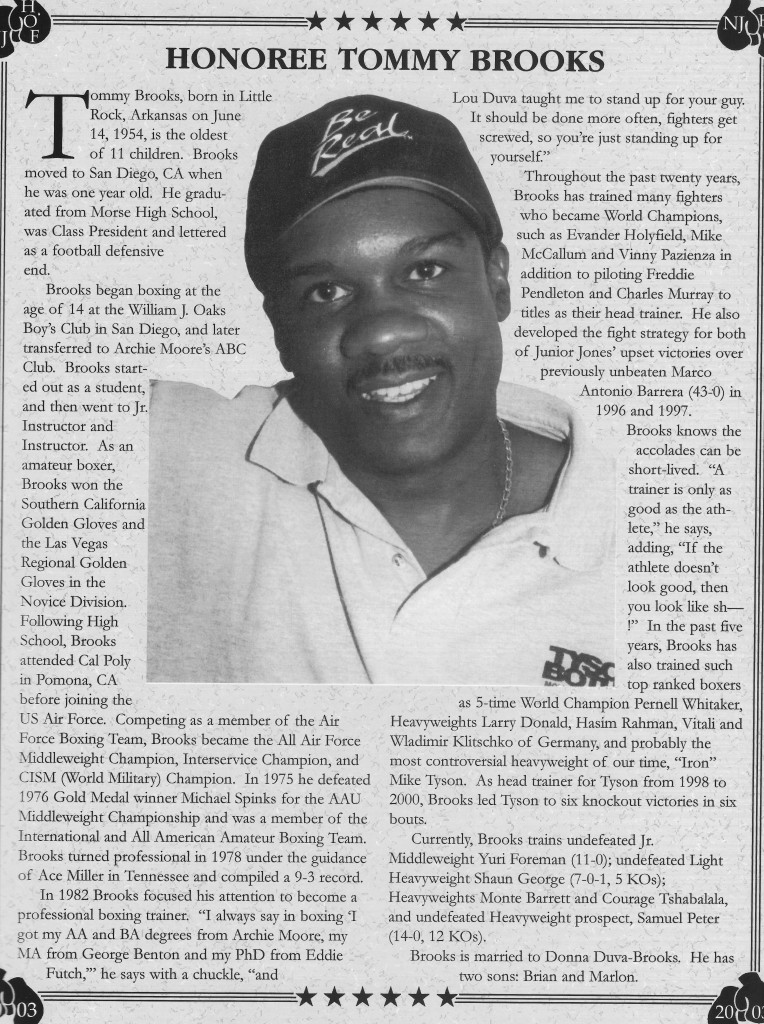 Tommy Brooks, born in Little Rock, Arkansas on June 14, 1954, is the oldest of 11 children. Brooks moved to San Diego, CA when he was one year old. He graduated from Morse High School, was Class President and lettered as a football defensive end.
Brooks began boxing at the age of 14 at the William J. Oaks Boy's Club in San Diego, and later transferred to Archie Moore's ABC Club. Brooks started out as a student, and then went to Jr. Instructor and Instructor. As an amateur boxer, Brooks won the Southern California Golden Gloves and the Las Vegas Regional Golden Gloves in the Novice Division. Following High School, Brooks attended Cal Poly in Pomona, CA before joining the US Air Force. Competing as a member of the Air Force Boxing Team, Brooks became the All Air Force Middleweight Champion, Interservice Champion, and CISM (World Military) Champion. In 1975 he defeated 1976 Gold Medal winner Michael Spinks for
the AAU Middleweight Championship and was a member of the International and All American Amateur Boxing Team. Brooks turned professional in 1978 under the guidance of Ace Miller in Tennessee and compiled a 9-3 record.
In 1982 Brooks focused his attention to become a professional boxing trainer. "I always say in boxing 'I got my AA and BA degrees from Archie Moore, my MA from George Benton and my PhD from Eddie Futch,'" he says with a chuckle, "and Lou Duva taught me to stand up for your guy. It should be done more often, fighters get screwed, so you're just standing up for yourself."
Throughout the past twenty years, Brooks has trained many fighters who became World Champions, such as Evander Holyfield, Mike McCallum and Vinny Pazienza in addition to piloting Freddie Pendleton and Charles Murray to titles as their head trainer. He also developed the fight strategy for both of Junior Jones' upset victories over previously unbeaten Marco Antonio Barrera (43-0) in 1996 and 1997.
Brooks knows the accolades can be short-lived. "A trainer is only as good as the athlete," he says, adding, "If the athlete doesn't look good, then you look like sh–!" In the past five years, Brooks has also trained such top ranked boxers as 5-time World Champion Pernell Whitaker, Heavyweights Larry Donald, Hasim Rahman, Vitali and Wladimir Klitschko of Germany, and probably the most controversial heavyweight of our time, "Iron" Mike Tyson. As head trainer for Tyson from 1998 to 2000, Brooks led Tyson to six knockout victories in six bouts.
Currently, Brooks trains undefeated Jr. Middleweight Yuri Foreman (11-0); undefeated Light Heavyweight Shaun George (7-0-1, 5 KOs); Heavyweights Monte Barrett and Courage Tshabalala, and undefeated Heavyweight prospect, Samuel Peter (14-0, 12 KOs).
Brooks is married to Donna Duva-Brooks. He has two sons: Brian and Marlon.