November 10, 1994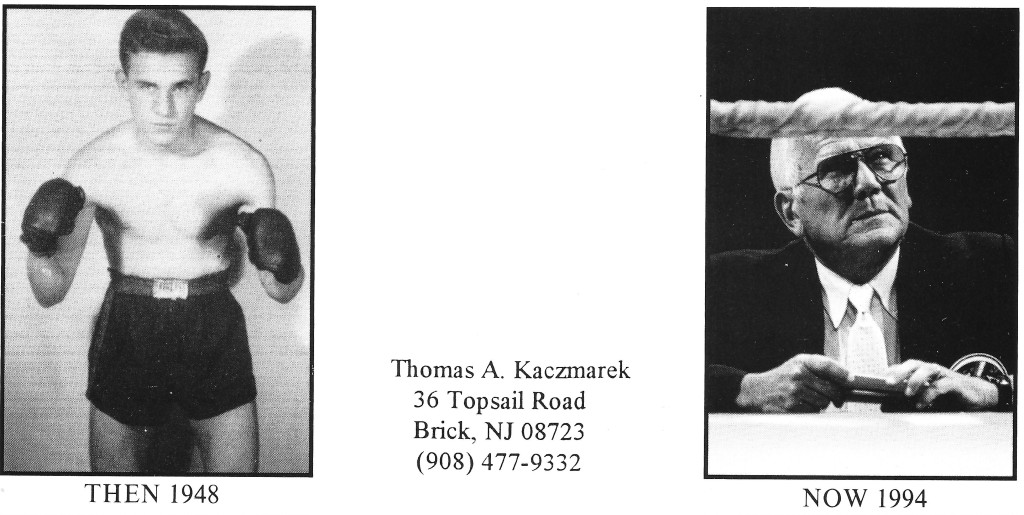 Tom Kaczmarek
Name: Tom Kaczmarek
Alias: Tommy Kaye
Tom Kaczmarek – Boxing Profile
Amateur and professional boxer (1946 – 1949). Record: Amateur (W 8 – L 1) Pro (W 11 – L 5 – D 3) First amateur fight January 1947 and first professional fight July 1947, retiring in 1949 at age 20. Modest career in the ring ultimately leads to 68 years of involvement in boxing in different capacities, including a long career as a professional boxing judge and as a moderator of training seminars for judges. One of the few professional boxers to do so. Retired as a boxing judge in 2010.
Professional boxing judge: Judged over 2,000 professional bouts including 110 world championship and 86 regional championship fights in the United States, Mexico, Europe, Asia and Australia.
Licensed by: State of New Jersey; State of New York; State of Pennsylvania; Mashantucket Pequot Tribal Nation Boxing Commission; Mohegan Tribal Gaming Commission Athletic Unit; World Boxing Council (WBC); North American Boxing Federation (NABF). Licensed for specific championship fights in: Nevada; California; Michigan; Texas; Florida, Missouri, Illinois and North Dakota.
Author : "YOU BE THE BOXING JUDGE" – Guidelines for judging professional boxing. International circulation amongst novice and veteran judges and boxing fans, as well. A Japanese language version is published in Japan. The book explains the strategies and mind-sets needed to score boxing matches using the 10 Point Must System. In 2002, a DVD-VHS version of the book was produced and is enjoying international distribution. The DVD format provides 2-1/2 hours of training in the art of judging professional boxing matches. Book and DVD serves as the basis for numerous seminar agendas.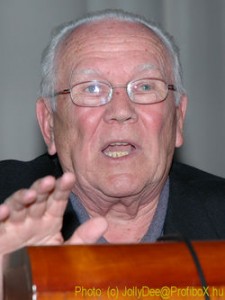 Representing the WBC, conducted and coordinated training seminars for professional boxing judges in:
>Tunisia (1992) Moderator – for judges from Europe and Africa.
>Madrid, Spain (1995, 2004 & 2006) for judges — European Boxing Union,
Ltd. (EBU).
>Manila, the Philippines (1996 and 1998) for judges — Oriental & Pacific
Boxing Federation. (OPBF)
>Johannesburg, South Africa (1998) for judges – World Boxing Council.
>Moscow, Russia (1999 and 2003) General coordinator/moderator –
WBC Ring Officials Clinic.
>Las Vegas (2000). Coordinator – Judges Symposium – WBC World Ring
Officials Congress.
>Mexico City, Mexico (2001) for judges — Comision de Boxeo del Distrito
Federal.
>Edmonton, Alberta (2002) for judges from Canada.
>Phuket, Thailand (2004) for judges — World Boxing Council.
>Cadiz, Spain (2005) for judges – World Boxing Council.
>Dubrovnik, Croatia (2006) – for judges – World Boxing Council.
>Chengdu, China (2008) – for judges – World Boxing Council.
>Cancun, Mexico (2010) – for judges – World Boxing Council.
>USA – for various boxing commissions since 1983.
TOM KACZMAREK— JUDGING HIGHLIGHTS—NOTABLE FIGHTS JUDGED
3-28-84 Atlantic City, NJ Murray Sutherland vs. Ernie Singletary
First Super Middleweight title fight in history IBF Super Middleweight Championship
2-24-89 Atlantic City, NJ Roberto Duran vs. Iran Barkley
WBC Middleweight Championship
6-12-89 Las Vegas, NV Ray Leonard vs. Tommy Hearns ll
WBC Super Middleweight Championship
11-5-89 London, England Azumah Nelson vs. Jim McDonnell
WBC Super Featherweight Championship
11-24-90 Benalmadena, Spain Julian Jackson vs. Herol Graham
WBC Middleweight Championship
4-19-91 Atlantic City, NJ Evander Holyfield vs. George Foreman
WBC-WBA-IBF Heavyweight Championship
3-1-92 Melbourne, Australia Jeff Fenech vs. Azumah Nelson
WBC Super Featherweight Championship
6-25-92 Licola, Italy Buddy McGirt vs. Patrizio Oliva
WBC Welterweight Championship
2-20-93 Azteca Stadium. Azumah Nelson vs. Gabriel Ruelas
Mexico City WBC Super Featherweight Championship
(136,000 paid attendance sets all-time record) Terry Norris vs. Maurice Blocker
WBC Super Welterweight Championship
7-30-95 Nagoya, Japan Wayne McCullough vs. Yasuei Yakushiji
WBC Bantamweight Championship
7-6-96 Manila, the Philippines Luisito Espinosa vs. Cesar Soto
(300,000 in attendance-free admission WBC Featherweight Championship
Pres. Fidel Ramos declares BOXING DAY)
3-7-98 Plaza de Torros Ricardo Lopez vs. Rosendo Alvarez
Mexico City WBC-WBA Strawweight Championship
4-14-01 Madison Square Garden Bernard Hopkins vs. Keith Holmes
New York, NY WBC-IBF Middleweight Championship
1-26-02 Madison Square Garden Shane Mosley vs Vernon Forrest
New York, NY WBC Welterweight Championship
5-3-03 Las Vegas, NV Oscar de la Hoya vs. Yori Boy Campas
WBC-WBA Super Welterweight Championship
6-21-03 Los Angeles, CA Lennox Lewis vs. Vitaly Klitschko
WBC Heavyweight Championship
1-24-04 Atlantic City, NJ Arturo Gatti vs. Gianluca Branco
WBC Super Lightweight Championship
4-10-04 Manchester, England In Jin Chi vs. Michael Brodie
WBC Featherweight Championship
8-31-04 Foxwoods Resort, CT Acelino Freitas vs. Diego Corrales
WBO Lightweight Championship
11-20-04 Las Vegas, NV Winky Wright vs. Shane Mosley
WBC-WBA Super Welterweight Championship
10-14-06 Copenhagen, Denmark Mikkel Kessler vs. Markus Beyer
WBC-WBA Super Middleweight Championship
5-5-07 Las Vegas, NV Oscar de la Hoya vs. Floyd Mayweather
WBC Super Welterweight Championship
1-19-08 Madison Square Garden Felix Trinidad vs. Roy Jones Jr.
New York, NY
3-1-08 Carson, California Israel Vazquez vs. Rafael Marquez
WBC Super Bantamweight Championship
TOM KACZMAREK
Personal Data
· Born August 10, 1928
· Married to Agnes Donovan – 61 years. Three children: Nancy Budris,
Tom Jr, and Mary Jean Coviello and eight grandchildren and three great
grandchildren.
· US Army 1951 to 1953 (2nd Lt. Armor)
· 27 years in retail children's shoe business T/A Circus Shoe Shop(1949 to 1976)
1965 – Elected Councilman in Clark, NJ (1965 to 1968)
· 1968 – Elected Mayor of Clark, NJ (1969 to 1972).
· 1971 – Elected Union County Freeholder (1972 to 1974)
· 1974 – Appointed by Governor Brendan T. Byrne as Commissioner on the New
Jersey Violent Crimes Compensation Board, retiring in 1991.
. Inducted into:
New Jersey Boxing Hall of Fame (1994)
Elizabeth Athletic Hall of Fame (2002)
· Former Chairman, World Boxing Council Ring Officials Board.
· 2005 – Designated Honorary Lifetime Chairman of the WBC Ring Officials Board.
· 2010 – Received the Rocky Marciano/AAIB "Ring Officials Award".
Boxing Record: Tom Kaczmarek
Judging Record: Tom Kaczmarek