Inducted on Sunday, September 24, 1972: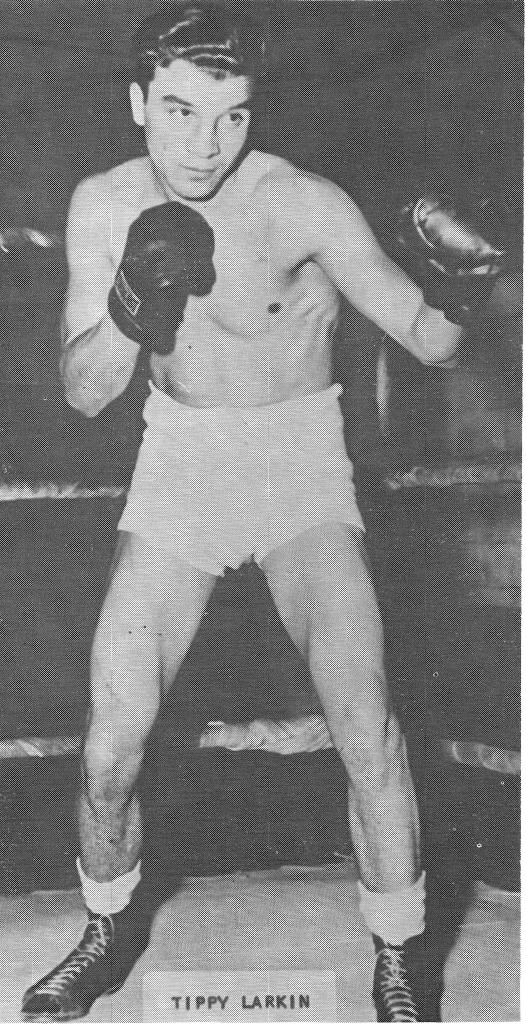 Anthony Pilliteri, forme!' World Jr. Welterweight champion was born Nov. 11, 1917 in Garfield, N.J. Started boxing professionally as Tippy Larkin in 1935 and remained active in the squared circle for 17 years. A classic boxer with a devas-tating right hand, the Garfield Gunner fought the best in the light and welterweight class. Henry Armstrong, AI Davis, Lew Jenkins, Ike Williams, Red Cochrane, Leo Rodak, Allie Stolz, Patsy Spataro, Charlie Fusari, and Billy Graham were some of the boys Tippy faced.
Larkin boxed seven World Champions and sold out Madison Square Garden in each of his 19 bouts in the famed emporium.
On Dec. 18, 1942 Tippy fought Beau Jack for the Lightweight Championship and was defeated in his attempt to gain the title. In winning the World Jr. Welterweight crown on April 29, 1946, Tippy decisioned Willie Joyce, of Chicago, in one of the greatest action filled boxing classics. Both fighters going the distance without a single clinch in the fast and furious battle.
In a career total of 151 bouts, the Gunner lost only 13 contests, won 57 by knockouts, 80 by decision, and boxed 1 draw.
Still in Fighting condition, the handsome, youthful looking Tippy is happily married, employed as a salesman, and resides in Garfield, N.J.
Welcome into the New Jersey Boxing Hall of Fame, Champion Tippy larkin, Congratulations and Good luck.
Also known as the "Garfield Ghost" and the "Garfield Gunner," Tippy Larkin was featured on the cover of The Ring Magazine: July 1944.
Boxing Record: Tippy Larkin