Inducted on November 13, 1997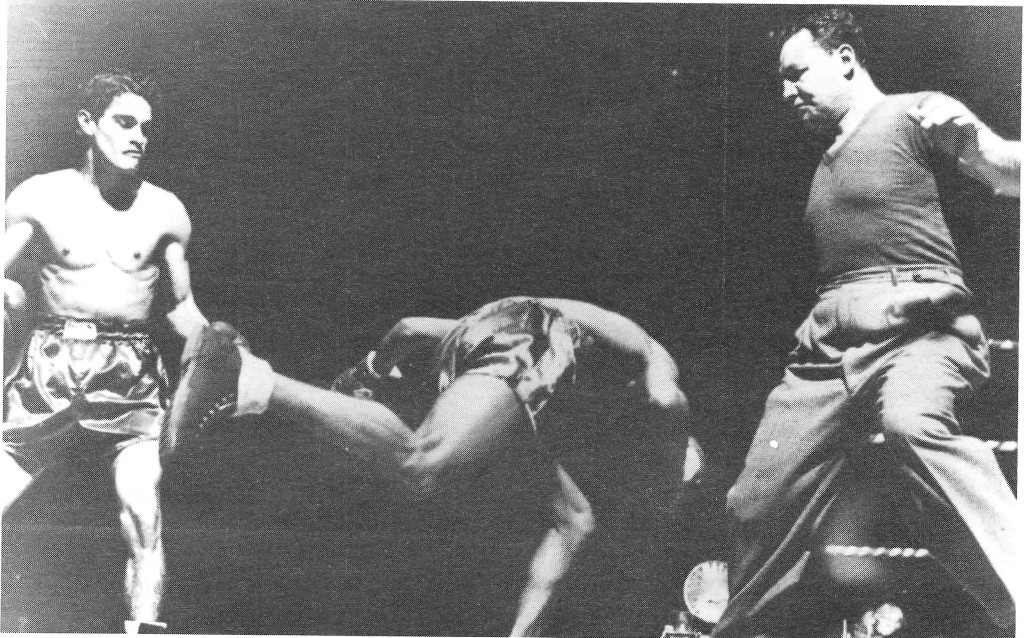 Teddy Martin was born Louis Stolfi in New York City's Greenwich Village on March 12, 1911. At the age 15, he displayed the natural combativeness that was to lead him to a career in boxing when he knocked out a masked and armed robber who along with others broke into his married sister's home. This was during Prohibition, and the robbers were looking for cases of booze that they thought were stored in the cellar. Teddy's brother-in-law ran a speakeasy/ nightclub, the Club Holland, at the time.
In 1928, Teddy entered and won the 1261b.
Sub-Novice championship in N.Y. Daily News Golden Gloves tournament. The following year, he turned professional, fighting under the name Teddy Martin. The name and the license originally belonged to the brother of Eddie "Cannonball" Martin, a great fighter and a good friend. Teddy fought professionally from 1929 to 1932 engaging in 80 to 90 contests. He was in the same stable of fighters as lightweight champion Tony Canzoneri under the management of Sammy Goldman. Broken arms, that Teddy had suffered as a boy, hampered his punching power, and his lack of a knockout punch convinced him to retire as a fighter. Upon the advice of Paul Gallico, the Daily News sports editor, Teddy began to referee amateur fights.
Teddy refereed the Golden Gloves and the Amateur Athletic Union during the period from 1933 to 1945. During the war years, he also refereed boxing matches for the US Navy on Pier 92. In 1944, Teddy was honored by the Navy for having refereed 2,180 matches during WWII. During this period, he also coached the NY Golden Gloves teams in their regional tournaments.
In 1945, Teddy applied for and was granted a professional referee's license by the NY State Boxing Commission. At the time, he was the youngest referee on the Commission's staff. In 1952, TV Guide selected Teddy as one of the top referees in the country. Teddy served as a professional referee at all NY-area boxing arenas:
Madison Square Garden, Ridgewood Grove, Eastern Parkway, St. Nick's, etc. He appeared many times on the almost daily televised fights shows of the 50's such as the Gillette Cavalcade of Sports Friday Night Fights. Although a lack of a knockout punch foreshortened his career as a fighter, you couldn't prove that by at least one sad individual who crossed Teddy's path in the mid- 50's. Held up at gunpoint in his liquor store, Teddy threw a right cross over the counter and knocked the gunman cold. Ever the soft touch, Teddy refused to press charges and even gave the poor soul a handout.
By 1976, Teddy's legs began to weaken, and he finished his boxing career as a fight judge until 1980. Teddy passed away December 18, 1983, loved by his family and honored by his peers.
The Third Man in the Ring (2011 Video) – http://www.imdb.com/video/withoutabox/vi1876729113?ref_=tt_pv_vi_aiv_1
Refereeing Record: click