Inducted on November 12, 2009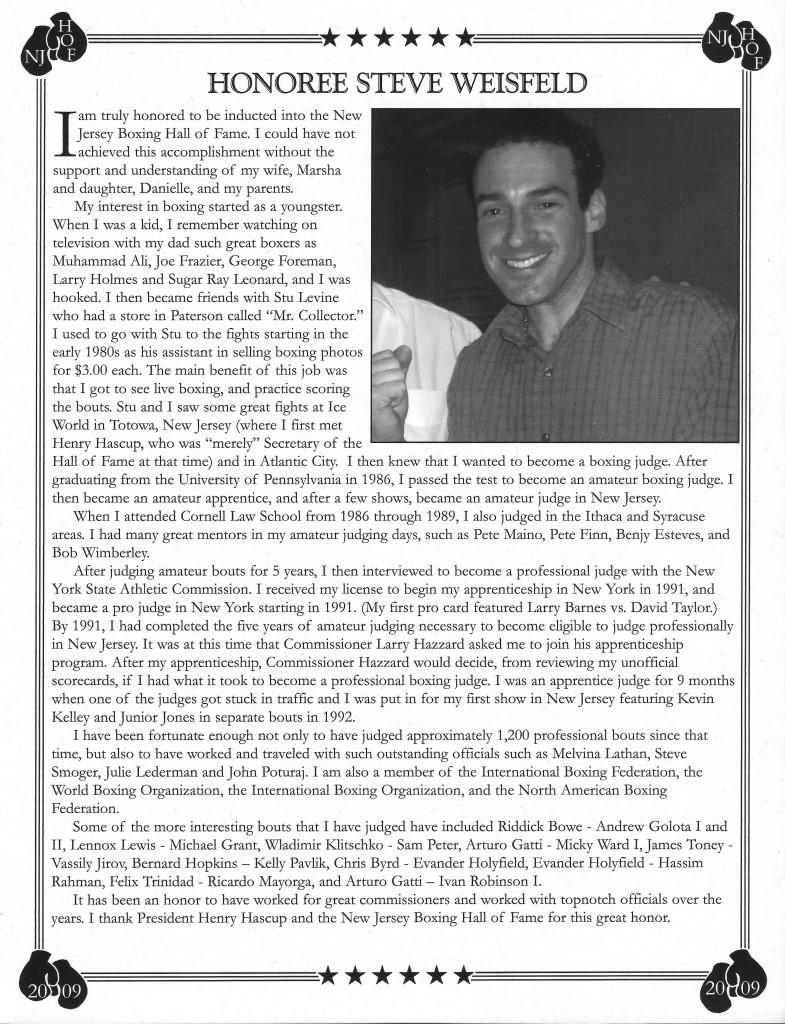 I am truly honored to be inducted into the New Jersey Boxing Hall of Fame. I could have not achieved this accomplishment without the support and understanding of my wife, Marsha and daughter, Danielle, and my parents.
My interest in boxing started as a youngster. When I was a kid, I remember watching on television with my dad such great boxers as Muhammad Ali, Joe Frazier, George Foreman, Larry Holmes and Sugar Ray Leonard, and I was hooked. I then became friends with Stu Levine who had a store in Paterson called "Mr. Collector." I used to go with Stu to the fights starting in the early 1980s as his assistant in selling boxing photos for $3.00 each. The main benefit of this job was that I got to see live boxing, and practice scoring the bouts. Stu and I saw some great fights at Ice World in Totowa, New Jersey (where I first met Henry Hascup, who was "merely" Secretary of the Hall of Fame at that time) and in Atlantic City. I then knew that I wanted to become a boxing judge. After graduating from the University of Pennsylvania in 1986, I passed the test to become an amateur boxing judge. I then became an amateur apprentice, and after a few shows, became an amateur judge in New Jersey.
When I attended Cornell Law School from 1986 through 1989, I also judged in the Ithaca and Syracuse areas. I had many great mentors in my amateur judging days, such as Pete Maino, Pete Finn, Benjy Esteves, and Bob Wimberley.
After judging amateur bouts for 5 years, I then interviewed to become a professional judge with the New York State Athletic Commission. I received my license to begin my apprenticeship in New York in 1991, and became a pro judge in New York starting in 1991. (My first pro card featured Larry Barnes vs. David Taylor.) By 1991, I had completed the five years of amateur judging necessary to become eligible to judge professionally in New Jersey. It was at this time that Commissioner Larry Hazzard asked me to join his apprenticeship program. After my apprenticeship, Commissioner Hazzard would decide, from reviewing my unofficial scorecards, if I had what it took to become a professional boxing judge. I was an apprentice judge for 9 months when one of the judges got stuck in traffic and I was put in for my first show in New Jersey featuring Kevin Kelley and Junior Jones in separate bouts in 1992.
I have been fortunate enough not only to have judged approximately 1,200 professional bouts since that time, but also to have worked and traveled with such outstanding officials such as Melvina Lathan, Steve Smoger, Julie Lederman and John Poturaj. I am also a member of the International Boxing Federation, the World Boxing Organization, the International Boxing Organization, and the North American Boxing Federation.
Some of the more interesting bouts that I have judged have included Riddick Bowe – Andrew Golota I and II, Lennox Lewis – Michael Grant, Wladimir Klitschko – Sam Peter, Arturo Gatti – Micky Ward I, James Toney – Vassily Jirov, Bernard Hopkins – Kelly Pavlik, Chris Byrd – Evander Holyfield, Evander Holyfield – Hassim Rahman, Felix Trinidad – Ricardo Mayorga, and Arturo Gatti – Ivan Robinson I.
It has been an honor to have worked for great commissioners and worked with topnotch officials over the years. I thank President Henry Hascup and the New Jersey Boxing Hall of Fame for this great honor.
Officiating Record: Judge