Inducted on November 12, 1998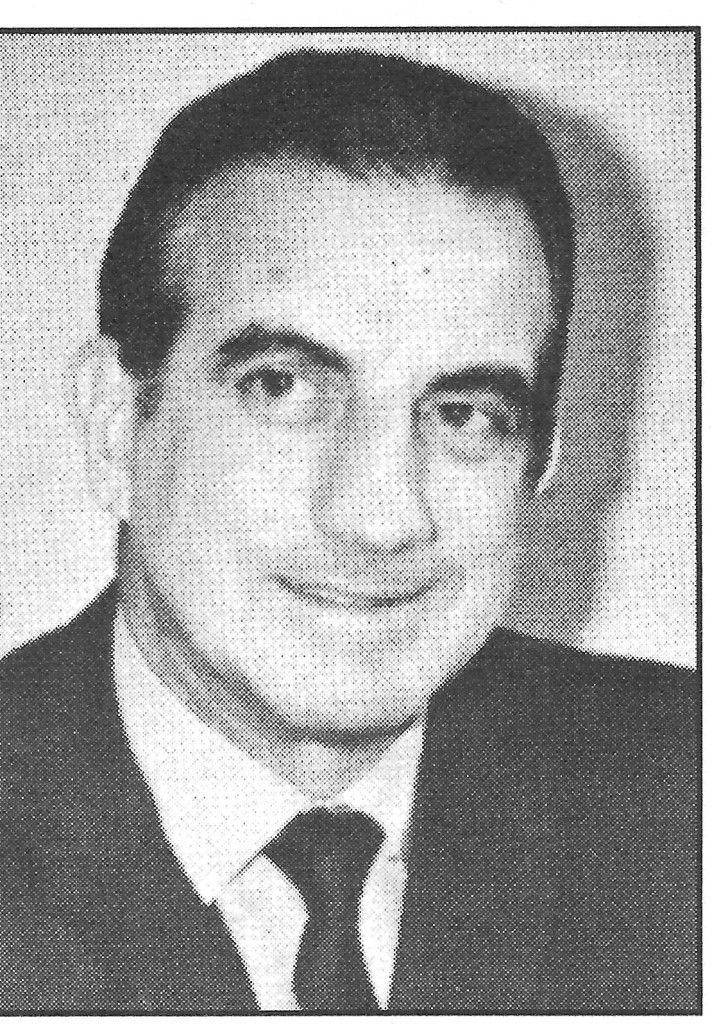 National Authority on Boxing Regulation, Safety and History
Co-founder with Rocky Marciano of the American Association for the Improvement of Boxing Inc. (1969). Today, AAIB is among the leading voices in Boxing for Safety Standards and Administrative Competency.
Official of the New York State Athletic Commission. 1945 to date-presently Deputy Commissioner.
Inducted into the World Boxing Hall of Fame, Westchester Sports Hall of Fame and recipient of the Humanitarian
Sports Award (ACIM) and the Star of Solidarity from the Republic of Italy for work with youth.
Westchester County Chairman-U.S. Olympic Committee (1960) Mount Vernon Little League Baseball-Commissioner
Westchester County Chairman, President Eisenhower's People to People Sports Committee Westchester County Youth Board-Member of Board of Directors
Westchester County President of the Board of Governors, Boys Town of Italy, Inc. National Spokesman and Advocate for Better Boxing
Testified before the U.S. Senate Committee regarding Professional Boxing Corp. (Bill #S2852) 1992 to date, bill passed on October 8, 1996
Testified before various Congressional hearings regarding the establishment of Federal Boxing Commission, 1961, 1966 and 1970.
Testified before the New York State Assembly's Tourism, Arts and Sports Committee on Boxing, Featured on TV: "Sweet Science," MSG; Fox 5, Bill McCreary Report; WPIX, "Talk of the Town"; Bob Goldschall CBS, et al.
Subject of feature articles in Wall Street Journal, New York Times, Daily News, New York Post, Ring Magazine, Boxing Illustrated, etc.
Hosted Radio and TV programs: WFAS "Spotlight on Sports"; WVOX "Westchester Commentary"; UA Columbia TV Boxing Show.
Author and Producer of film with Rocky Marciano, "The Art of Boxing". Produced video cassette "Boxing, More than a Sport" with Peter Heller, WABC. Author of "Boxing Instruction Manual: Champion's Corner."
Co-authored New York's Boxing Reform Bill, passed and signed into law in 1984.
Published over 500 articles in Boxing World, Boxing Today, Ring Sports, Patent Trader, Home News & Times, and AAIB Bulletin & Newsletters.
Listed in "Who's Who in the East" Employment
Director of Westchester County Department of Public Safety – Crime Prevention Bureau & Youth Activities Unit (1975-1986)
American Law Enforcement Officers Association's Outstanding Commendation Award.
Biography on Stephen B. Acunto
Steve Acunto
He´s much more
than a Coach!
In more than 50 years since the article "Hiding Talent Under a Sweat Shirt" was published, Stephen B. Acunto has continued to idealistically live the boxing life. He trains on the heavy bag and on the speed bag, and he regularly shadow boxes, swims and rides a stationary bicycle. Even in his later years, former professional boxer Acunto has been in ring demonstrations with the likes of Muhammad Ali, Rocky Marciano and Willie Pep in the production of a video cassette and other mediums. And for more than four decades, Acunto has been one of the foremost boxing instructors in the world..
Acunto is the head coach of boxing at Westchester Community College in Valhalla, New York, where he developed and teaches the only boxing class for college credit in existence. He has also taught pugilism at Fairfield University, Concordia College and at Sarah Lawrence College, at YMCA´s and Purchase Community House. In addition, he has traveled the country conducting hundreds of clinics and seminars on the "sweet science."
Acunto has been a member of the New York State Athletic Commisssion since 1945 and is currently a Commissioner. In 1969, with Rocky Marciano, Acunto founded the American Association for the Improvement of Boxing. He is now President Emeritus and Chairman of the Board of that prestigious organization.
Acunto has been a member of the New York State Athletic Commisssion since 1945 and is currently a Commissioner. In 1969, with Rocky Marciano, Acunto founded the American Association for the Improvement of Boxing. He is now President Emeritus and Chairman of the Board of that prestigious organization.
Acunto has been a member of the New York State Athletic Commisssion since 1945 and is currently a Commissioner. In 1969, with Rocky Marciano, Acunto founded the American Association for the Improvement of Boxing. He is now President Emeritus and Chairman of the Board of that prestigious organization..

Coach Acunto with amateur boxer
Articles about Acunto and his activities have appeared in SPORT Magazine, Sports Illustrated, the New York Times, the San Fransisco Chronicle, the Philadelphia Inquirer, Boxing Illustrated and a host of other publications..
Articles about Acunto and his activities have appeared in SPORT Magazine, Sports Illustrated, the New York Times, the San Fransisco Chronicle, the Philadelphia Inquirer, Boxing Illustrated and a host of other publications..
What remains more important to pugilistic professor Acunto tha personal plaudits is his continuing role as a person who imparts boxing knowledge in the most classic of ways: he teaches boxing as the art of self-defense, as the most basic yet sophisticated of sports, and as a series of life-enriching skills.
"A properly trained boxing coach often becomes a surrogate father for kids," says coach Acunto. "The discipline and the skills learned in a quality program make boxing students become better human beings."
In 1988, Acunto was inducted into the World Boxing Hall of Fame and recently, in 1998, he was inducted into the New Jersey Boxing Hall of Fame. To date, he has taught tje fistic way to over 8,000 young men. Of these studetns, one became a world champion, several have been leading contenders and many have been amateur champions. He lives with his wife Mercedes in Mount Vernon, New York. There have one son, three daughters, four grandchildren and a wealth of boxing memories.
A True Champion that had Inspired my Career:
Gene Tunney
[click for photo]