Inducted on September 12, 1971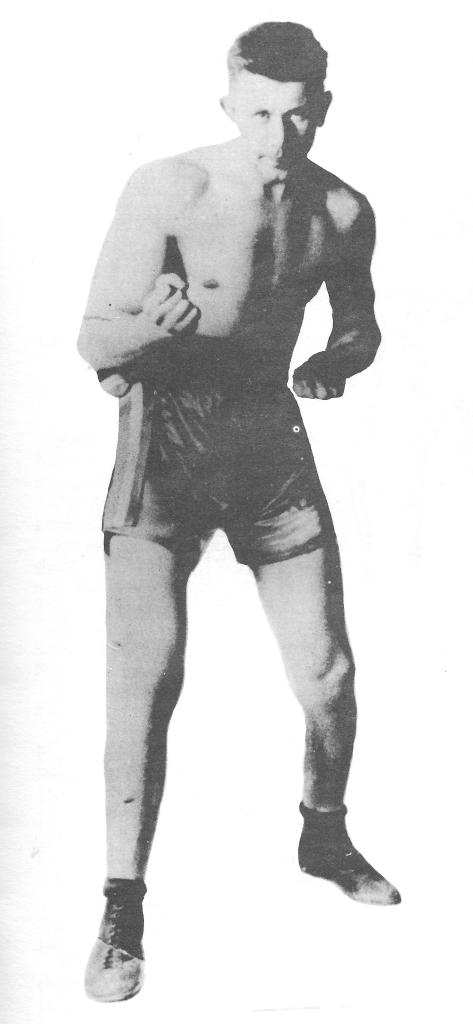 From Camden and South Jersey, over 75 years of age, colorful, courageous, honorable war hero, boxer, civic leader and humanitarian, Sgt. Ray Smith. Ray's ring career started during World War I while serving in France with the American forces.
In 1918 he won the A.E.F. Heavyweight Championship and Champion of All Forces in 1919.
While overseas Ray was wounded 14 times in 3 battles while serving as a machine gunner in the 1 st Division. In one action, under heavy bombardment, although he was wounded himself, he dragged a number of wounded soldiers to safety. For this act he was decorated for valor by General Pershing and also received from Marshall Petain, the French Croix de Guerre, France's highest military honor for bravery in action. After the Armistice, Ray was invited by and honored at a dinner by the King and Queen of England, at the Palace.
Resuming his ring career after the war, the Sarge traveled the world and battled the best. He met all the greats, Sam Langford, Joe Jeannette, Harry Wills, Willie Meehan, Jack Dillon, Charlie Wienert, Georges Carpentier and Gene Tunney. Ray boxed Gene Tunney in the Camden Armory in 1923. During the fierce battle, both boxers fell from the ring, Smith striking his head on the floor, was unable to continue.
In his business and social life Ray has been: Pres. of V.F.W. Post 75 three terms; Commander of Dis- , abled American Veterans (DA V), four terms; Com' mander of the Military Order of the Purple Heart; President of Veterans Voting League; Director of Camden Recreation Commission; Member of Erial Recreation Oommission.
Ray started the Easter Seal Program for the Cam' den Elks, and has been President of the Elks Crippled Kiddies for 40 years. He holds an annual picnic for Crippled Kiddies at his home on Lake Renee in Erial, N. J., where he resides.
Tragedy befell Sgt. Ray Smith when he lost his son Charles, age 20, in the "Battle of the Bulge," World War II. Again in 1964 when an auto accident placed him in a wheel chair, now having to wear braces and crutches to get around.
Welcome into the New Jersey Boxing Hall of Fame, Sgt. Ray Smith. Congratulations and Good Luck!
Sergeant Ray Smith was born Lucius Raymond Smith on June 6, 1895 in Camden, NJ. He enlisted in the United States Army at 17, and served in Mexico with General Pershing's expedition in pursuit of Pancho Villa. A combat veteran of World War I, he was wounded while serving in France during that conflict, and was awarded the Croix de Guerre with palms, presented to him personally by Field Marshal Henri Petain.
He is said to have been stationed in Panama, where he won a service title. Said to have fought Bill Brennan, Happy Howard and Jim Montgomery before being sent overseas.
Smith fought at least once as a professional before the war. During that time he came to prominence as a boxer, although he could not participate in the AEF Tournament becasue of war injuries.
Smith returned to professional boxing after the war. he fought some of the most famous boxers of his day, including eventual world heavyweight champion Gene Tunney, Leo Houck, and heavyweight title contenders Tommy Gibbons and Bill "KO" Brennan. He also fought Battling Levinsky, the Light Heavyweight Champ.
After retiring from boxing, he became a referee and was well known for fairness and good judgment. Settling in Camden NJ, he made his home at 212 North 27th Street. Ray Smith worked a radio announcer and as sportswriter. Ray Smith was involved in many civic activities. He was the president of the Elks Crippled Children's Committee for over 20 years, was a four-time commander of VFW Post 705 in Camden, three-time commander of the August F. Walters Chapter No. 4 of the Disabled American Veterans, a member of the Raymond C. Thoirs Post 47 of the American Legion, Ring No. 6 of the New Jersey Veterans Boxing Association, and was involved in many, many other civic activities. He was on of the leaders of the bonus march for World War I veterans, and was associated with Congressman Charles A. Wolverton in veterans matters.
In May of 1934 he was a candidate for the Republican nomination for the new Jersey Assembly from Camden. In the fight for control of the Republican Party in Camden, he was an ally of Albert S. Woodruff.
Smith married (his wife's name was Mabel), and they had one child, a son, Charles Augustus Bodine Smith, who left school to enlist in the Army in 1942. Mabel F. Smith passed away in 1944, and sadly, Private Charles A.B. Smith died while serving in Algeria later that year.
Sergeant Ray Smith moved to the Erial section of Gloucester Township NJ after World War II, where he founded and operated the Charles A.B. Smith Home for Crippled Children. He remained active in civic affairs.
In February of 1959 he addressed the New Jersey Assembly on veterans issues. On April 20, 1959 he was honored by Ring 6 of the New Jersey Veterans Boxing Association as Man of the Year.
Raymond Smith's later years were spent in Haddon Heights NJ. Sergeant Ray Smith passed away in February of 1979.
Boxing Record: click