Inducted on November 8, 2012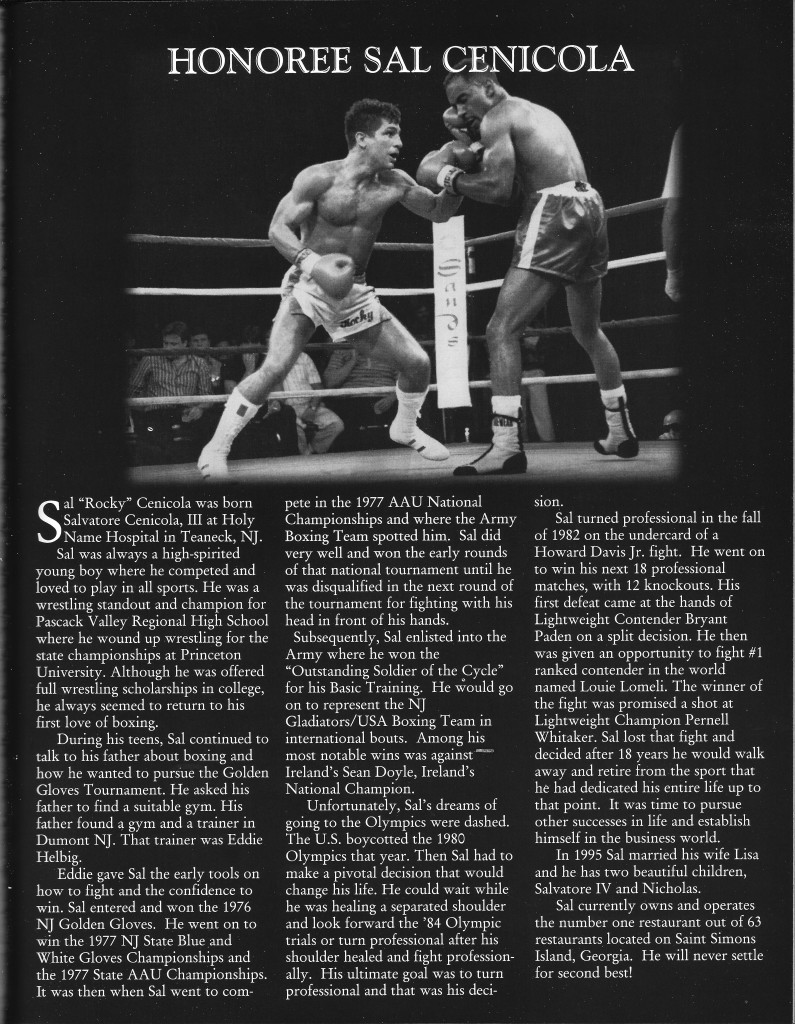 http://salcenicola.com/
Cenicola Sets Record With Historic Win
Share the post "Cenicola Sets Record With Historic Win"
By Bill Calogero – Ringside – April 13, 2013
Fernandina Beach, Florida – For the first time in over twenty-five years, former top ten world ranked contender, Sal "Rocky" Cenicola, returned to the ring, setting a pro boxing record, as well as a spot in the Guinness Book Of World Records, winning a four-round unanimous decision over Nate Petty in the main event of the Comeback To Reality Boxing card promoted by Elite Promotions, in association with LDLTV, Nine5Four Magazine and benefiting the Queen of Hearts Foundation.
Cenicola, 53, used the first round to shake off twenty-five years of ring rust, but by the time the second round started, Rocky put on a display of great defensive head movement and a fierce body attack that kept Petty off balance.
During the final round, Cenicola was snapping his jab and landing solid shots to Petty's head completing a show that dazzled the sold-out crowd with his hand speed, body attack and head jarring uppercuts.
One judge scored the fight 39-37, while the other two had it the same at 40-36, giving Sal Cenicola the victory while improving to 19-2 (11 KOs). When asked if he planned on continuing his career after the fight Sal said, "I will think about it…maybe two more."
Nate Petty, who came to fight and was in great shape, drops to 1-7 (1 KO).
Who made the longest comeback in boxing history?
According to Henry Hascup of Boxrec the largest boxing records keeping organization in the world, The list below is accurate for the longest comebacks ever in boxing. However on April 13, 2013 Sal "Rocky" Cenicola is scheduled to comeback and fight at the Peck Center in Fernandina Beach, Florida at the age of 53. His last fight was February 6, 1988. His Fight April 13th will be 25 years and 63 Days since his last fight and thus if he enters the ring he will beat the previous record by more than two years.
Current Longest Comebacks ever:
Herbert (Doc) Odom 22 yrs. 11 mos. Dentist comes back at age 46 after 1 bout in 1956 (I question if there the same fighter)
Freddy DeKerpel 21 yrs. 3 mos. Belgian heavy returns in draw against Jean-Pierre Coopman
Jean Paul Arsenault 21 yrs., 1 month & 21 days he stopped Arron Corrigan in the 1st round.
Mark Weinman 21 yrs. knocked out Dominican boxer Elvis Luciano Martinez,
Levi Forte 20 yrs., 10 mos. Former Floyd Patterson foe returns in 4-round loss
Jerry Evans 20 LH Contender – Uncertain of Date — unconfirmed bout — no source given
Jean-Pierre Coopman just under 18 yrs. Former Ali opponent returns against Freddy DeKerpel
Bobby Halpern 17 yrs. 11 mo. returned after prison stretch
Carlos Palomino 17 yrs. 6 mos. Former welter champ went 4-1
Fred Houpe Just over 17 yrs. Somehow gets licensed after being retired and was blind in one eye
Johnny Gant 16 yrs. 10 mos. Lost to Ray Leonard's brother Roger in 1980, then returned in 1997.
Kenny Lane 16 yrs., 9 mos. World lightweight contender returned at age 50
Tony Ayala 16 yrs., 9 mos. Tony went 5-1 before being arrested again
Ronny Wilson 16 yrs. 1 mo. Was stopped in the 1st round
Rickey Womack 15 yrs., 3 mos. Former amateur star who beat Holyfield twice in the Amateurs served 15 years for robbery
Ron Lyle 14 yrs., 5 mos. Scored 4 straight kayos at age 54
Jaime Rios 14 years, 3 months, 8 days
Kentucky Rosebud 14 yrs., 1 mo. Returns at age 63 to kayo 45-year-old Johnson
John Henry Johnson 13 yrs., 11 mos.
Julio Serrano 13 yrs 10/16/82-11/3/95
Boxing Record: Sal Cenicola