Inducted on November 9, 1990
On the night of Nov. 9 Richie Gonzalez will reach the end of the road on which he embarked some 45 years ago.
It was then, at the age of 3, that his father slipped his first pair of boxing gloves over his hands and pointed him toward a career in the ring. That career has earned him a berth in the state Box ing Hall of Fame, where he will be installed that night among other Gar~n State fighting greats. For Gonzalez, it will be a time to' pay tribute to
his father.
Gonzalez was born in Elizabeth in January, 1942 and was educated in the city's school system. His father, a devoted boxing fan, encouraged Gonzalez and h is older brother to become active in the sport. Gonzalez became addicted to the game while watching his older brother in action. By the time he was eight years old, his midset was firmly established;
his goal was to become a prizefighter.
·1 got into organized boxing with the Police Athletic League then, and that's when I met Tommy Judge," he said.
Judge took Gonzalez and his brother, Manny, under his wing. While they trained under Judge's tutelage, Gonzalez said they ·got to know Leon Niedzwicki and Eddie Gray, and they got us started in boxing."
Richie remained with the league until he was 16, engaging in boxing competitions allover the country. Locally, he toured the juvenile detention centers and veterans hospitals, where Gray staged exhibitions for inmates and patients.
Fighting as an amateur, Gonzalez engaged in 70 bouts and compiled a record of 67 wins against 3 setbacks. From 1958 through 1963, he participated in the Golden Gloves tournaments and captured five consecutive championships. After the last of these, he decided to turn professional September 11, 1963.
He fought his first professional four-round bout against a fighter named Ted Pick in Plainfield. The fight remains one of his most memorable due to the fact that one of his idols, Willie Pep, was the referee.
He made his hometown debut in the Elizabeth Armory on May 13, 1964 when once again he fought Ted Pick in a six-round fight as a top-bill match was staged between Joe Louis Adair and Holly Mims.
We brought the house down: he smiled proudly, recalling the fight that brought the crowd to its feet, roaring its approval as Gonzalez defeated Pick for the third time in his amateur and professional career.
As a pro, Gonzalez traveled to Boston to meet favorite son Norman Kirby in a St. Patrick's night card at Boston Garden. The crowd greeted Kirby's introduction with a roar and Gonzalez with a stony silence but, by the end of the second round. the crowd swung over to Gonzalez and cheered uproariously as he trounced Kirby.
He spent most of his professional career on the West Coast, where he settled for 18 years before returning to his native Elizabeth. Gonzalez. who fought as a featherweight, never failed to please the crowd.
The affable Gonzalez earns his living' as a dockworker but yearns to get back into the fight game. training and handling youngsters.
But for now, there is the matter of accepting the accolades of his peers and admirers who will be in attendance when he joins such notables as his tutor, Tony Orlando in the boxing shrine of New Jersey's ring greats.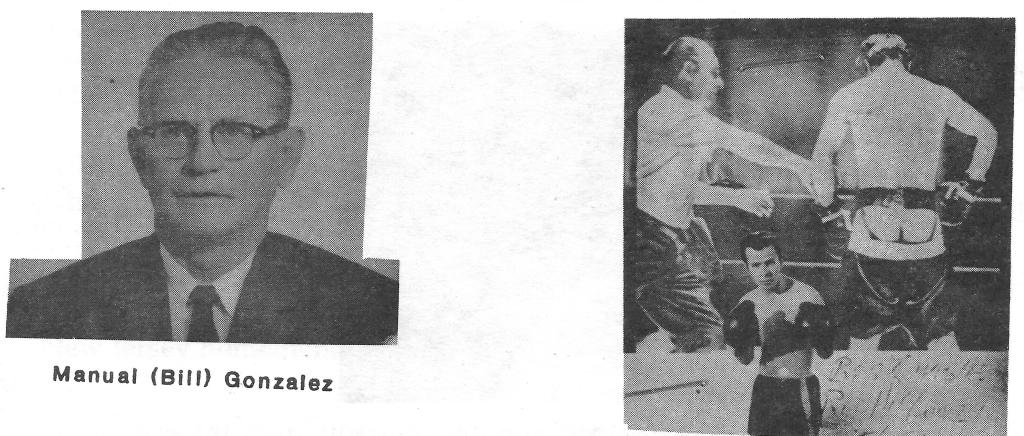 I am contributing in loving memory of my departed Dad; Manual (Bill) Gonzalez who put the first pair of boxing gloves on me, when I was 3 years old-with my twin brother Bob Gonzalez and cousin John Vazquez, my father paid us $.25 to spar together.
Also departed friends: Director of the P.A.L. Eddie Gray, and Tom Judge who is the Boxing Trainer of the P.A.L. My brother Manny Gonzalez also did boxing in the P.A.L. and Amateur.
Also my sparring partner Tony Orlando Jr. and Mike Orlando, Mr. Tony Orlando Sr. trainer and manager who took me through out the amateur and professional fights-people that inspired me are back bone to my success. And of course, Eddie Acosta, Golden Glove Lightweight Champion.
The record that was never broken: 5 time Golden Glove Champ; 3 time AAU Champ; 3 time Union County Champ; 1 time Mercer County Champ; 39 Professional Fights; Golden Glove Champion in 3 Different Divisions.
Richie "Flash" Gonzales, a five-time New Jersey Golden Gloves champion in three divisions, from 1959 to 1963, and a State Hall of Famer in the pros, was struck and killed by a trackor-trailer in Jacksonville, Florida, according to police reports.
Gonzales, suffering from Alzheimer's disease and residing in Lake Worth, Florida, with his brother Manny, had wandered away.
Boxing Record: click