Inducted on February 24, 1984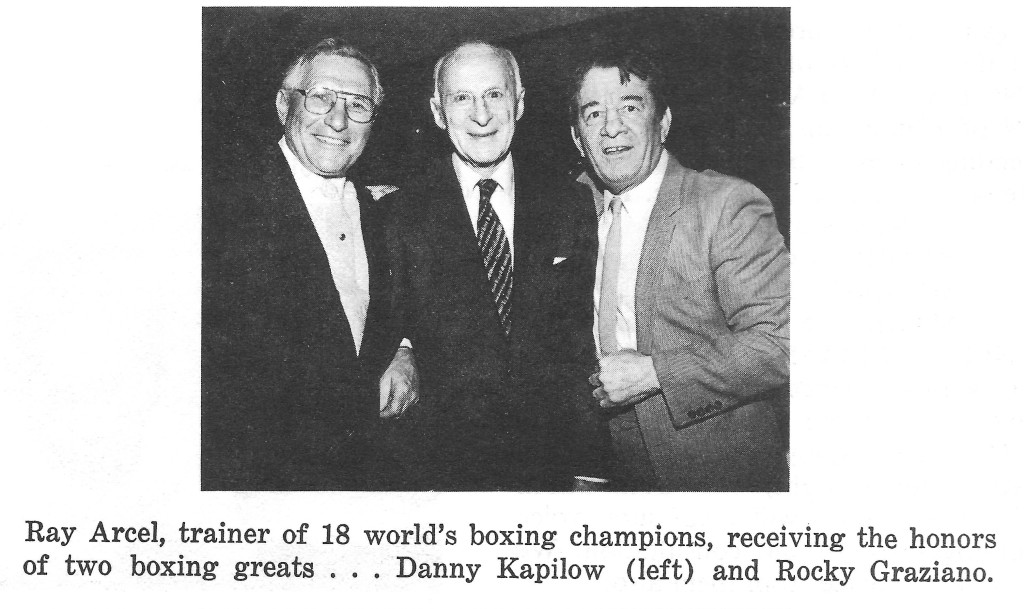 Unquestionably the foremost Boxing authority during the past century plus ten, the following tribute to RAY ARCEL is an abbreviated description of his capabilities … In research of his expertise an article in THE NEWS of Paterson, dated Wednesday, January 9, 1980, Jeff Kisseloff reporter, contained many essential facts that boxing and sport fans alike will enjoy. I wish to express my sincere gratitude to Rick Maddock of The News for use of Jeff Kisseloff "Q & A Ray Arcel January 9, 1980."
Mario J. Centi, President New Jersey Boxing Hall of Fame.
MEDICAL CENTER ESTABLISHED FOR FORMER BOXERS
by BILL GALLO
Boxing has come up with something positive in a time when the old game is again on the ropes, being pounded from pillar to post with all that has been negative.
Yesterday Ring #8, an organization comprised of former boxers dedicated to aiding and assisting former boxers, announced the establishment of the Ray Arcel Medical Center.
The Center, to be located at 1435 Broadway, in Manhattan, is named in honor of the great boxing trainer and it will provide yearly physical examinations at no cost to veteran boxers and cornermen who are members of Boxing. John Colan, President of Ring #8, said the membership has approved a program of medical diagnostic examinations for all the veteran boxers who apply to the Center. Also, on the committee are: Danny Kapilow, former welterweight; .M Reid, today a fight official; Eddie Blunt, a former heavyweight; and Charles Gellman, the director of Jewish Memorial Hospital in New York City.
"We at Jewish Memorial," said Gellman, "have been taking care of old, indigent fighters for years and now with this stopgap of a diagnostic screen center, we will at least detect any serious ailments early."
Attending the press conference at Delsornma's Restaurant on W. 47th Street, were such former boxers as:
M. Shapiro; Artie Levine; Johnny Colan; Roger Donahue; Jimmy Corolla; Billy Graham; Petey Hayes and Jake LaMotta. "I want to lend my name to this, said LaMotta. "This is the first good thing I heard about boxing in a long time, What a wonderful thing to do, and I take my hat off to Ray Arcel, Johnny Colan and Danny Kapilow,'
The Medical Center will be headed by Dr. Issam Arnuk and his staff of three other doctors, plus two nurses, and one X-ray technician, and they have been available to former boxers wanting a yearly physical without charge, as of January 1st.
At the close of the press conference Arcel said: "If this is the culmination of all the effort I put into my 65 years in Boxing, I thank God … It was worth every minute of my time."
No trainer in the history of boxing has worked with as many world champions as Ray Arcel. He has trained 18 titleholders ranging from Abe Goldstein, who captured the bantamweight title in 1924, to Roberto Duran, one of the greatest lightweights of all-time, who recently gave up his crown to fight as a welterweight. Duran is the only fighter Arcel works with now.
Among the heavyweight champions that Arcel has trained were Jimmy Braddock, the "Cinderella Kid," who upset Max Baer and then lost his title to Joe Louis; Jack Sharkey, Baer, Primo Camera and Ezzard Charles. In the lighter divisions, he worked with such greats as Benny Leonard, Barney Ross and Tony Zale.
Q.: Who were some of your favorite fighters?
A.: Oh, they were all my favorites.
They were like my kids. Who couldn't like Barney Ross or Tony Zale? The first fight with Graziano I was up with him for three nights before the fight. He had arthritis in his elbow, and in order for him to rest, I had to put a backing lamp on his elbow. I had to watch the lamp and put my hand underneath to make sure he didn't get burned. That's how we put him in the ring against Rocky Graziano.
Q.: I listened to the Braddock/Louis fight at the Museum of Broadcasting. and my impression was that until the 7th round, Braddock was doing pretty well.
A.: Well. he was holding his own.
Braddock was always a game guy. When he was in there he showed no fear. You could not imagine that he had any nerves. He never showed any tension. Here he is defending his title, and maybe he'1J.l never have another fight for the rest of his life. He too, suffered with arthritis very badly in his arms. There was not anything you could do for him. You could just ease the pain and be there and make him feel that we are around, too.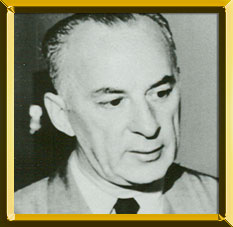 Ray Arcel trained 20 world champions in his boxing career – the first in 1923 and the last in 1982. In 1934, five of Arcels´ fighters won world titles. In 1982, Ray became the first of only two trainers elected into the Boxing Hall of Fame.
Ray handled more than 2,000 fighters in his career (70 years in the ring), and non of these fighters was ever seriously hurt. His world champions include such fighters as Abe Goldstein, Jackie "Kid" Berg, Barney Ross, Tony Zale, Ezzard Charles, Kid Galivan, Roberto Duran and Larry Holmes.