Inducted on November 10, 2005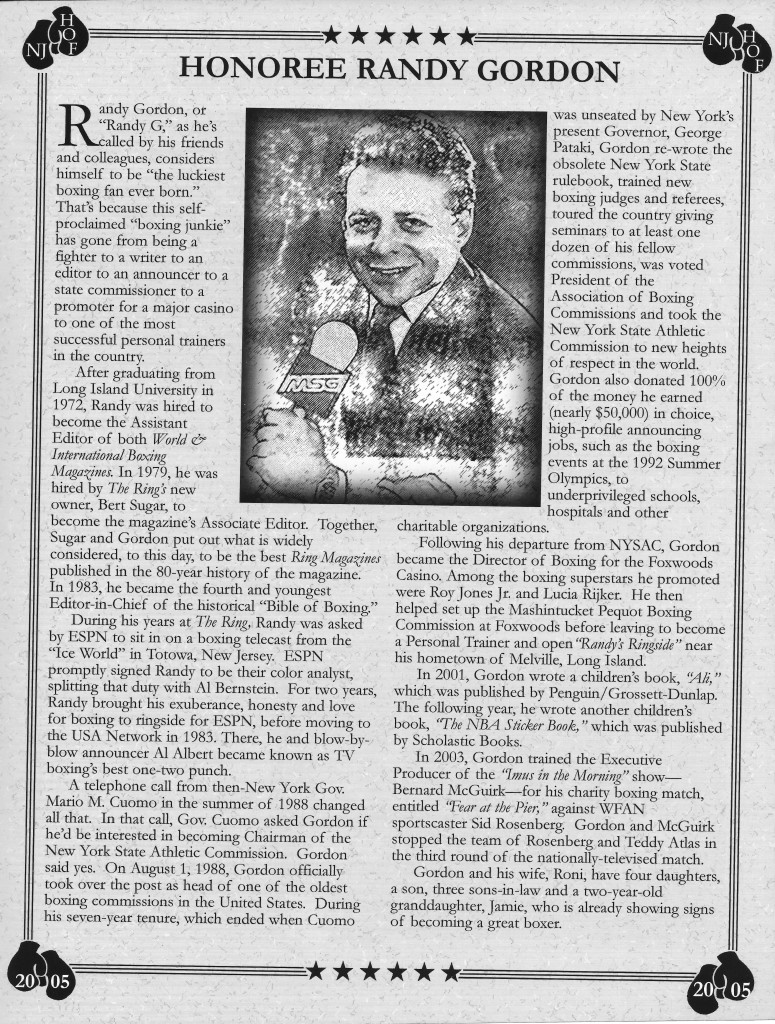 Randy Gordon (b: March 11, 1949 in Brookly, N.Y.) is an American boxing journalist/historian/Commissioner/announcer.
Gordon served as Editor-in-Chief of The Ring Magazine and Boxing Illustrated. He was also the Associate Editor of Big Book of Boxing, World Boxing Magazine and International Boxing Magazine prior to joining publisher Bert R. Sugar at The Ring. The years during which Gordon and Sugar ran The Ring (1979-1983) are widely accepted as having been the finest boxing magazines ever published.
Gordon has been on on-air analyst for ESPN, the USA Network, SportsChannel, the Sunshine Network, SNY, New England Sports Network, the Madison Square Garden Network, FNN, CNN, KMOX and WFAN. He currently serves as a show host for two shows on SiriusXM Satellite Radio–"Fight Club" and "Friday Night at the Fights," which he hosts with RJ Clifford and Gerry Cooney, respectively.
From 1988-1995, Gordon served as Chairman of the New York State Athletic Commission, a position he was appointed to by then-New York State Gov. Mario M. Cuomo. At 38, he was the youngest commissioner in the history of the NYSAC.
Commissioner Gordon was one of the founding fathers of the Association of Boxing Commissions and served as its third President. In the mid-1990's, he helped ban MMA in New York State, a ban which remains well in 2011. Gordon later came to better understand and love MMA, continually pushing for its being licensed and governed by the NYSAC.
Following his time as New York's Athletic Commissioner, Gordon was the Director of Boxing for the Foxwoods Resort Hotel & Casino in Mashantucket, CT, from 1995 until 1997.
Gordon has had parts in two movies: "The Accused" and "The Mouse," as well as a role in the Emmy Award-winning HBO documentary, ""Assault in the Ring," and a role in the HBO movie, "Undefeated." He also has a role in the 7-UP commercial starring Sugar Ray Leonard.
Gordon has written and published two children's books. One is "Ali" (Penguin Publishing). The other is the "Ultimate NBA Sticker Book" (Scholastic).
In 2005, Gordon was inducted in the New Jersey Boxing Hall of Fame.
Personal Life
Randy and his wife, Roni, live in Melville, Long Island, New York. They have five children.