Inducted on September 24, 1972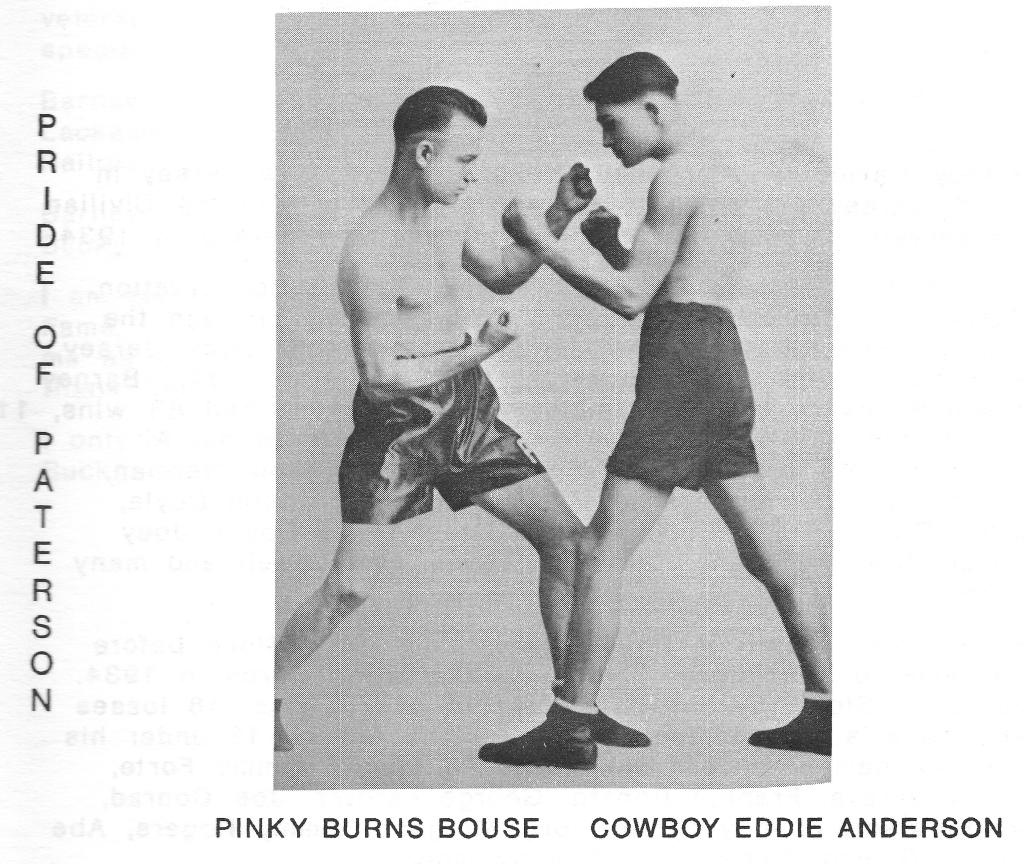 Pinky Burns of Paterson hard punching ring craftsman, New Jersey's lightweight champ in 1926.
Pinky was born in the Riverside section of Paterson. He started his career in the early '20s and was dabbed "Paterson's Original Golden Boy". Scored 45 ko's out of 100 pro bouts. Winning over Harry Felix, Joey Harrison, George Day, etc. Greatest fight defeating Southern lightweight champ Goldie Ahearn, having Goldie on the deck 3 times, knocking Goldie out of a World Title bout. The "Pink" loved sports and played baseball and football with the Paterson "Riversides" and the Paterson "Mercers". Inducted in the Hall of Fame in 1972. Now deceased, his daughter Marilyn lives in Florida with her husband, Edward and his son Ronnie lives in Totowa.
Date Opponent Results Site Comments
1920- 1-22 Willie Belmont D- 4 Paterson, NJ Burns real name is Artie Bouse
1920- 2-13 Young Churchill TKO- 4 Paterson, NJ
1920- 4-30 Kid Williams W- 4 Paterson, NJ
1920- 5-21 Young Kid Williams TKO- 1 Paterson, NJ Williams was stopped on a bad cut
1920- 9-29 Larry Roach W- 6 Paterson, NJ
1920-10- 4 Kid Williams KO-by- 3 Paterson, NJ
1921-10-13 Lew Nolan KO- 4 Wallington
1922- 1-12 Joe Dundee KO- 1 Passaic
1922- 1-26 Marty Triano W- 6 Passaic best fight of the night-Phil Kraske- Burns manager
1922- 2-23 Patsy Rice TKO- 4 Passaic
1922- 5-22 Mickey Walters W- 8 Paterson, NJ
1922-10-31 Patsy Nelson KO- 2 Paterson, NJ
1922-12- 4 Ed Felsh TKO-by- 3 Passaic Burns dislocated his shoulder
1923- 2-22 George Day W- 6 Passaic
1923- 4- 5 Young Dorson TKO- 3 Passaic
1923- 4-19 Patsy Nelson W- 8 Passaic
1923- 5- 3 Larry Roach L-10 Passaic
1924- 1- 8 Joe Scappiatone W- 8 Paterson, NJ
1924- 1-17 Willie Powell W-10 Passaic
1924- 1-29 Johnny (Kid) Blair W-10 Paterson, NJ NJ Junior Lightweight Champion
1924- 3-20 Tony Palmer W-10 Passaic 128 to 132
1924- 3-27 Harry Felix L- 8 Passaic onesided bout
1924- 7-10 Petey Mack L-10 Paterson, NJ Peerless oval
1924-11-20 Ray Davis W-10 Passaic
1925- 1-13 Frankie Marks KO- 3 Paterson, NJ
1925- 1-27 Joey Kaufman W- 8 Paterson, NJ
1925- 3- 2 Benny Cross L- 8 Paterson, NJ
1925- 5-22 Kid Ragge KO- 3 Ridgewood
1925- 7- 9 Patsy Nelson W-10 West New York
1925- 7-23 Jimmy Riley KO- 1 West New York
1925- 8-27 Paulie Alberts W- 8 West New York
1925- 9- 7 John Boylinski W-10 Stapleton, S.I.
1925- 9-10 Paulie Alberts W- 8 West New York
1925-11- 6 Scully Lewis W- 8 Union City, N.J.
1925-12-18 Goldie Ahearn W-10 North Bergen
1926- 4-23 Henry Usse W-10 Paterson, NJ
1926- 6-25 Frankie Schuman W-10 Paterson, NJ
1926-10-20 Willie Mackel W-10 Ridgewood
1927- 3-28 Joey Harrison W- 8 Ridgefield Park
1927- 9-15 Joey Harrison L- 8 Passaic close bout
1927- 9-30 Blockie Forbes W- 6 Ridgewood score 6-0
1927-12-15 Joey Harrison D- 8 Passaic great bout
1928- 2-16 Joey Harrison W- ? Passaic
1928- 3- 8 Mickey Biss L-10 Passaic 137 to 138, offical dec.
1928- 3-29 Whitey Shortway W-10 Paterson, NJ score 8-0-2
1928- 5-31 Bobby Amster KO-by- 2 Hackensack 137 to 138
1928-10- 1 Pete McLoughlin KO- 1 Ridgewood
1928-10-25 Phil Roselle KO- 3 Ridgewood
1929- 1-10 Johnny O'Keefe L- 8 Paterson, NJ
Boxing Record – Pinky Burns