Inducted on November 8, 2001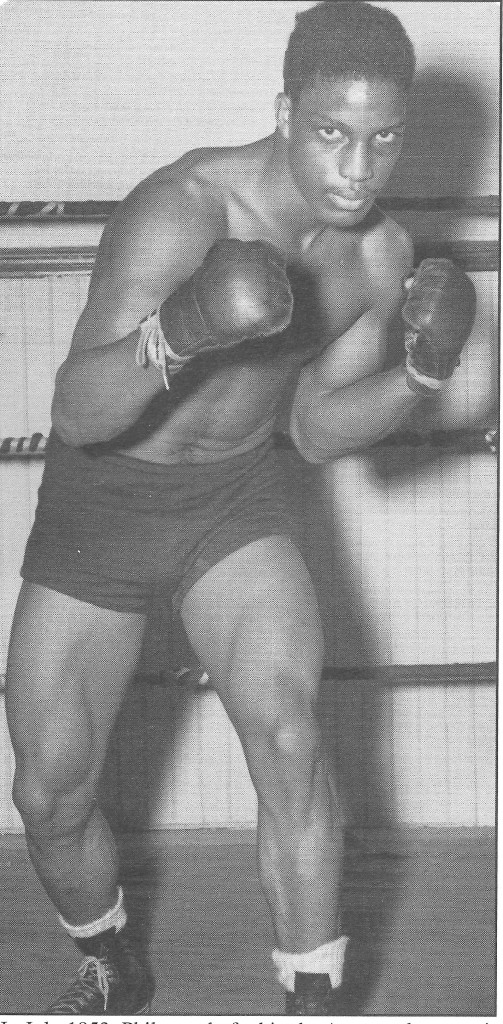 Phil Saxton was born in Elizabeth, NJ in 1932. Trained and managed by Pete Nozza, Phil began his amateur career at the age of 16. In 1949, he won the novice Middleweight Golden Gloves Championship. His outstanding boxing skills prompted the tournament coaches to select Phil over the open class champion to compete in the Eastern Golden Gloves Tournament in New York. In his fifth bout, Phil fought Floyd Morris, who was a national Golden Gloves champion the two previous years. Phil cut Morris' eye, but lost the close decision. That year, Phil also won the NJ Diamond Gloves Open Class Championship.
In 1950, Phil won the Open Class Light Heavyweight championship scoring a 24-second knockout of Dwight Garmon, an Army champion. He also knocked out Lester Baldwin, the previous year's open class champion, in the second round. Phil was awarded the open class Outstanding Boxer Trophy that year. In the Eastern Golden Gloves tournament, Phil lost a disputed decision to John Boutilier, who won the national golden gloves championship the previous year. In 1950, Phil won the NJ Diamond Gloves Championship, in addition to the NJ AAU Light Heavyweight Championship, for a total of five amateur titles at the age of 16 and 17.
He turned pro in 1951, losing only one of 16 fights, which was stopped by his comer of a broken hand. During that time, Ring Magazine named him Light Heavyweight Prospect of the Month. He won the NJ Professional Light Heavyweight championship at the age of 18. One of his championship bouts was a lO-round decision over Jimmy Cerello from Hoboken. Cerello reportedly knocked down Rocky Marciano in a parring session.
Phil's last fight before being drafted in the Army was an 8-round semifinal bout in St. Nicholas Arena, in which he knocked down Richie James from Philadelphia four times to win. The story in the Daily Mirror the next day said, "If they're all as tough in Elizabeth, New Jersey, as was Saxton in last night's semifinal bout, you'd better avoid that place."
In July 1953, Phil was drafted in the Army and was assigned to an ordnance division because of expertise in firearms. Unfortunately, for his boxing career, Phil was stationed in a remote ordnance depot in Germany for two years, away from any boxing facilities. After his discharge, obviously very rusty, Phil fought a draw with Joe Shaw in his first comeback fight. For his next fight, Phil had many gym-wars with third-ranked heavyweight contender Harold Carter, The payoff was a display of punching power, two punches that knocked Jimmy Washington from Philadelphia out cold, in Madison Square Garden. Carlos Ortiz had the semifinal bout that night.
Phil was ranked tenth in the light heavyweight division when he lost a 10-round decision to ranked contender Artie Towne, an exceptionally gifted boxer with a record of 87 wins in 102 fights. That was Phil's 19th pro fight. His next fight was a draw with Clarence Floyd, who fought Harold Johnson.
By that time, Phil owned a popular nightclub and managed an electrical supply company, leaving little time for training. Phil retired after 39 fights with a record of 31 wins, 6 losses and 2 draws.
Boxing record: click