Inducted on November 13, 2003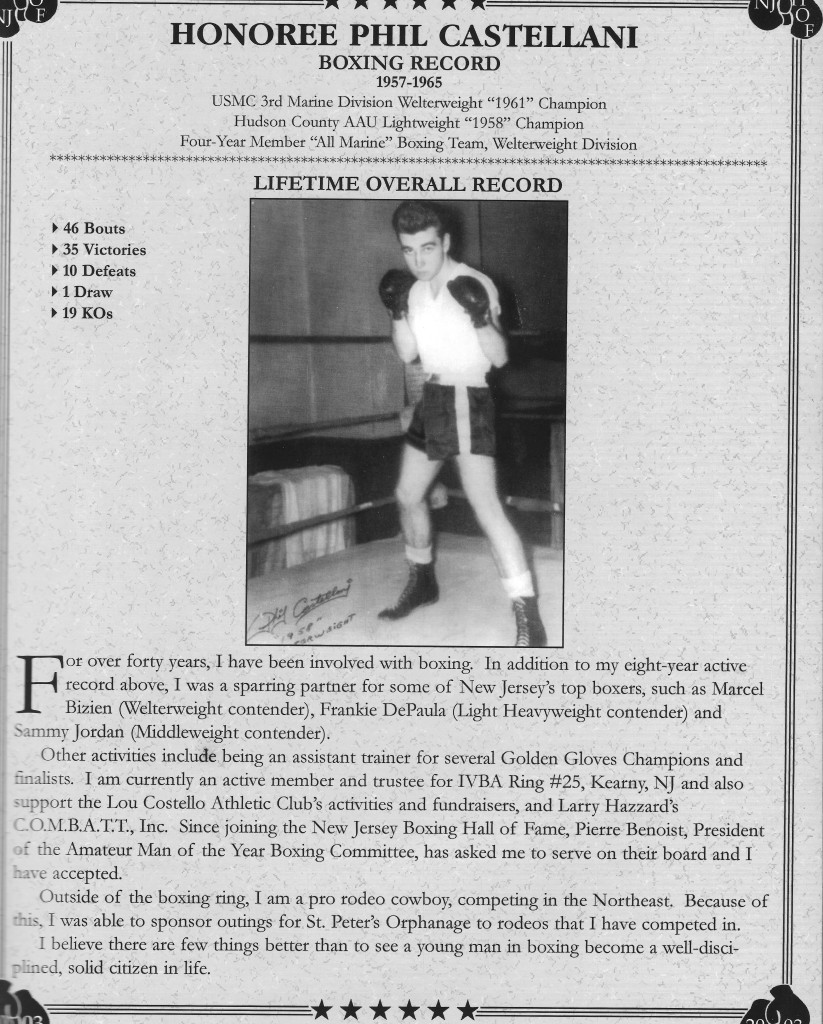 BOXING RECORD
1957-1965
USMC 3rd Marine Division Welterweight "1961" Champion
Hudson County AAU Lightweight "1958" Champion
Four-Year Member "All Marine" Boxing Team, Welterweight Division
LIFETIME OVERALL RECORD
· 46 Bouts
· 35 Victories
· 10 Defeats
· 1 Draw
· 19 KOs
For over forty years, I have been involved with boxing. In addition to my eight-year active record above, I was a sparring partner for some of New Jersey's top boxers, such as Marcel Bizien (Welterweight contender), Frankie DePaula (Light Heavyweight contender) and Sammy Jordan (Middleweight contender).
Other activities include being an assistant trainer for several Golden Gloves Champions and finalists. I am currently an active member and trustee for IVBA Ring #25, Kearny, NJ and also
support the Lou Costello Athletic Club's activities and fund raisers, and Larry Hazzard's C.O.M.B.A.T.T., Inc. Since joining the New Jersey Boxing Hall of Fame, Pierre Benoist, President
of the Amateur Man of the Year Boxing Committee, has asked me to serve on their board and I have
accepted.
Outside of the boxing ring, I am a pro rodeo cowboy, competing in the Northeast. Because of this, I was able to sponsor outings for St. Peter's Orphanage to rodeos that I have competed in.
I believe there are few things better than to see a young man in boxing become a well-disciplined, solid citizen in life.