Inducted on November 9, 1995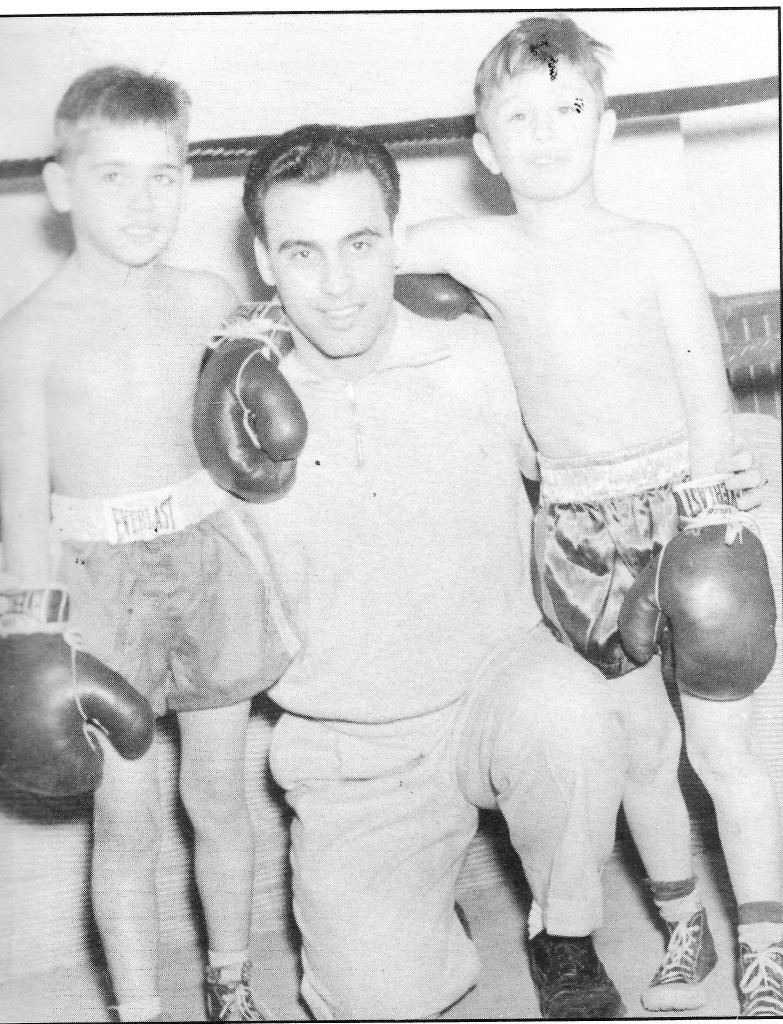 Pete Nozza was born and raised in Elizabeth, New Jersey where his life-long interest in boxing was inspired by the Toy Bulldog, Mickey Walker. His boxing education developed in the city playgrounds and public schools, winning several tournaments. Pete's boxing career progressed under the tutelage of Tony Orlando, sparring with Freddy Russo, Freddy Herman, Jackie Savage and other prominent boxers. However, Pete recognized early that good training methods were critical in developing boxing skills and that his ultimate goal was to be an educated trainer.
Pete enlisted in the U.S. Navy in World War II, after a successful amateur career, losing only a disputed decision to the 1943 Golden Gloves Champion. But his association with boxing continued when Pete was assigned to Gene Tunney's Physical Fitness Program in the Pacific Theatre, working with Georgie Abrams, the Middleweight Champion and other popular athletes. In Pearl Harbor and Guam he participated in bouts and exhibitions, including a decision over George Feltes (Sailor Fulton), the Pacific Theatre Champion. When Japan surrendered, Pete was shipped to Japan and was in Tokyo Bay September 2, 1945 when the treaty was signed, witnessing the first American Flag unfurled in Japan.
After the war, with the experience of working with service boxers and a record of 21 wins in 24 fights, Pete pursued his ambition in the training field, training amateur and professional boxers while majoring
in education at Panzer College and thereafter. His fighters included Phil Saxton, two-time Golden Gloves and Diamond Gloves Champion and New Jersey Amateur and Professional Middleweight and Lightweight Champion; Gene Washington, Golden Gloves Middleweight Champion and professional boxer; Joey Longo, Golden Gloves Welterweight Champion; and Artie Randolph, Golden Gloves Middleweight Champion. Also, Pete worked with Tony and Frankie Orlando and many of their fighters, including Charlie Slaughter, New Jersey Professional Featherweight Champion who fought Sandy Saddler and defeated Lulu Perez, Hermie Freeman, Leo Lebrum, Joe Wamsley, Gene Takasch, Joey Cam, the New England Featherweight Champion, and other ranking fighters. Much of Pete's time was devoted to youth development programs, training Rahway and Elizabeth P.A.L. youngsters, with emphasis on defensive boxing skills and character-building.
In addition to his boxing accomplishments, Pete received numerous commendations from Government, Industry, Labor and Education as a training and technical services consultant for the New Jersey Department of Labor. Governor Kean presented the coveted New Jersey Professional Accomplishment Award to Pete for his leadership in developing a model hazardous waste clean-up training program with a team approach for Local 825 Operating Engineers; Locals 4721172 Construction Workers; and the Utility and Transportation Contractors Association and Association of General Contractors. The New Jersey State Senate honored Pete and he was invited to Washington, D.C. to present a paper on the training program at a national conference. Governor Florio commended Pete for his direction and dedication in the construction of a high technology training center and development of training programs, designed to upgrade skills of Ford Company personnel, which were instrumental in Ford's decision not to close the Edison Assembly Plant; thereby saving over 1600 jobs in New Jersey. Pete's innate ability in the education and training fields reflects his careers in both boxing and industry.
Pete has been married to Jeanann (Fuschetti) for 40 wonderful years. They have two sons, Gregory and Stephen, daughter-inlaw Carol, and granddaughters Nicole and Allison. Pete's father-in-law, Fritzie Fuschetti, was an outstanding trainer who worked in Ralph Griffin's corner when Ralph lost a highly disputed decision to the great Allie Stolz.