* The next meeting for the New Jersey Boxing Hall of Fame will be on Thursday, September 28th, at the Faith Reformed Church located at 95 Washington St. in Lodi, N.J. which is right at the corner of Washington and Prospect St., starting at 8:00 P.M.
                                                            
As the President of the New Jersey Boxing Hall of Fame I am proud to announce that on Thursday evening, November 9, 2017, the New Jersey Boxing Hall of Fame will hold it's 48th Annual Dinner and Induction Ceremonies at the beautiful Venetian, located at 546 River Drive, Garfield, New Jersey starting at 6:45 P.M.  Tickets are priced at ONLY $85.00 per person.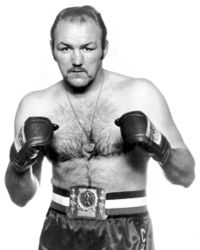 Our 2017 Man of the Year Award goes to Chuck Wepner. Chuck was a Top 10 contender in the heavyweight division from 1973 to 1977. He won the New Jersey Heavyweight Title twice, once against Randy Neumann, as well as the National Americas Heavyweight Title when he beat former WBA heavyweight Champion, Ernie Terrell. BUT he is most known for fighting Muhammad Ali into the 15 round and became ONLY the 4th fighter to ever put Ali on the canvas. Of course we all know he served as an inspiration for the Academy Award winning movie Rocky. Now years later his OWN story is on the BIG screen which is called "Chuck". and is out on DVD and Blue Gray.
Fourteen (14) of Boxing's finest will be inducted in the New Jersey Boxing Hall of Fame, and they are as follows:
Sal Alessi – Managed, trained and promoted dozens of New Jersey's finest Boxers, including Bob Rooney Jr., Jeremy Bryan, Glen Tapia, Pat Farrell, Wayne Johnson, plus many more.
Kenny Bogner – One of the most exciting Lightweight contenders in the 1980's who was rated in the top 10 in the World in 1983. He finished his career with a 25-2-1 record with 16 KO's.
Clarence Coleman – He would fight anyone that was put in front of him including Micky Ward, Frankie Warren, Charles Murray, Saoul Mamby, Larry Barnes and John Duplessis.
 Greg Everett – An Outstanding Light Heavyweight from the 1980's and 90's who fought World Champions Frank Tate and James Toney. He finished his career with a 21-3 record with 17 KO's.
 Anthony Hamm – Trained 14 World Champions including Ray Mercer, Arturo Gatti, Charles "The Natural" Murray, Tracey Patterson, Shannon Briggs, Imamu Mayfield, Ice Al Cole, Sultan Ibragmov, Bobby Czyz and Corey Spinks.
Joey (Eye) Intrieri – Longtime cutman and promoter who has worked the corners of many top fighters in the last 25 years, including Ray Mercer, Bruce Seldon, Ivan Robinson, Jackie Frazier, Tim Witherspoon, Michael Grant and Darren Maciunski.
Johnny Molnar – New Jersey Golden Glove Champion who was undefeated in his first 17 fights as a pro and finished with a career record of 20-2-2 with 10 KO's.
Bob Rooney Sr. – Trained 23 Golden Glove Champions, 18 Diamond Glove Champions and 5 Amateur Club Champions. Bob also trained state team champions in 1988, 1990, 1991, 1992 & 1996. He trained Nino Gonzalez to a State Title and a fight with Roberto Duran. He was also Chuck Wepner's sparing partner for 13 years.
 Marlon Starling – Former WBA & WBC Welterweight Champion of the World. He fought and beat Simon Brown, Mark Breland, Lloyd Honeyghan, Lupe Aquino, Kevin Howard and Floyd Mayweather Sr. He finished his career with a 45-6-1 record with 27 KO's.
 Adrian Stone – Former IBO Light Middleweight & Intercontinental Welterweight Champion. Fought such standouts as Shane Mosley, Vernon Forrest, Sergio Martinez and John Duplessis. He finished his career with a 33-5-2 record with 26 KO's.
Paul Vegliante – A former New Jersey Amateur Champion who is the President of the AAIB which awards scholarships to Amateur boxers for College. Over the last 5 years they have awarded over $150,000 and he was a main driving force.
 POSTHUMOUSLY
Jimmy Cerello – Outstanding middleweight who was undefeated in his first 29 fights, a streak that came to an end when he lost to World contender Robert Villemain, who beat both Kid Gavilan and Jake LaMotta, and fought Sugar Ray Robinson twice. He finished his career with a 28-5-2 record.
 Oscar Goode – Top Light Heavyweight from the 1940's who beat such standouts as Herbie Katz, Vince Pimpinella and Jackie Caparell. He also fought Roland LaStarza and Johnny Shkor. After his first 52 bouts he was 39-11-2.
 Mike Mastandrea – Fought for less then 19 months in which he had 36 fights. 5 times during his career he fought 3 times in a single month. From October 3rd to December 18th, 1942 he fought 9 times. His career came to an end when he went on to fight a far more important fight in World War II. He was a paratrooper in the 101st infantry and was killed at the battle of Normandy (D-Day) on June 6, 1944. He was ONLY 21 years old.
Also, the NEW JERSEY BOXING HALL OF FAME will be honoring our Senior Amateur (Aadam Ali), Junior Olympic Amateur (Emmanuel Chance) & Pro Boxer of the Year (Derrick Webster) as well as the Amateur Official (Andrew Mustacchio) & Coach of the Year (Mike Rizzo)
Ring Notes:  
*Ring # 25 has their monthly meetings at the Senior Citizen Hall in Kearney. Contact President, Kathy Gatti, at 201-320-0874.
*Ring # 8, of New York will have their next meeting on October 19th at the Plattduetsche Restaurant, Franklin Square, New York – Contact President Jack Hirsch at ajhirsch5@aol.com 516-790-7592.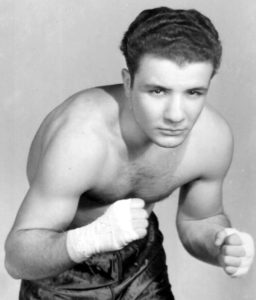 We just lost another boxing Great in Jake Lamotta. Jake defeated Sugar Ray Robinson by a ten-round unanimous decision in Detroit on February 5, 1943. It was Robinson's first loss after 40 professional victories. LaMotta fought Robinson six times, losing 5 of them. LaMotta later said, "I fought Sugar Ray so often, I almost got diabetes."
He was the Middleweight Champion of the World from June 16, 1949 when he stopped Marcel Cerdan to February 14, 1951 when Robinson stopped him.
Jake was inducted into the International Boxing Hall of Fame in it's very 1st year 1990 and he was also inducted into the New York State Boxing Hall of Fame in it's 1st year 2012.
FINALLY: MEMBERSHIP DUES ARE DUE!   If you are just joining our organization you pay a total of $20 for the 1st yr ($10 to join & $10 for the year). If you are already a member you pay only $10.
 Keep Punching,
President, Henry Hascup
.
THIS MONTHS NEWSLETTER:
N.J. Boxing Hall of Fame Newsletter September 2017