Inducted on November 14, 2002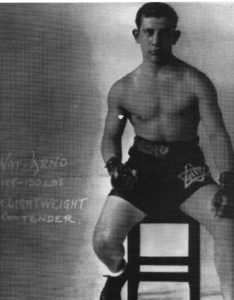 Sidney Nathaniel Abramowitz, originally started at the age of 14, whereby they assumed he was 18 years of age in New Jersey in 1924. In 1926, Nat Amo ran away from home to Florida for a career in boxing as a Junior Lightweight Contender. He had won many bouts in Florida. And was well known there in saving the lives of a family from an electrical injury during a Hurricane ….
Nat Arno had 121 bouts, only losing 11 of them. He was the best known to fight among those well known boxers in his Era. Yet, in the late 1930′ s, Nat Arno secretly worked with the O.S.S. to infiltrate and break up Hitler's – Nazi Bun Meetings on the east coast. He never once lost to their fights even though they wanted him to …
In 1941, Nat Arno was inducted into the military as an "Army Infantryman" with the 29th Infantry Division. While within the military, he also traditionally did some boxing expeditions. He ceased from boxing while overseas in Europe fighting during World War II combatively from 1943- 1945; but did not leave the Military Reserves until November 1 st, 1948 …
He retired from boxing after WW II, but did help teach those kids who dreamed of their own career in boxing. In the 1950's – 60's, Nat Arno became a member of the Disabled American Veterans here in the Hollywood, California Group # 49, and was later voted as a Commander of the D.A.V. on the State Executive Board in California ….
He was married only once with two offspring boys. Later on after he pasted away, his family established in memory of his two- Daughter-In-Laws, Three Grandchildren and now one Great- Grandchild ….
Nat Amo Left us all, only knowing two legacies- (1) Imagination is more Important than Knowledge and Dreaming is the Climax of Reality, " And (2) Those who believe they can move mountains Do, Those who believe they can't- Cannot. Belief triggers the Power to Do.
Nat Arno is a member of the New Jersey Boxing Hall of Fame. Most of the Florida results for Arno's record courtesy of Henry Hascup of the New Jersey Boxing Hall of Fame.
Jewish- American- Born: Newark, New Jersey
April 1st, 1910- August 8th, 1973
Boxing Record: Nat Arno