Inducted on November 12, 1998
The Bronx Spider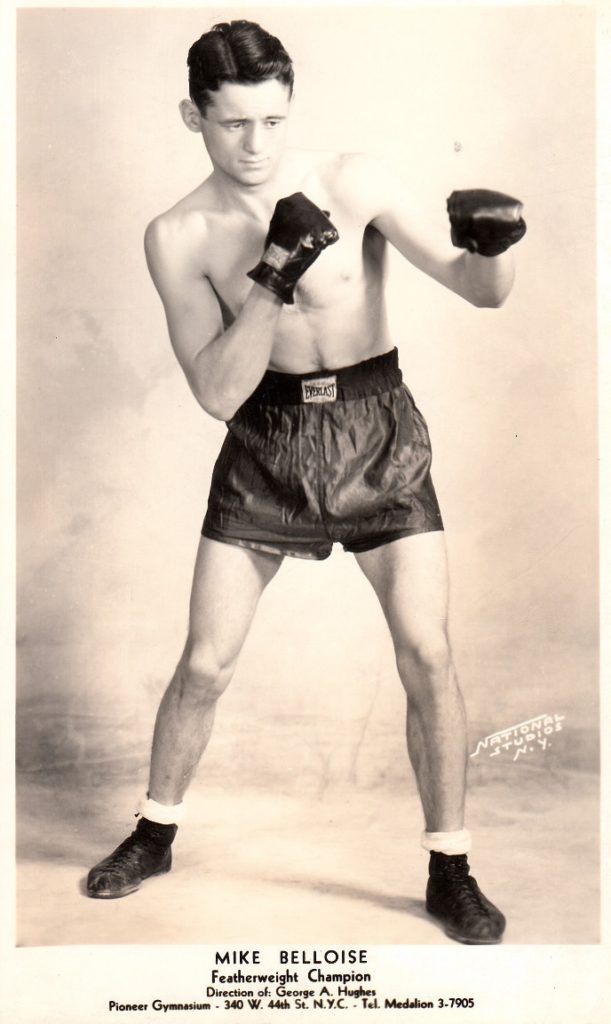 A few months ago, Steve Belloise Jr. sent us an article on his dad. Now, here is Steve's
cousin, also named Steve, who writes on his dad, the great Mike Belloise.
"He was a craftsman in the ring." That's what my teacher said. "They couldn't lay a glove on him," a business associate once informed me. "He spent hours in the gym when I was a kid and taught me everything he knew, we fought towards the end of his career and when I beat him we both cried in the middle of the ring," ex-fighter Chester Rico reminisced.
Whether it was memories of a passionate fan or testimony from a worthy competitor, I grew up hearing nothing but the sincerest praise for Mike Belloise, my father. The first of nine children born to Salvatore and Julia Belloisi in the Villa Avenue section of the Bronx, Mike began a long, difficult road to stardom in the mid-1920s.
All told, he fought over 200 amateur fights, including pre-Olympic tours in 1928 and 1931 for the U.S. Boxing Team during which Belloise took home medals from allover Europe. In 1932, Mike had paid his dues and was ready to begin a pro career.
Fighting as often as three times a month, Mike roared through his first 22 matches undefeated until he was decisioned by Lew Feldman in January 1934. In June of that same year, Belloise avenged the loss, turning the tables on Feldman, winning a 10-round decision on his way to an elimination bout the following month with Baby Arizmendi for the vacated World
L..- _' Featherweight title. In a grueling struggle, Mike lost a 15-round decision and his title chances
were temporarily shelved. By all accounts, Belloise had "style." Though he was not a knockout artist, he was known as a crisp puncher who never offered an opponent a clear shot. To confuse his adversaries, Mike, a natural righty, would sometimes switch to southpaw stance in the middle of a fight! His ability to tag opponents with a variety of punches without providing them the opportunity to land counter blows earned him the nickname, "The Bronx Spider."
It took nearly two years, but by 1936, with a record of 35-4-3, Mike had earned another title shot. Belloise was determined to not let this chance get away and fulfilled a lifelong dream by knocking out Everett Rightmire in the 14th round to become Featherweight Champion of the World.
In that same year, Belloise fought perhaps his greatest bout which, ironically, was a loss. Mike went ten rounds with the immortal Henry Armstrong and even knocked down the ring legend. However, Armstrong escaped with a split decision.
Years later, Belloise, whose charismatic personality had made him a crowd favorite even in distant California, gave an account to The New York Post of the tumultuous scene that ensued after this unpopular decision. "Of course I wasn't happy with the outcome, but what I remember seeing is Mae West at ringside giving the referee hell and I coudn't help but get a kick out of it."
In June of 1937, at his fighting peak, Belloise suddenly contracted an illness which thrust him into a life and death struggle and resulted in the removal of one of his ribs. Though he was able to return the following year, Mike eventually lost his title, dropping a 15-round decision to Joey Archibald in October 1938. However, this was no time for self pity, because another Belloise was about to make his mark on the boxing world.
At about this time, Mike began getting fights on his undercards for his brother Steve. Though Mike recognized that his brother was younger and relatively inexperienced, he believed that Steve could make up for his lack of ring experience with punching power. As it turned out, Steve became a wonderful boxer as well as a terrifying puncher, winning 95 out of 110 fights, 59 by knockout. Art Rust Jr., renowned boxing analyst, put it like this: "Steve had a big edge being Mike's younger brother and getting on his fight cards.He never even fought an amateur fight, but he didn't have to, he was that good!" As for Mike, he continued to fight the best fighters of his time, including the likes of AI Reid, Petey Scalzo and Lew Jenkins. After losing the aforementioned bout in 1942 with his old friend Chester Rico, Mike announced his retirement. But boxing was in his blood and he could not stay away. He came back later that year to rip off four consecutive wins and stayed around until 1947, when he hung up the gloves for good at age 36.
When Mike passed away in 1969 at the much too early age of 58, he left behind a legacy of guile, character and courage. He was idolized by those who watched from afar, worshipped by his peers and loved by the ones who knew him best.
What I wouldn't do to go back and spend just one Friday night in the late-1930s, ringside at the Bronx Arena, watching Steve Belloise take apart his foe with savage right hand counters on his way to stardom, then witness as Mike Belloise, still ring wise, still master of the square circle, land countless jabs and slip punches, frustrating yet another opponent into hopeless resignation. Sadly, none of us will ever see a night like that again, except perhaps in the mind's eye of an old-time boxing aficianado who still remembers the Belloise brothers and their place in boxing lore.
Manager: George Hughes
Photo #2, Photo #3 Mike Belloise was the brother of 1940s Middleweight contender and two time World Title challenger Steve Belloise, and of Sal Belloise.
He was featured on the cover of the March 1937 The Ring magazine.
Boxing Record: Mike Belloise