Inducted on February 24, 1984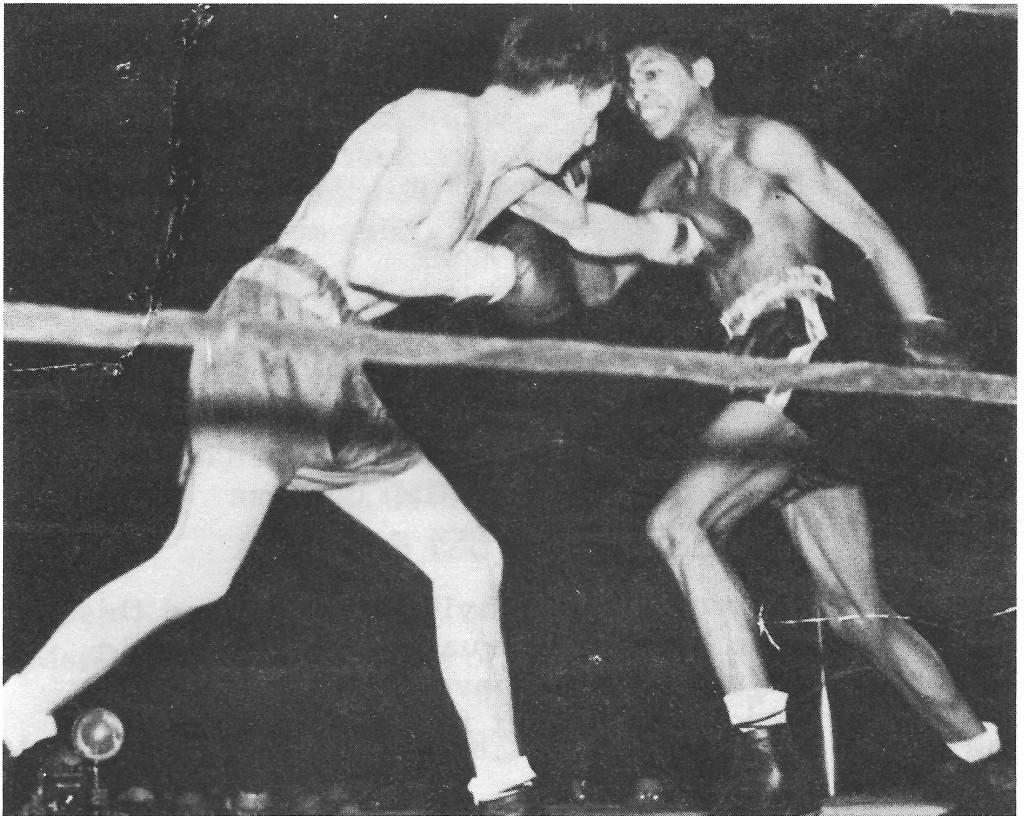 Mario Centi and Sugar Ray Robinson in the final round in Madison Square Garden, March 1939. A capacity house, The Bambino of Swat, Babe Ruth and the glamourous, sweetheart of the Golden Gloves, Mae West, cheered both boys to a split decision in one of the Garden's most thrilling bouts.
It is with deep emotion and pride I accept the honor of INDUCTION to the New Jersey Boxing Hall Of Fame. Though nominated in years past, the status of officer prevented my acceptance. Now however, time may be of importance; consequently I am indebted to the Selection Board for this greatest of honors in fistiana.
I wish to thank a few beautiful people for their assistance in
traveling this long hard road with me. I am indebted to each.
Gene Centi – Brother Board Member of the Hall
Al DeVito – Manager and Trainer and Hall of Farner – 1980 Jimmy Marsillo – Manager and Trainer and tonight's Honoree
During my earlier youth, care, tutoring and equipment were a necessities for a successful completion. Three fine gentlemen, Sandy Juliano, Pete Pfaff and Ed Capozzi of Kearny were always nearby for assistance. Their contribution was the origin of my happiness tonight.
Mario J. Centi – Hall of Fame Boxer, Dead at 83
We recently heard from one of our readers about yet another "old time boxer" who passed away recently. In a letter passed away recently. In a letter from Walter Wallace Nerwinski of Brick Township, he tells us of a close friend and former Hall of Famer Mario J. Centi who died at age 83 in his home in Clifton, N.J. on December 18th, 2004.
Centi was the former President of the New Jersey Boxing Hall of Fame Inc.
In the early part of his career, Mario crossed gloves with the Great Sugar Ray Robinson.
Mario was one of three fighting Centi-brothers, all veteran boxers and U.S. military veterans as well. Lou, deceased, United States Navy; Mario, deceased, U.S. Army; and brother Gene Centi, a retired businessman who is a former combat veteran of World War II, United States Marine Corps.
The Centi name should be long remembered for the 3 C's who did so much for the sport they loved and for their country. The late Lou Centi/U.S. Navy Veteran was also like his brothers, a Great humanitarian and a good Samaritan…he was instrumental in aiding elderly seniors and the Deborah Hospital.
Mario J. Centi:
– Boxing Record 1936-1948
– Amateur – Wins 71, Loses 7
– Professional – Wins 56, Loses 2
– 1936 Bantamweight 118 LB. Novice Champion of Bergen County
– 1937 Featherweight 126 LB. Open Champion of Bergen-Passaic County
– 1938 Featherweight 126 LB. Champion of New Jersey
– 1939 Golden Gloves 135 LB. Lightweight Champion
– 1940 New Jersey State Lightweight 135 LB. Champion
– 1940 Golden Gloves Lightweight 135 LB. Champion of New Jersey
– 1943 Lightweight 135 LB. Champion of the United States Army
– 1943 Champion of the Lightweight Division 135 LB. of All the Military Services
– 1944 Lightweight 135 LB. Champion of the Entire Military Armed Services.
– The only successful Defender of his Title:
in 1939 Mario Centi made the final of the New York Golden Gloves Tournament of Champions with Sugar Ray Robinson receiving the verdict at featherweight.
Boxing Record: click