Inducted on November 11, 1988
Lou Duva was born on May 28, 1922 in Manhattan, N.Y., and lived there until the age of four when his family moved to Paterson, N.J.. One of seven children born to hard-working Italian immigrants who emigrated to the United States in 1920, poverty was no stranger to the ambitious Lou: "My father [Salvatore] was a hard working Italian immigrant. We didn't have a lot in those days. We couldn't afford furniture, so we used to sit on crates. I remember I would have to stuff newspapers into my shoes to fill the holes because we couldn't afford to buy new ones."
Lou's brother Carl, who was 13 years older than Lou, introduced him to boxing at the ripe old age of 10. By the time Lou had reached the age of 12 or 13, he had begun boxing in the amateurs and in "bar-room" smokers–boxing matches that occurred in the back rooms of restaurants and bars. Lou wasn't an exceptional boxer, though it wasn't through a lack of talent. Lou's problems stemmed from a limited training schedule: "When I wasn't boxing, I was hustling as best as I could–delivering newspapers, shining shoes, setting up pins in a bowling alley. I'd set up pins till two, three in the morning and then fall asleep in class the next day."
In 1938, he decided that his best opportunity to escape his harsh circumstances was to join the C.C.C.–the Civilian Conservation Corps. However, Lou faced one obstacle: A corp. volunteer had to be at least 18 years old. Lou was only 16. Obstacles meant little to Lou. Ingenuitively, he doctored his birth certificate, altering the year of his birth from 1922 to 1920. Lou's scam worked. Within days he was sent to Boise, Idaho, and from there to Walla Walla, Washington where he learned to drive a truck.
He returned home at the onset of WWII, enlisted in the army and was shipped to Jackson, Mississippi. After an altercation with a couple of lieutenants that caused him to spend some time in the "brig," he was shipped to Camp Hood in Texas where he was given the position of boxing instructor. Lou left the army in 1944 to help his parents manage their restaurant and to earn money by delivering pies for his baker cousin. It's at this time that Lou began boxing professionally.
Here's another story on Lou Duva that appeared in the 1988 NJBHOF Journal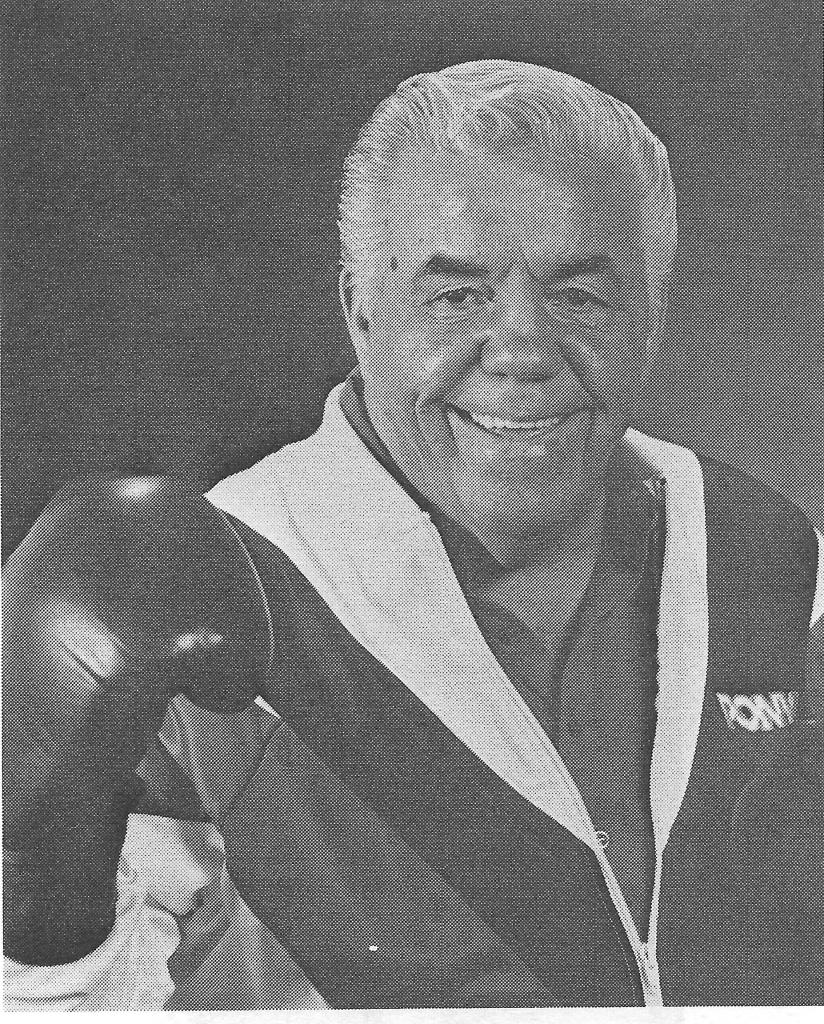 During the 50 years that Lou Duva has been in the boxing business, he has worked as a bucket boy, fought as a welterweight, served as a cut man and trained, promoted world title fights and, today, a age 66, is recognized as one of the outstanding managers and trainers in the sport.
Voted "Manager of the Year" in 1985 by the Boxing Writers Assn. of America for bringing Mike McCallum, Rocky Lockridge, Johnny Bumphus and Livingstone Bramble to world championships during 1984, Duva has since gone on to help guide five 1984 Olympic Medalists closer to their ultimate professional goals, as well as bringing two other former amateur standouts to world title fights.
In 1987, the World Boxing Association chose Duva as its "Trainer of the Year."
Working side-by-side, in most cases, with boxing's "Professor," George Benton, and co-manager Shelly Finkel, Duva has worked more championship corners in the past year than most managers or trainers see in a lifetime. Since 1984, Lou worked an astounding 36 world title fights. A total of eleven of Lou's fighters participated in these matches, and eight won at least one championship fight during that period. In all, since 1984 the record of Lou's fighters in world title fights stands at an impressive 24-11-1. By the end of 1988, he will have worked in a dozen world title corners for his second straight year.
Respected not just for his boxing success, Duva is best known for fighting for the rights of his boxers and serving as a father figure to them. "Some men were born to be fighters," says Duva. "I was born to be a manager of fighters."
Once described as "The face of 1,000 punches," Duva said, "I didn't get this face being a ballet dancer." But it is a face you can't forget and it is recognized everywhere by sports fans who appreciate the 1,000 percent effort Lou always puts out for his fighters.
A resident of Totowa, New Jersey, Duva works out of the West Paterson office of Main Events, the promotional company that is run by his children, and various other members of his family. He recentl acquired "Lou Duva's Sports Restaurant;" a Totowa bar and eatery which is also run and staffed by various members of his large family.
Here's yet another story on Lou Duva:
Lou Duva (born May 28, 1922) is a boxing trainer who was born in Manhattan, New York, but moved to Paterson, New Jersey at a very early age. Duva's childhood was extremely poor and he had to do many jobs to try to help his family. Duva's 23-year-old brother, Carl Duva, introduced him to boxing when Lou was only 10. Lou polished his skills and was an amateur and ballroom brawler by age 12. Lou as a boxer did not have much luck, although that might have been due to the fact he barely had time to train, having to go out to the street and perform many types of jobs to try to help the Duva's economy. Lou went in 1938 to try to join a group named the Civilian Conservation Corps. He had problems getting in, however, because of his age. To be a member of that group, applicants had to be 18 or over. Duva was only 16 when he applied to join. He went and changed his birth certificate and all his personal information and they accepted him, thinking that he had been born in 1920. The C.C.C. sent him to Boise, Idaho, and then to Walla Walla, Washington, where he learned to drive trucks. Duva went to the US Army after World War II broke out. He went to Jackson, Mississippi to train but he got in trouble with two Lieutenants. After that, he was sent to Camp Hood in Texas, where he was named boxing instructor. He went back home in 1944 to help run a restaurant and to begin a professional boxing career, as a boxer. But he could only compile a record of 15 wins and 7 losses as a professional fighter, and he retired soon after, going back to his days as a trucker. He started a trucking company and met his wife Enes soon after. He had met her while he was performing as a clown at a ministry and they married in 1949. Lou spent a good portion of the early 1950s at a gym named Stillman</i>s boxing gym. Stillman</i>s gym is known by two things: its legendary fame as a filthy gym where windows were kept closed so that the smell of sweat would not escape, and the large amount of celebrities, both from Hollywood and the boxing world that the gym attracted. Duva, already enamored with the world of boxing, felt his passion for that sport increase everytime he visited Stillman's. Duva's trucking business was doing well, so he decided to open, with the blessing of Enel, his own gym, named Garden Gym. After he sold his fleet of 32 trucks, he became a bail bondsman, and he tracked offenders who jumped bail to avoid trial. By 1963, Duva had become friends with former world Heavyweight champion Rocky Marciano, one of the people who rejoiced when Duva crowned his first world boxing champion, Middleweight Joey Giardello, who dethroned Dick Tiger that year to become world Middleweight champion. Duva was one of the last persons that Marciano spoke to before Marciano's plane crashed in 1969. Lou's son, Dan Duva (+1996), was a lawyer who graduated in 1977. When Leon Spinks' management came for help in 1978, Dan gladly helped them. It was Lou's idea that Dan help Spinks' management group, and, with Dan's earning of $500,000 dollars, Lou and Dan formed Main Events in April of '78. The company still runs, now managed by Lou. Also during that period, the Duva's would put boxing cards at the Ice World facility in New Jersey. The Duva's used to resemble tactics used by the WWE when promoting a card, once even going as far as selling a truck driver as a Prince from Zaire just to hype the show and sell tickets. In 1979, ESPN became interested in showing Duva's shows from Ice World, and they began to do so soon after. Duva's shows and presence caught the eyes of future world champions such as Rocky Lockridge, Bobby Czyz and Livingstone Bramble, all of which signed up with Main Events. However, trouble came with success:as a result of all the work Lou was putting in as a trainer, bail bondsman and everything else he was doing, he suffered his first heart attack during that year. Doctors told him he needed to step off some of his activities, so Lou decided to get off anything that wasn't related to boxing. This, after he had talked with wife Enel about which activities to drop. Dan Duva then formed a friendship with Shelly Finkel, a powerful boxing power broker who convinced Alex Ramos, future world Jr. Welterweight champion Johnny Bumphus, future world Heavyweight champion Tony TNT Tucker, troubled prospect Tony Ayala Jr. and future Mike Tyson rival Mitch Green to join Main Events, with Lou as trainer and manager, and Dan overseeing the business side of the company. In 1981, Main Events became the promoter of the first bout between Sugar Ray Leonard and Thomas Hearns, won by Leonard by a knockout in round 14. It was the largest grossing non Heavyweight bout until then, making $33 million dollars, of which $1.5 million went to Main Events. But Lou could not celebrate long, as wife Enel had been diagnosed with Multiple sclerosis. 1984 was a highly successful year for Duva and Main Events. He had Bumphus, Lockridge, Bramble and Mike McCallum crowned as world champions, and he signed future world champions Mark Breland, Evander Holyfield, Pernell Whitaker and Meldrick Taylor right after their participation in the Olympics in Los Angeles. He also signed Olympian Tyrell Biggs. In 1985, he was named manager of the year by the American Boxing Writer's Association. Holyfield was the next to be crowned world champion, when he beat Dwight Muhammad Qawi in 1986. That was the year that Enel Duva passed away, after fighting her disease for five years. Breland and Vinny Pazienza followed the championship route for Main Events, winning their first world titles in 1987, year in which he was named Trainer of The Year by the WBA. Taylor followed Whitaker and Pazienza by beating Buddy McGuirt in 1988 for the world's Jr. Welterweight title. 1989 was another triumphant year for Duva and Main vents, when Whitaker, Darrin Van Horn and Puerto Rico's John John Molina crowned themselves champions, adding to the Main Events line of world champion boxers. 1990 marked the year that Duva and another legendary trainer, George Benton, went their separate ways after years of working together. But Holyfield then gave Main Events another championship, when he knocked out James Buster Douglas in three rounds to win the world Heavyweight title. After that, Lou Duva reached inmense mainstream fame, appearing in cameos at different television series and even visiting the Late Night With David Letterman show as a guest. He also acted as wrestler Rowdy Roddy Piper's trainer in a WWF show. In 1992, Eddie Hopson became Duva's 13th world champion. In 1996, Dan Duva passed away of Cancer. Then, the Duva's had to make a decision and they decided to go on with the company, in Dan's memory. Dino Duva, Dan's younger brother, became company president, and the company went on to sign Andrew Golota, David Tua and future world welterweight champion Vernon Forrest, among others. In addition to them and the 13 world champions who signed with Main Events,, Duva has worked with such other former or future world champions as Michael Moorer and Arturo Gatti among others. On the night of the infamous riot after the first Golota-Riddick Bowe bout, Duva had to be hospitalized after complaining of chest pains, but only as a precautionary measure. He was found out to be ok after testing was done to his heart that night. This avid autograph signer, who has been to many countries around the world as a trainer, was inducted into the International Boxing Hall Of Fame in 1998. He remains active as a trainer and manager.
As a welterweight Lou enjoyed limited success because of a lack of training time and excessive "goofing off." Only capable of compiling a modest 15-7 record, Lou returned to New Jersey in 1947 and started a trucking company, realizing that professional boxing stardom didn't lie in his future. Several months after returning to NJ, Lou met his future wife and the mother of his five children, Enes.
In an attempt to earn extra money by playing a clown in a minstrel show, Lou met Enes through Olga Malone–one of the singers in the show who was Enes' sister. It was love at first sight: "The first time I saw Enes, I said, 'Don't go away. I'm going to marry you.' Sure enough, I started taking her out and I married her in 1949."
Boxing continued to burn in Lou's blood. Despite living the exhaustive lifestyle of a truck driver, he would spend every evening at Stillman's Gym on Eighth Avenue in New York. Lou would finish his deliveries as quickly as possible so that he could "hang out" at Stillman's with boxing's top contenders and champions, not to mention the Hollywood\ celebrities who constantly visited the famous gym: "When you walked into Stillman's, you knew you were in a gym. It wreaked of sweat and lineament. Cigarette butts were all over the floor. Grit-covered windows that were kept shut. Smoking was allowed, which made it even harder to breathe. But fighters who asked that the windows be opened were told, 'Find yourself another gym.' Stillman's was where I got my real introduction to boxing. I used to watch the great trainers handle their fighters: Guys like Ray Arcel, Whitey Bimstein, Mannie Seamon, Chickie Ferrara, Freddie Brown, the Florio brothers. I learned the boxing business from the ground up. King and Arum can't say that."
Lou's trucking business expanded, allowing the boxing afficionado to open the Garden Gym in Totowa–the town in which the Duva clan lived: "When I started with the trucking business, sometimes I'd make a $5,000 profit and then blow it promoting a boxing show in Jersey… at say, the Elizabeth Armory and what is now John F. Kennedy High School in Paterson. In spite of the financial ups and down, Enes always encouraged me to stick with the boxing even when it was draining the family treasury. She saw how much I loved it."
In the meantime Lou's trucking company blossomed from a fleet of three trucks to a fleet of 32 trucks. Shortly thereafter, Lou sold the trucking company and became a bail bondsman: "For 10 years I tracked down offenders who skipped town while awaiting trial. was a bounty hunter, which is another way of saying I was stupid. I once followed a bail jumper to an apartment in Puerto Rico, where neighbors in the building threw all kinds of crap at me from their windows as I took off with the guy."
In 1963, Lou was rewarded with his first world champion: Joey Giardello defeated Dick Tiger to capture the middleweight crown. It was the first of 13 world champions who would be trained by Lou. Celebrating Lou's first world champion was one of his closest friends: Rocky Marciano.
"What a great guy Rocky was. He was my partner in the fights that I promoted in Gladiator Arena in Totowa. The day his plane went down in Iowa in 1969, he'd just called me. He told me he'd just made a deal with Andy Granatelli of STP to bankroll our search for young heavyweight fighters. "Rocky was so thrilled with the Granatelli deal because Granatelli was going to subsidize us to go out and look for a white hope. I was going to be the actual trainer and maneuverer. And where would you go for heavyweights? To NFL football camps. Our idea was to go after six heavyweights, to find six guys in the NFL camps we could make fighters. We were looking for guys who got cut. The minimum salary then was $22,000, so we figured we'd get lots of prospects. Rocky was only interested in heavyweights, only in guys who could become champ."
"When Evander [Holyfield] knocked out Buster Douglas to win the heavyweight title in 1991, did you see me jump up on the ropes in three of the four corners and point to the sky? I was pointing to Rocky. He was my partner when he was alive and he's still my partner."
Lou's children were well-versed in the boxing business. In fact, it was the shrewdness of his older son, Dan, that was responsible for Main Events being propelled into the national spotlight.
Dan obtained his law degree from Seton Hall in 1977. At the time Lou was working as a matchmaker for future rival promoter Bob Arum. One evening Lou was approached by Mitt Barnes–manager of Leon Spinks.
Concerned that Bob Arum was in the process of squeezing him out of his managerial contract with Spinks, Barnes asked Lou if he could recommend a lawyer who would represent him against Arum. Instantly, Lou suggested his son Dan. Dan agreed to help Barnes in exchange for a 10% cut of Barnes' 30% managerial share. After six months Dan informed Barnes that the 10% agreement needed to be upgraded. Barnes agreed and raised Dan's payment to 30%. The agreement proved to be a boon for Dan, Lou and Main Events–the company that would be formed in May 1978.
In only his eighth professional bout, Spinks defeated legendary heavyweight champion Muhammad Ali. In the rematch Spinks garnered a $3.5 million purse, which resulted in a $300,000 payment for Dan; however, the money was of only secondary importance to Lou and Dan. More importantly it proved to Dan that the Duvas could be major players in the boxing world: "There's no magic to what Don King and Bob Arum do. We can do it, too." The Duva clan was ready to bring their brand of matchmaking to the national arena: "We formed Main Events Inc. and began promoting a monthly fight card at Ice World. Main Events' office in Totowa was a hole in the wall. The kind of place where you marked in the back and walked in through the back door. The offices had partitions that didn't extend all way to the ceiling."
The Duvas spent several years promoting boxing events at Ice World in Totowa, NJ: "The promotions at Ice World–well, sometimes they seemed more like the World Wrestling Federation than organized boxing. I'd do anything to get people excited. I'd have giveaways. I'd get fights started in bars. I'd set up rivalries, match the Jewish kid from one neighborhood against the Italian kid from another. It was the kind of place that attracted small, loyal crowds, fighters you never heard of. It was also the kind of place where you fudged things now and then."
"I booked an Irish fighter named Christy Elliott against a garbage man from Camden who had been fighting prelim bouts. But to hype the gate, I promoted the guy as Prince Nikita Tarhocker. This was when they were saying, 'Black is beautiful.' And Zaire was popular because Ali beat Foreman over there. So I billed the Prince as being from Zaire."
"I had them put cold cream on Nikita's face and the guy from the commission goes nuts. Wants him to wipe it off. I tell him, 'He can't. That would be sacrilegious.' I had Elliott led in by guys wearing kilts and playing bagpipes. Then came the Prince, led by his sister, who got $50 to dance into the ring, and his brother, who got another $50 to bang away on bongo drums. When everybody was finally in the ring, I had them play some music–to this day I couldn't say what it was–that we announced as the national anthem of Zaire." After several years of these local "events," success finally shined on the Duvas in 1979, thanks to a budding new sports network–ESPN.
The fledgling network was searching for programming, so they contacted Main Events about broadcasting one show a month from Ice World. Several future champions began their careers at Ice World: Rocky Lockridge, Bobby Czyz and Livingstone Bramble. However, despite Main Events' growing success at Ice World, the strain of running Teamster Local 286 and operating as a bail bondsman was exhausting Lou. In September, 1979, Lou suffered a heart attack. His doctors spoke plainly: Lou could not continue at this pace and expect to survive. Lou was disappointed at the prospect of giving up the sport that he loved. Enes, aware of how important boxing was to Lou, refused to watch her husband's dream dissipate. She insisted that he sell everything, resign as a bail bondsman and as President of Teamster Local 286, and make boxing his full-time occupation. Grateful for his loving wife's devotion and support, Lou happily followed her demand: "Truth is, I figured, 'If I keel over, it's going to be in a fight arena. What better place to go.' "
Lou became a full-time trainer and manager, while Dan, who handled the business end of Main Events, agreed to a contract with Shelly Finkel–a respected rock concert promoter who aligned himself with Lou in the interest of Alex Ramos, a young fighter whom Shelly befriended.
Shelly signed on to recruit fighters for Main Events, and to assist with the financial operations of Main Events. During the year of 1980, Finkel persuaded Ramos, Tony Tucker, Mitch Green, Tony Ayala and Johnny Bumphus to sign with Main Events.
Fighters quickly learned that no trainer would love them more than Lou; however, they would also learn that no trainer would discipline them as would Lou: "Livingstone Bramble, when he won the WBA lightweight championship from Ray Mancini, thought he knew everything. Nobody but nobody, I don't care who it is, nobody knows completely what  boxing's all about. Bramble thought he was a superstar, but like I kid everybody, there's only one superstar in the whole stable: me. I'm the loudmouth."
"One day Bramble was supposed to be in the gym at one o'clock. It's now a quarter after, and he's still not there. So I told another fighter to get in the ring. But all of a sudden Bramble walks in and says, 'Get that guy out of the ring.' I told him, 'No, you wait for him now.' Because if you show that a champion is more important than a kid, you've got problems both ways: with the kid and with the champion. That's how I get my fighters to do the job."
Main Events hit the jackpot in 1981 when they landed, "The Showdown," the welterweight unification bout between Sugar Ray Leonard and Thomas Hearns. The bout, at the time, became the highest grossing match in boxing history, capturing $34 million from the live gate and the closed-circuit locations. The Main Events share amounted to $1.5 million.
Unfortunately, Lou was unable to celebrate Main Events' million dollar payday because of a disaster at home. His loyal companion and wife of 27 years, Enes, was struck with multiple sclerosis. Desperate, Lou exhausted both conventional and unconventional medical options. He even tried snake-venom treatments. But it was to no avail. Enes eventually passed away in 1986.
Since the founding of Main Events, Lou has taken great pride in signing young fighters and developing them into world champions: "We did things differently than King and Arum. King stole fighters who already were top pros. Neither him nor Arum was into developing the fighter from ground zero. We cultivated amateur fighters, subsidizing those that showed promise–paying to fly them to important tournaments, bringing them to training camps to work out with our pros and get specialized instruction." It was this devotion to young fighters–along with the financial support supplied by two Hartford real-estate developers-that allowed Main Events to sign the darlings of the 1984 U.S. Olympic Boxing Team: Evander Holyfield, Pernell Whitaker, Mark Breland, Meldrick Taylor and Tyrell Biggs. The agreement gave Lou the opportunity to train several of the boxing stars who would dominate the boxing world in the decade of the 1980's.
In 1984, four of Lou's young fighters captured their first world titles: Johnny Bumphus, Rocky Lockridge, Livingstone Bramble and Mike McCallum. On January 22, 1984, Bumphus decisioned Lorenzo Garcia to capture the WBA junior welterweight crown (W 15). Just a month later on February 26, 1984, Lockridge destroyed Roger Mayweather to seize the WBA junior lightweight championship (KO 1). Bramble captured his first title on June 1, 1984 when he crushed Ray Mancini to win the WBA lightweight crown (KO 14), while Mike McCallum decisioned Sean Mannion on October 19, 1984 to win the WBA junior middleweight title.
The year 1986 saw Evander Holyfield outslug Dwight Muhammed Qawi to capture the WBA cruiserweight crown (W 15). Holyfield's victory gave the 1984 Olympic Boxing Team its first world champion.
Mark Breland and Vinnie Pazienza added themselves to Duva's championship roster in 1987. On February 6, 1987, Breland dismantled Harold Volbrecht to capture the WBA welterweight crown (TKO 7), while on June 7, 1987, Pazienza outlasted Greg Haugen to win the IBF lightweight crown (W 15).
Meldrick Taylor seized the IBF lightweight title on September 3, 1988 when he stopped two-time world champion James "Buddy" McGirt (TKO 12).
The year 1989 was a huge year for Lou's boxing stable as three fighters won titles: Pernell Whitaker, Darrin Van Horne and John-John Molina. Middleweight Van Horne won the IBF crown on February 5, 1989 when he decisioned Robert Hines (W 12), and only two weeks later, six-time world champion Pernell "Sweet Pea" Whitaker captured his first title on February 18, 1989 when he outclassed Greg Haugen to seize the IBF lightweight championship (W 12). John-John Molina became Lou's third champion of 1989 when annihilated Tony "The Tiger" Lopez to win the IBF junior lightweight crown (TKO 10).
The decade of the 1980's was a windfall for Lou Duva and Main Events as they totaled 11 world champions. Main Events had risen to become the preeminent boxing promotional firm in the world, while Lou received several personal accolades as well. In 1985, the Boxing Writers Association of America voted him "Manager of the Year," and in 1987, the WBA selected him as "Trainer of the Year."
Lou spent much of the 1980's working alongside trainer George Benton; however, in 1988 Lou enlisted the respected training services of former NABF junior welterweight champion Ronnie Shields, and then hired Roger Bloodworth–the former Olympic boxing trainer–in 1990 to help develop the youth of the Main Events boxing stable. After a falling out, Benton and Main Events went their separate ways in 1990.
In 1990, the dream of Lou and Rocky Marciano came true: a Lou Duva trained fighter won the undisputed heavyweight championship of the world. On the night of October 25, 1990, Evander Holyfied battled James "Buster" Douglas–the man who had dethroned the seemingly invincible Mike Tyson. In round three Holyfield landed a devastating overhand right to the head of Douglas, dropping the champion to the canvas. Unable to arise, Douglas was counted out (KO 3). Lou and Main Events had won the most prestigious title in professional sports.
Lou's popularity grew monumentally. Television programs wanted him, not to mention sports talk shows. Lou had a cameo role in the Fox sitcom, "Living Single." He appeared on "Late Night with David Letterman." In fact, he even acted as wrestler "Rowdy" Roddy Piper's cornerman in one of the WWF Wrestlemania extravaganzas. So ubiquitous became Lou's face that Ring magazine remarked, "The most recognizable profile since Hitchcock."
In the midst of this media frenzy, Lou continued to build his boxing stable. On April 22, 1995, Ed Hopson became Lou's 13th world champion by annihilating Moises Pedroza to capture the IBF lightweight championship (KO 7).
However, in 1996, Lou suffered another family tragedy. Dan Duva–the founder and architect of the Main Events "Cinderella story"–died from a malignant brain tumor. In Dan's memory the Duvas refused to allow Main Events to collapse, naming Dino–Dan's younger brother and Main Events comptroller–president of the company. Since accepting the role of president, Dino has miraculously maintained Main Events' status as one of the three most successful boxing promotional firms in the world.
Lou has also contributed to the continued success of Main Events, harnessing some of the hottest young prospects in boxing today. Undefeated junior middleweight and 1996 Olympian "Ferocious" Fernando Vargas (9-0, 9 KO's), undefeated junior welterweight Zab Judah (14-0, 10 KO's) and undefeated junior lightweight Joel Casamayor (10-0, 7 KO's) have recently stormed into the top-20 ratings of the three major sanctioning bodies. Heavyweight contenders Andrew Golota (25-3, 22 KO's) and David Tua (28-1, 24 KO's) are both rated in the top-10 of the world rankings: Golota-WBC #7; Tua-WBC #4. Undefeated welterweight Vernon Forrest (23-0, 18 KO's) has already seized his first title, defeating Ray Oliveira on November 7, 1997 to capture the WBC Continental Americas welterweight championship (W 12).
Clearly, a bright future remains for the Main Events/Lou Duva stable. Since 1984, Lou has worked in the corner of over 70 world title fights. In addition to training 13 world champions, he has worked in the corner of several other world champions as well: Michael Moorer, Arturo Gatti and Junior Jones.
The accolades continue to follow Lou. On June 14, 1998, Lou will be inducted into the International Boxing Hall of Fame in Canastota, NY. On January 22, 1998, Gilberto Mendoza-Executive Director of the World Boxing Association–announced that the WBA will recognize Lou Duva as 1997's "Trainer of the Year."
Boxing brother of Carl Duva
Fought Snedecker again on July 13, 1942 in Newark — result unknown
Biography: [1]
Fighters managed
Fighters trained
Boxing Record: click
Matchmaking Record: click
Promoting Record: click