Inducted on November 12, 2009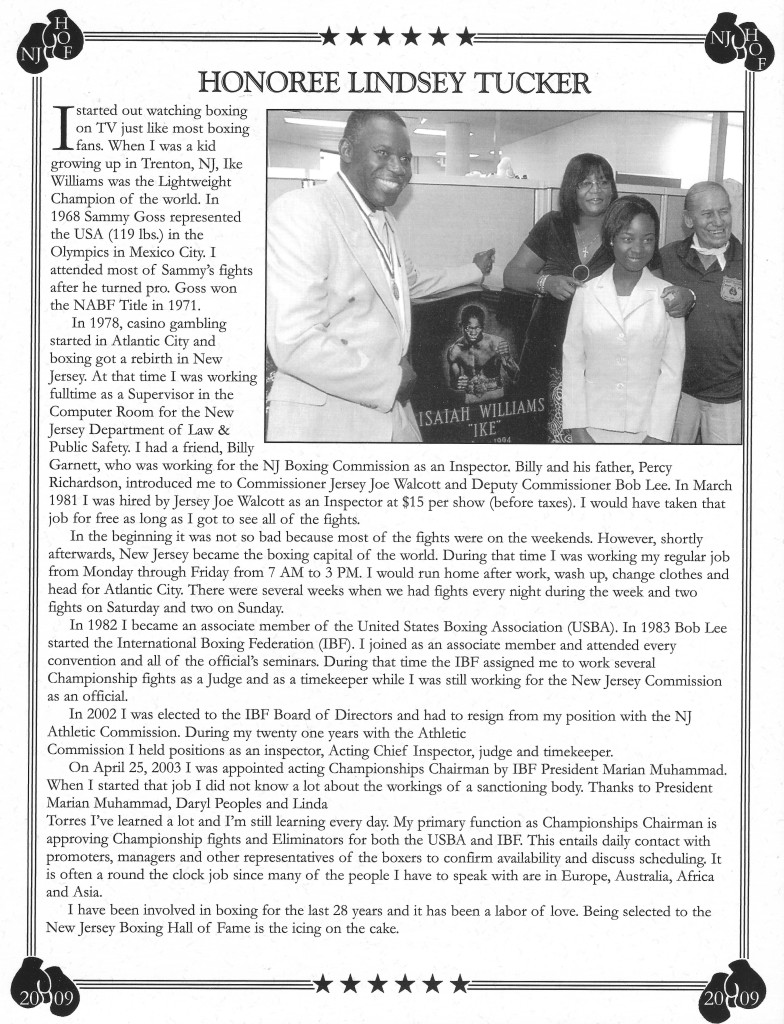 I started out watching boxing on TV just like most boxing fans. When I was a kid growing up in Trenton, NJ, Ike Williams was the Lightweight Champion of the world. In 1968 Sammy Goss represented the USA (119 lbs.) in the Olympics in Mexico City. I attended most of Sammy's fights after he turned pro. Goss won the NABF Title in 1971.
In 1978, casino gambling started in Atlantic City and boxing got a rebirth in New Jersey. At that time I was working fulltime as a Supervisor in the Computer Room for the New Jersey Department of Law & Public Safety. I had a friend, Billy Garnett, who was working for the NJ Boxing Commission as an Inspector. Billy and his father, Percy Richardson, introduced me to Commissioner Jersey Joe Walcott and Deputy Commissioner Bob Lee. In March 1981 I was hired by Jersey Joe Walcott as an Inspector at $15 per show (before taxes). I would have taken that job for free as long as I got to see all of the fights.
In the beginning it was not so bad because most of the fights were on the weekends. However, shortly afterwards, New Jersey became the boxing capital of the world. During that time I was working my regular job from Monday through Friday from 7 AM to 3 PM. I would run home after work, wash up, change clothes and head for Atlantic City. There were several weeks when we had fights very night during the week and two fights on Saturday and two on Sunday.
In 1982 I became an associate member of the United States Boxing Association (USBA). In 1983 Bob Lee started the International Boxing Federation (IBF). I joined as an associate member and attended every convention and all of the official's seminars. During that time the IBF assigned me to work several Championship fights as a Judge and as a timekeeper while I was still working for the New Jersey Commission as an official.
In 2002 I was elected to the IBF Board of Directors and had to resign from my position with the NJ Athletic Commission. During my twenty-one years with the Athletic commission, I held positions as an inspector, Acting Chief Inspector, judge and timekeeper.
On April 25, 2003 I was appointed acting Championships Chairman by IBF President Marian Muhammad. When I started that job, I did not know a lot about the workings of a sanctioning body. Thanks to President Marian Muhammad, Daryl Peoples and Linda Torres, I've learned a lot and I'm still learning every day. My primary function as Championships Chairman is approving Championship fights and Eliminators for both the USBA and IBF. This entails daily contact with promoters, managers and other representatives of the boxers to confirm availability and discuss scheduling. It is often a round the clock job since many of the people I have to speak with are in Europe, Australia, Africa and Asia.
I have been involved in boxing for the last 28 years and it has been a labor of love. Being selected to the New Jersey Boxing Hall of Fame is the icing on the cake.