Inducted on November 10, 2005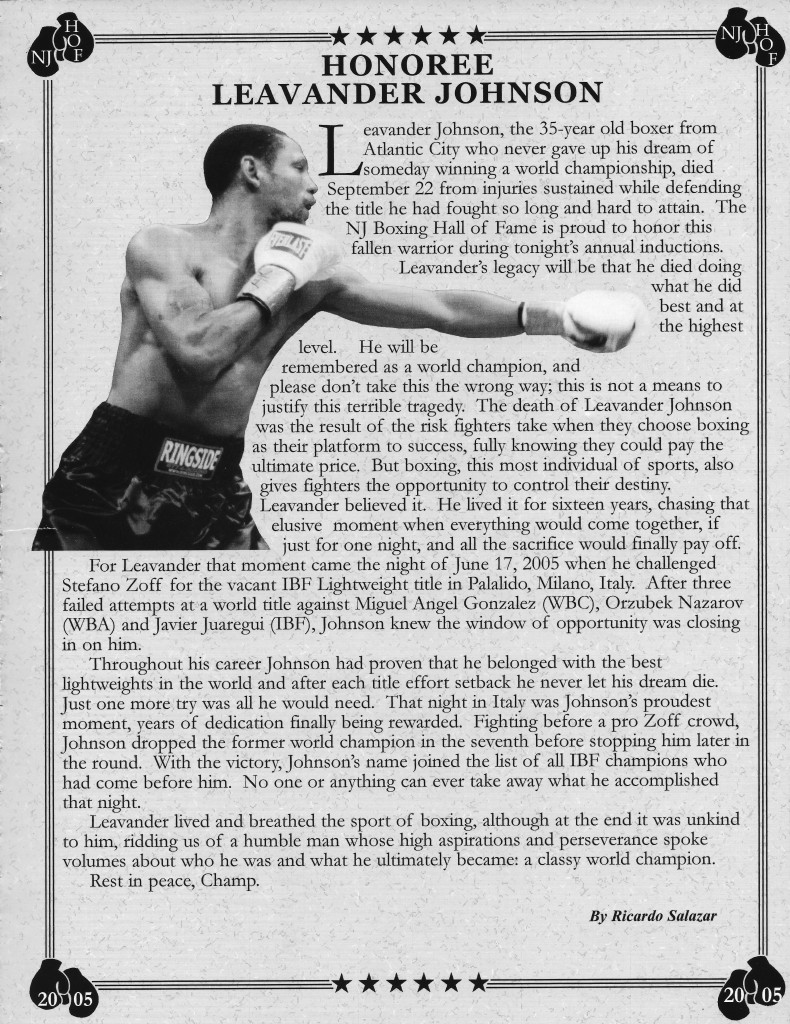 Died: 2005-09-22 (Age:35)
Hometown: Atlantic City, New Jersey, USA
Stance: Orthodox
Height: 5′ 9″   /   175cm
Reach: 70″   /   178cm
Boxing Record: click

Trainer: Bill Johnson

On June 17, 2005 Leavander Johnson captured the vacant IBF lightweight title with a 7th round TKO over Stefano Zoff in Milan (Milano), Italy. This was Johnson's fourth attempt at capturing a version of the World Lightweight Title. He was stopped in the 8th round in 1994 by Miguel Angel Gonzalez for the WBC belt; he was also stopped in seven rounds by Orzubek Nazarov for the WBA belt in 1997; and in his 3rd attempt he was stopped in the 11th round in 2003 by Javier Jauregui for the vacant IBF belt.
Johnson did win the less recognized IBO lightweight title in 1995, when he stopped Fabian Hector Tejeda in the 6th round; Johnson never defended this belt.
On September 17, 2005, Johnson defended his IBF lightweight title against Jesus Chavez, on the Barrera-Peden undercard in Las Vegas, Nevada. Johnson was never in the fight and was dominated, taking a pounding in the later rounds, before referee Tony Weeks stopped the bout in the 11th round. Following the fight Johnson collapsed and was diagnosed with blood clot on the brain, and was induced into a coma. He was rushed into the hospital where he did make progress for a couple of days. However, his condition showed no signs of improvement, and with his organs failing, his family decided to remove care. On September 22, 2005, Leavander Johnson passed away. He was survived by four children, who were at his side as he passed away.

NJBHOF Gala Review, Leavander Johnson Lands Place in History
By Mike Indri
Retired Boxers Foundation
The New Jersey Boxing Hall of Fame held it's 36th annual induction dinner this past Thursday night.  The fifteen new and deserved inductees, or their families (five inducted posthumously), from all fields within the sweet science lamented during their speech's about what it took to achieve their respective greatness.
Trainers, judges, commissioners, journalists, a photographer, as well as former fighters (2 world contenders and a champion) all embellished on the struggle, the joy, the dedication, the love for their sport and the desire to become a champion.
Leavander Johnson overcame tough childhood obstacles in his hometown of Atlantic City to endure the struggle as a professional boxer.  Following a victorious pro debut (TKO 1 vs. Jesus Rodriguez: 02/14/89) Johnson established himself, over the next sixteen years, as a solid and steady lightweight contender.  While the likeable Johnson was talented enough to always stay in the top ten of the world rankings, Leavander was never really considered of championship caliber; actually losing his first three opportunities in his quest for a world title.
While most would have abandoned their dreams, Johnson persevered.  Already a hero to all the up and coming fighters at the Atlantic City PAL where he trained, Johnson never lost his love for the sport or his desire to become a champion; his dedication never wavered.
June 17th of this year would prove to be the highlight of Johnson's illustrious career.  Jumping at another chance to fight for a world title, Johnson traveled to Italy to fight the International Boxing Federation's 135lb. Champion, Stefano Zoff (43-9-2, 17 KO's), in Zoff's homeland.
Realizing an overseas decision would be rather difficult and knowing this would be his last chance at a title, Johnson fought the fight of his life.  Hurting the champion on several occasions, Johnson dropped Zoff to the canvas early in the seventh round.  Managing to beat the count, a dazzed Zoff fought on and absorbed more punishment from Johnson before the referee jumped in to halt the bout.  Johnson had scored a seventh round technical knockout and was now the IBF lightweight champion of the world!
Leavander Johnson returned home to a hero's welcome in Atlantic City.  Banners proudly proclaimed the casino laden city as the "Home of Leavander Johnson – IBF World Lightweight Champion" and the newly crowned champion was given the key to the city by the mayor at a ceremony celebrating Johnson's remarkable achievements.
The humble and gracious hometown hero told the youngsters in the crowd that day to never give up, always follow your dream and if you don't succeed to try again – but most importantly, to never give up.
Three months after winning that precious title belt in Italy, Johnson was in Las Vegas defending it against Jesus Chavez (42-3 with 29 knockouts).
Although getting thoroughly beaten and absorbing too much punishment, there would be no quit in Johnson.
The champion's heart, his gladiator mentality, and all the intrinsic attributes that made Leavander Johnson great led to his undoing this fatal night.  After a brutal barrage of punches by Chavez early in round eleven, veteran referee Tony Weeks finally stopped the fight; Jesus Chavez was the new IBF champion.
Five days later, on September 22nd, Leavander Johnson died in Las Vegas as a result of traumatic brain injury during the defense of his title.  Leavander was 35 years old and the father of four young children.
As per the New Jersey Boxing Hall of Fame's by-laws, former champions are eligible for NJBHOF consideration the year after they retire.  In Johnson's case, NJBHOF president Henry Hascup felt an immediate induction was more appropriate.
"We don't want anyone forgetting what kind of fighter and what kind of  person he was," stated Hascup.  "He deserved it, and we felt it was important to recognize him right now."
The NJBHOF also donated $1,000.00 to the "Leavander Fund," which was established to benefit Johnson's four children.
THE LEAVANDER FUND
c/o DiBella Entertainment
Attention: Meredith Greenburg
350 Seventh Ave. (Suite 800)
New York, NY 10001
Hascup, along with the highly respected Larry Hazzard, Sr. (boxing's premier commissioner), presented the Johnson family, which included Leavander's father and trainer Bill, his mother, and brother Craig, who also served as his manager, as well as many other family members; a championship style belt plaque – which all honorees received upon induction.
The N.J. Boxing Hall of Fame 2005 Inductees:
* George "Broadway" Albert, promoter
Ray Bailey, Photographer
Glenwood Brown, welterweight contender
*  Jack Delaney, light heavyweight champion
Randy Gordon, commissioner & journalist
Barry Goss, trainer
William "Bo" James, middleweight contender
*  Leavander Johnson, lightweight champion
Juan LaPorte,  featherweight champion
Dr. William Lathan, N.Y. State Athletic Commission
Harold Lederman, judge & HBO commentator
Jack Obermayer, journalist
* Chris "Shamrock Express" Reid, super middleweight contender
Bobby Joe Young, welterweight contender
* Harold Valan, referee
* indicates posthumous induction.