Inducted on Sunday, September 24, 1972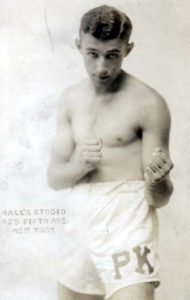 Phil Kaplan, the scourge of the welter and middleweight divisions during the Roaring 20's was born April 19, 1902 in Newark, N.J. In January of 1921, with no amateur experience, Phil started his pro ring career with a win in an 8 round semifinal bout in Trenton, N.J. The hard punching Kaplan, one of the greatest left hook artist of all lime, soon acquired the name of K.O. Phil, as he blazed a kayo trail thru the welterweight ranks. Feared and shunned for his punching prowess thru out his career, Phil had to take on middleweights to stay active.
Some of the champions and great ones Phil met were Mickey Walker, Maxie Rosenbloom, Pete· Latzo, Sgt. Sammy Baker, Harry Ebbets, Abie Bain, Jack Britton, and Italian Joe Gans.
Kaplan met and defeated 4 European Champions, knocking out Fred Archer of England, Pierre landone of France, Frank De Nunzio of Italy and decisioned Charlie Pitts of Australia.
Phil retired in 1930, after 135 fights, winning 69 by knockouts, 21 by decision, 29 no-decision bouts and lost 10.
Seventy years young and in wonderful shape, Phil can be seen almost daily in Jack Dempsey's Restaurant, at the same table, with his rnanager Champ Segal and a host of friends, or at Acquaduct Race Track watching the thoroughbreds run.
Residing in New York City, with his charming sister, Mae levy, K.O. Phil Kaplan is living the luxurious life of 'Reilly.
Welcome into the New Jersey Boxing Hall of Fame K.O. Phil Kaplan, Congratulations and Good luck.
Division: Middlewight
Managers: Bill Duffy, Pete Stone, Jack Marrin, Harry (Champ) Seigel, Willie Lewis
Photo 2, Photo 3, Photo #4
A highly ranked middleweight contender for several years in the mid-1920s, Phil Kaplan never received a title shot. Kaplan was another of the many excellent fighters to come out of New York's Lower East Side in this period. Kaplan was only stopped one time in his career and this stoppage was caused by a injury to his hands–it appears so far from the historical record that not only was Kaplan never KO'd, he never suffered a knockdown in his career.
Boxing Record: Phil Kaplan