Inducted on November 11, 2010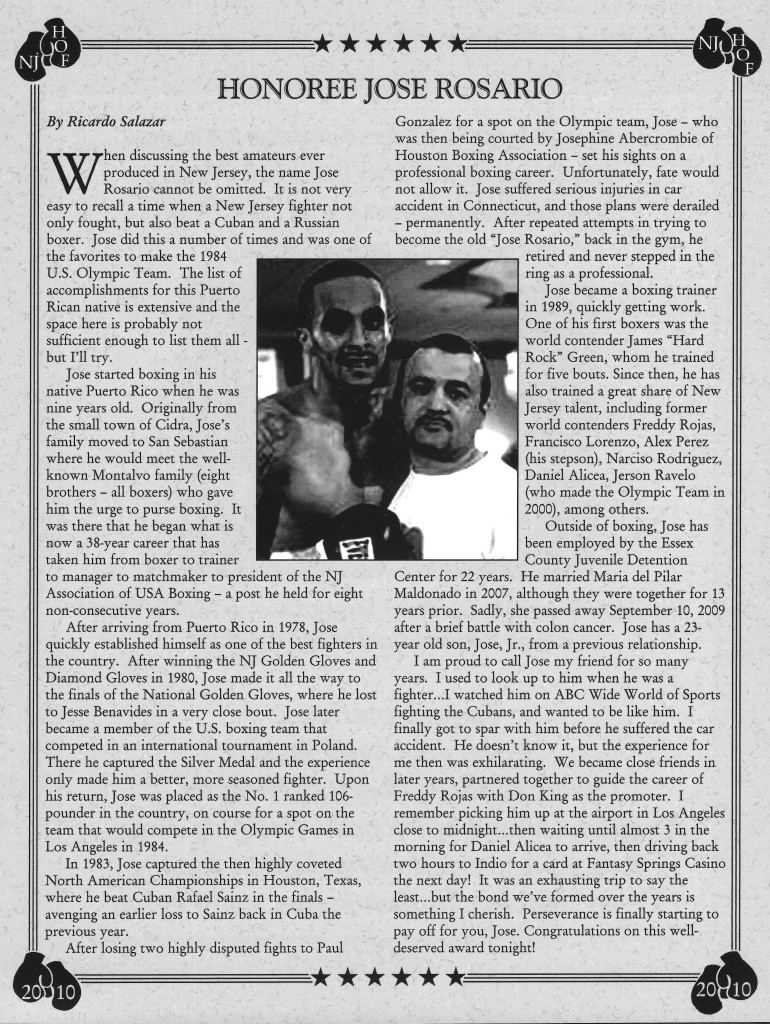 HONOREE JOSE ROSARIO
by Ricardo Salazar
When discussing the best amateurs ever produced in New Jersey, the name Jose Rosario cannot be omitted. It is not very easy to recall a time when a New Jersey fighter not only fought, but also beat a Cuban and a Russian boxer. Jose did this a number of times and was one of the favorites to make the 1984 U.S. Olympic Team. The list of accomplishments for this Puerto Rican native is extensive and the space here is probably not sufficient enough to list them all – but I'll try.
Jose started boxing in his native Puerto Rico when he was nine years old. Originally from the small town of Cidra, Jose's family moved to San Sebastian where he would meet the well-known Montalvo family (eight brothers – all boxers) who gave him the urge to pursue boxing. It was there that he began what is now a 38-year career that has taken him from boxer to trainer to manager to matchmaker to president of the NJ Association of USA Boxing – a post he held for eight non-consecutive years.
After arriving from Puerto Rico in 1978, Jose quickly established himself as one of the best fighters in the country. After winning the NJ Golden Gloves and Diamond Gloves in 1980, Jose made it all the way to the finals of the National Golden Gloves, where he lost to Jesse Benavides in a very close bout. Jose later became a member of the U.S. boxing team that completed in an international tournament in Poland. There he captured the Silver Medal and the experience only made him a better, more seasoned fighter. Upon his return, Jose was placed as the No. 1 ranked 106-pounder in the country, on course for a spot on the team that would compete in the Olympic Games in Los Angeles in 1984.
In 1983, Jose captured the then highly coveted North American Championships in Houston, Texas, where he beat Cuban Rafael Sainz in the finals – avenging an earlier loss to Sainz back in Cuba the previous year.
After losing two highly disputed fights to Paul Gonzalez for a spot on the Olympic team, Jose – who was then being courted by Josephine Abercrombie of the Houston Boxing Association – set his sights on a professional boxing career. Unfortunately, fate would not allow it. Jose suffered serious injuries in a car accident in Connecticut, and those plans were derailed permanently. After repeated attempts in trying to become the old "Jose Rosario" back in the gym, he retired and never stepped in the ring as a professional.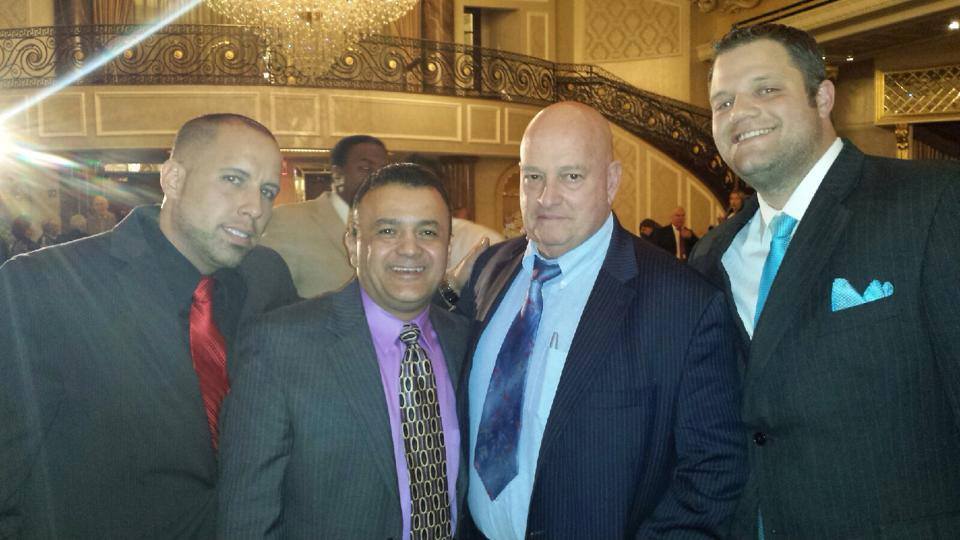 Jose became a boxing trainer in 1989, quickly getting work. One of his first boxers was the world contender James "Hard Rock" Green, whom he trained for five bouts. Since then, he has also trained a great share of New Jersey talent, including former world contenders Freddy Rojas, Francisco Lorenzo, Alex Perez (his stepson), Narciso Rodriguez, Daniel Alicea, Jerson Ravelo (who made the Olympic Team in 2000), among others.
Outside of boxing, Jose has been employed by the Essex County Juvenile Detention Center for 22 years. He married Maria del Pilar Maldonado in 2007, although they were together for 13 years prior. Sadly, she passed away September 10, 2009 after a brief battle with colon cancer. Jose has a 23 year old son, Joe, Jr., from a previous relationship.
I am proud to call Jose my friend for so many years. I used to look up to him when he was a fighter…I watched him on ABC Wide World of Sports fighting the Cubans, and wanted to be like him. I finally got to spar with him before he suffered the car accident. He doesn't know it, but the experience for me then was exhilarating. We became close friends in later years, partnered together to guide the career of Freddy Rojas with Don King as the promoter. I remember picking him up at the airport in Los Angeles close to midnight…then waiting until almost 3 in the morning for Daniel Alicea to arrive, then driving back two hours to Indio for a card at Fantasy Springs Casino the next day! It was an exhausting trip to say the least…but the bond we've formed over the years is something I cherish. Perseverance is finally starting to pay off for you, Jose. Congratulations on this well-deserved award tonight!