Inducted on October 26, 1980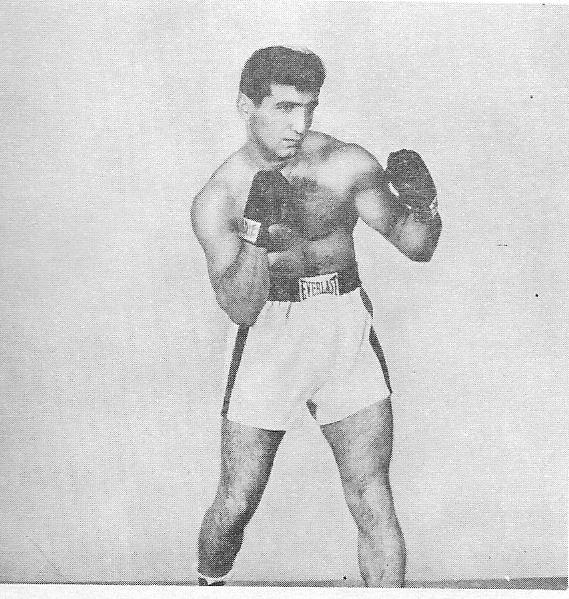 Johnny DiGilio, first of eight children born to Mildred and John DiGilio, was born on December 5, 1932, in Bayonne, New Jersey. He was born and raised in Bayonne and now resides in Secaucus, New Jersey with his wife Ellen, and his two children, Leonard and Ellen.
In between boxing, DiGilio worked as a steamfitter, longshoreman and a deckhand.
He first started his boxing career while attending grade school at the Assumption School in Bayonne by joining the boxing team at the age of 13.
At that time, it was the Assumption CYO, under the direction of Tommy Roman, also now a Hall of Farner, who guided and advised Johnny all through his boxing career.
He also had a trainer and manager Pat Amato and Frank Scaragti, who were good friends to him and a benefit to him in his career.
In the amateur ranks beginning in 1947, he ran up 48 wins and one draw, that draw being with tough Jimmy Dimeglio, a team-mate on the Assumption CYO team.
At the age of 16, he brought back to Bayonne, the New York Golden Gloves title for the Bayonne PAL. This was the first New York Golden Gloves championship for the Bayonne PAL. It was the second Golden Gloves' title to come to Bayonne since Mickey Makar won the title in the early 1930's.
Johnny's first job at the age of 14 was under the supervision of Charles Fenier.
Johnny was 'known as a "boxer puncher" and he scored at least 20 knockouts in his amateur career.
According to Nat Fleischer's RECORD BOOK and BOXING ENCYCLOPEDIA, 1959 Edition, Johnny started his professional career on October 15, 1950, while not quite 18-years-old. He had 38 fights in his professional career, winning 28 and losing 10, giving him a total of 86 fights, amateur and professional, with only 10 loses and one draw.
Winning or losing, he always made a good account of himself and he fought against the worthiest gladiators' in the country.
It should be noted that he had approximately 14 semi-final bouts in Madison Square Garden, at a time when it was almost an impossibility to get the Garden for a fight and the Garden would only take the "cream of the crop." In addition to fighting in Madison Square Garden, DiGilio also fought in Sunnyside Garden, Eastern Parkway Arena, Ridgewood Grove and the Saint Nicholas Arena.
He captured the New Jersey state Lightweight Championship on April 8, 1954, stopping Felix the Cat Redondo in six rounds, a worthy adversary in a fierce and bloody battle in the Laurel Gardens, Newark, New Jersey, for the championship.
DiGilio was scheduled to fight Patty DeMarco, the then Lightweight Champion of the World, in a non-title fight to be held at the Polo Grounds in New York City. The fight was cancelled because the DeMarco camp felt because of the pending championship fight that was scheduled for DeMarco, that DiGilio would be too much of a risk and cancelled the fight.
He then went on to fight Stefan Redl for the New Jersey Welterweight Championship on March 29, 1958 and lost a 12 round decision in Paterson, New Jersey. That was his last fight.
In summary, we are submitting Johnny DiGilio's professional record to show the caliber of the fighters and contenders that he fought.
Johnny DiGilio won the 1950 New York Golden Gloves 126lb Sub-Novice Championship. DiGilio defeated Manuel Vinho of the Department of Parks in the finals to win the Championship. DiGilio trained at the Police Athletic League.
Boxing Record: click