Inducted on November 13, 2003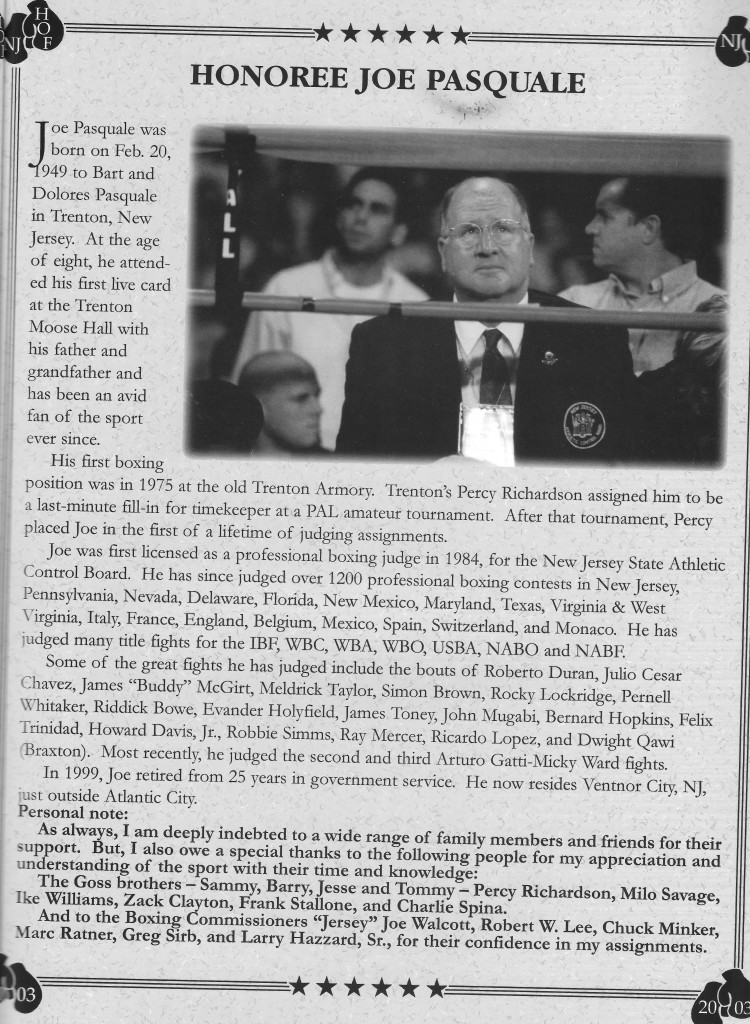 Joe Pasquale was born on Feb. 20, 1949 to Bart and Dolores Pasquale in Trenton, New Jersey. At the age of eight, he attended his first live card at the Trenton Moose Hall with his father and grandfather and has been an avid fan of the sport ever since.
His first boxing position was in 1975 at the old Trenton Armory. Trenton's Percy Richardson assigned him to be a last-minute fill-in for timekeeper at a PAL amateur tournament. After that tournament, Percy placed Joe in the first of a lifetime of judging assignments.
Joe was first licensed as a professional boxing judge in 1984, for the New Jersey State Athletic Control Board. He has since judged over 1200 professional boxing contests in New Jersey, Pennsylvania, Nevada, Delaware, Florida, New Mexico, Maryland, Texas, Virginia & West Virginia, Italy, France, England, Belgium, Mexico, Spain, Switzerland, and Monaco. He has judged many title fights for the IBF, WBC, WBA, WBO, USBA, NABO and NABF.
Some of the great fights he has judged include the bouts of Roberto Duran, Julio Cesar Chavez, James "Buddy" McGirt, Meldrick Taylor, Simon Brown, Rocky Lockridge, Pernell Whitaker, Riddick Bowe, Evander Holyfield, James Toney, John Mugabi, Bernard Hopkins, Felix Trinidad, Howard Davis, Jr., Robbie Simms, Ray Mercer, Ricardo Lopez, and Dwight Qawi (Braxton). Most recently, he judged the second and third Arturo Gatti-Micky Ward fights.
In 1999, Joe retired from 25 years in government service. He now resides Ventnor City, NJ, just outside Atlantic City.
Personal note:
As always, I am deeply indebted to a wide range of family members and friends for their support. But, I also owe a special thanks to the following people for my appreciation and understanding of the sport with their time and knowledge:
The Goss brothers – Sammy, Barry, Jesse and Tommy – Percy Richardson, Milo Savage, Ike Williams, Zack Clayton, Frank Stallone, and Charlie Spina.
And to the Boxing Commissioners "Jersey" Joe Walcott, Robert W. Lee, Chuck Minker, Marc Ratner, Greg Sirb, and Larry Hazzard, Sr., for their confidence in my assignments.