Inducted on October 30, 1977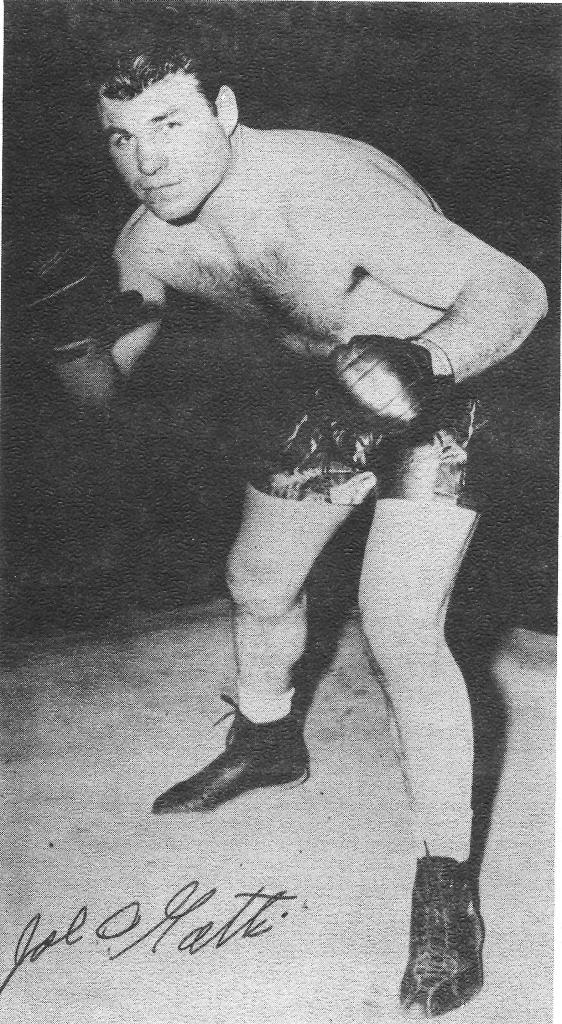 Why is such a hulking man like Joe – he's 6 ft. tall, a solid 250 pounds – a humble fellow with a gentle nature? He remembers the rough life he endured from his days as a "toddler" Joe's parents, Giacinto and Matilda Zocchi Gatti, were born in Italy and migrated to Brooklyn, N. Y. in 1915.
O'Gatty was born in 1917 at about the time the world was hit with the Spanish flu epidemic that resulted in thousands of deaths. Joe's first stroke of misfortune came when both his parents succumbed to influenza. Joe was rushed off to Ellis Island, N.Y., once the site of the chief United States immigration station. Later he was shipped to a Syracuse, N.Y. orphanage, a place he never cherished. So, it was no surprise that at the age of eight, joe managed his first of a series of escapes from the orphanage.
He went to live with an aunt. Things didn't work out and joe was back in the orphanage. At 13, O'Gatty, close to six feet tall and 200 pounds, escaped from the orphanage for the last time.
The struggle really was beginning for Joe. He rode the rails, worked on farms, in lumber camps, and even turned in a stint as a bronco buster in the West. Eventually he returned East and landed a job on a farm in Claytontown, N.J. There he struck up a friendship with a policeman who located an O'Gatty married to judge William O'Leary of Toms River. The wife was the sister of Joe's dad.
Judge O'Leary took O'Gatty in hand and brought him to a boxing gymnasium. Soon O'Gatty met fight trainer, Hank Griffin. O'Gatty joined the Civilian Conservation Corps (CCC) where he pursued a career as a boxer winning all but one of 60 bouts.
It wasn't long before Willie Gilzenberg, the wily fight manager, took over the management of O'Gatty. That was in the early 1930's when boxers, heavyweights in particular, came by the carloads.
But O'Gatty took on all the "toughies," including many in the top ten. "He was easy to manage," Gilzenberg would say, "He told me many times to pick the opponents and he'd fight them."
And Gilzenberg did just that. O'Gatty, when he was only 19, held contender Lou Nova to a draw in the old Garden. Many said O'Gatty was entitled to the decision.
O'Gatty rushed in where other heavies feared to tread. He fought, among others, Henry Cooper, Eddie Blunt,. Lem Franklin, Buddy Walker, Harry Bobo, Al Boris, Bill Boyd, Gunnar Barlund, Melio Bettina, Bob Sykes, Buddy Knox, Shorty Ahern, Bill Poland and Doc Conrad.
"He had about 150 fights," recalls Gilzenberg, "and if he were around today, 0′ Gatty would be a big money earner."
Gilzenberg will never forget when O'Gatty within a period of 21 days fought Bettina, Barlund and Bobo. "Why he got a cut over the eye in the Barlund fight and started the Bobo match with the cut still raw," smiled Gilzenberg. "Would you believe that the cut healed during the bout. I will never forget it."
O'Gatty has had many honors tossed his way since he retired from boxing. The New Jersey Boxing Writers, Ring 25, the Veteran Boxing Association have all seen fit to honor O'Gatty. His next big toast will come when he is inducted into the New Jersey Boxing Hall of Fame.
O'Gatty, who has held a Local 825 LU.O.E. book for 33 years, served as guard for the old AFL and at many AFL-CIO, International Union of Operating Engineers conventions in Chicago, Washington and Miami. Also served as guard for the New jersey AFL-CIO and the New jersey State Building Trades. Also has served many functions of Local 825 for the past 23 years.