Inducted on November 13, 2003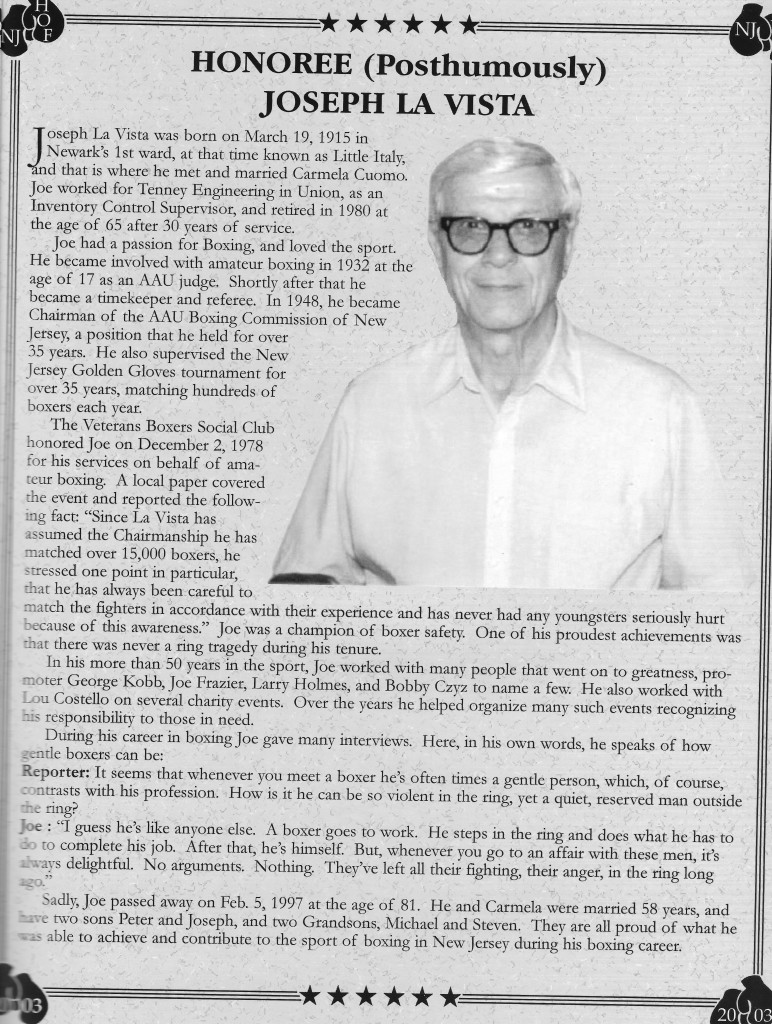 Joseph La Vista was born on March 19, 1915 in Newark's 1st ward, at that time known as Little Italy, and that is where he met and married Carmela Cuomo. Joe worked for Tenney Engineering in Union, as an Inventory Control Supervisor, and retired in 1980 at the age of 65 after 30 years of service.
Joe had a passion for Boxing, and loved the sport. He became involved with amateur boxing in 1932 at the age of 17 as an AAU judge. Shortly after that he became a timekeeper and referee. In 1948, he became Chairman of the AAU Boxing Commission of New Jersey, a position that he held for over 35 years. He also supervised the New Jersey Golden Gloves tournament for over 35 years, matching hundreds of boxers each year.
The Veterans Boxers Social Club honored Joe on December 2, 1978 for his services on behalf of amateur boxing. A local paper covered the event and reported the following fact: "Since La Vista has assumed the Chairmanship he has matched over 15,000 boxers, he stressed one point in particular, that he has always been careful to match the fighters in accordance with their experience and has never had any youngsters seriously hurt because of this awareness." Joe was a champion of boxer safety. One of his proudest achievements was that there was never a ring tragedy during his tenure.
In his more than 50 years in the sport, Joe worked with many people that went on to greatness, promoter George Kobb, Joe Frazier, Larry Holmes, and Bobby Czyz to name a few. He also worked with Lou Costello on several charity events. Over the years he helped organize many such events recognizing his responsibility to those in need.
During his career in boxing Joe gave many interviews. Here, in his own words, he speaks of how gentle boxers can be:
Reporter: It seems that whenever you meet a boxer he's often times a gentle person, which, of course, contrasts with his profession. How is it he can be so violent in the ring, yet a quiet, reserved man outside the ring?
Joe : "I guess he's like anyone else. A boxer goes to work. He steps in the ring and does what he has to do to complete his job. After that, he's himself. But, whenever you go to an affair with these men, it's always delightful. No arguments. Nothing. They've left all their fighting, their anger, in the ring long ago."
Sadly, Joe passed away on Feb. 5, 1997 at the age of 81. He and Carmela were married 58 years, and have two sons Peter and Joseph, and two Grandsons, Michael and Steven. They are all proud of what he was able to achieve and contribute to the sport of boxing in New Jersey during his boxing career.