Inducted on October 26, 1980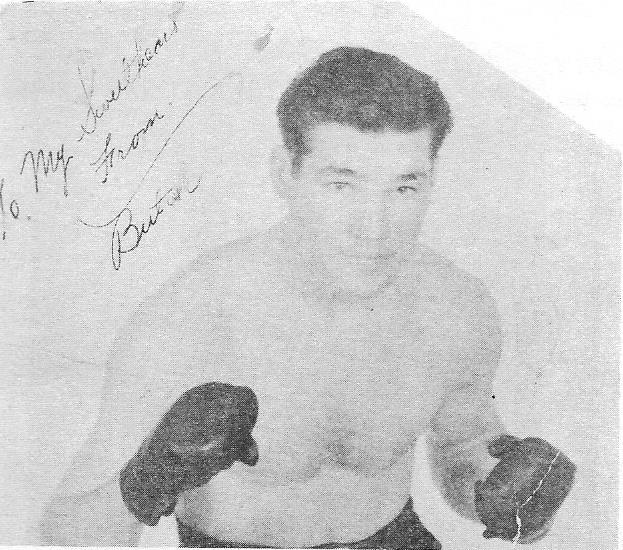 Born March 16, 1912, at Plainfield, New Jersey. Attended Plainfield Schools. Started boxing at 18-years-of-age. Never boxed as an amateur. Had a career of 128 fights. Fought all over the United States of America.
Butch still resides in North Plainfield, New Jersey. He is now retired and he and his wife Mabel now enjoy the Jersey Shore in the summer and the Florida Shore in the winter.
A member of RING 103 in South River, New Jersey, Joe is their Honoree this year.
Among some of his outstanding fights included five World Champions …
GUS LESNEVICH, Former Champion BABE RISKO, Former Champion FRED APOSTOLI, Former Champion BILLY SOOSE, Former Champion KEN OVERLIN, Former Champion ANTON CHRISTOFORDIS
STEVE BELLOISE
ERNIE VIGHTT
WALTER WOODS
JOE BASORA
HOLMAN WILLIAMS
JACKIE ALDARE
STANLEY HASRATO
JOE CARTER
BILLY FOX
HERBIE KATZ
COCOA KID
HAYWOOD STORY
JOE CAZAR
Sparring Partner for: Paulino Uscudon when he fought Joe Louis.
Sparring Partner for: Freddie Steel
Sparring Partner for: Solly Krieger.
Eddie Steel, Southern Champ.
Gene Pinter, Pennsylvania Champ.
Mutt Womer, All-American Collegiate Champion.
Boxing Record – Butch Lynch