Inducted on November 10, 1989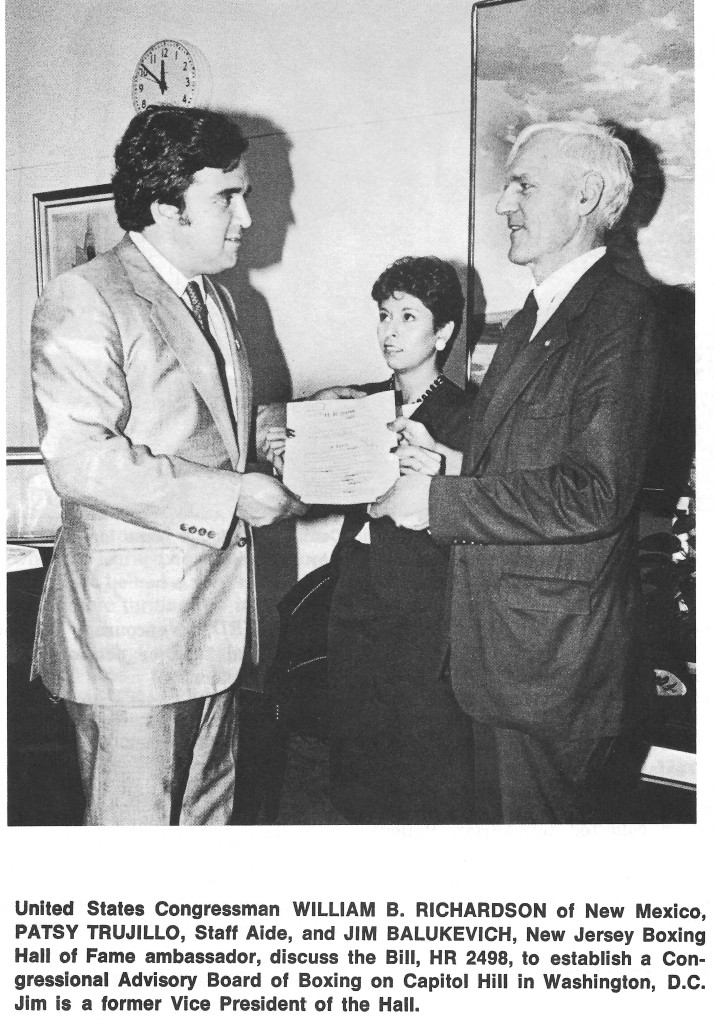 JIM BALUKEVICH INDUCTED INTO THE NEW JERSEY BOXING HALL OF FAME — HON. TOM LANTOS (Extension of Remarks – November 08, 1989)
[Page: E3739]
—
HON. TOM LANTOS
in the House of Representatives
WEDNESDAY, NOVEMBER 8, 1989
Mr. LANTOS. Mr. Speaker, Jim Balukevich will be inducted into the New Jersey Boxing Hall of Fame at special ceremonies to be held November 10 in Garfield, NJ. I congratulate Jim on this honor, and I know many of my colleagues join me in extending best wishes to him on this occasion.
Mr. Speaker, this honor is well deserved. Mr. Balukevich is a longtime member of the Washington, DC Boxing Commission and the founder of the D.C. Boxing Hall of Fame. It is most appropriate that 3 years ago, he was inducted into the Washington, DC Boxing Hall of Fame.
Jim has been honored on many occasions for his commitment to the sport of boxing. Charlie Ross in the Massachusetts Post-Gazette appropriately called Jim Balukevich the National Boxing Goodwill Ambassador, and noted that Jim `has, incontestably, earned such honorable recognition.'
Jim Balukevich's commitment to boxing is long standing and well known. In his youth, he was a Golden Gloves participant. In 1938, while he was serving in the U.S. Army in Hawaii, he joined the Schofield Barracks boxing team and won a bronze medal. More recently Jim won the Senior Olympic Middleweight Boxing Championship of America.
As a goodwill ambassador for boxing, Jim participates in a number of organizations. He is an active leader of the Veteran Boxers Association [VBA], and is their unofficial `Man in Washington,' where he uses his contacts with congressional leaders to publicize and further VBA support for veteran boxers. Jim is also an active member of the American Association for the Improvement of Boxing and the west coast's Cauliflower Alley Club. He is in demand as a `presenter' and speaker at boxing, wrestling, and other sports events.
Jim not only encourages boxing, he also remembers some of the great boxers and great matches of our era. He recalls the heavyweight champion Gene Tunney, who defeated Jack Dempsey for the title. Jim called Joe Louis the best boxing champ I ever met, and observed that `I doubt there will ever be gentlemen like Joe in boxing again.'
Mr. Speaker, I am delighted to call the attention of my colleagues to this latest honor, deservedly being bestowed on Jim Balukevich, and I urge my colleagues to join me in recognizing him for it.