Inducted on November 8, 2012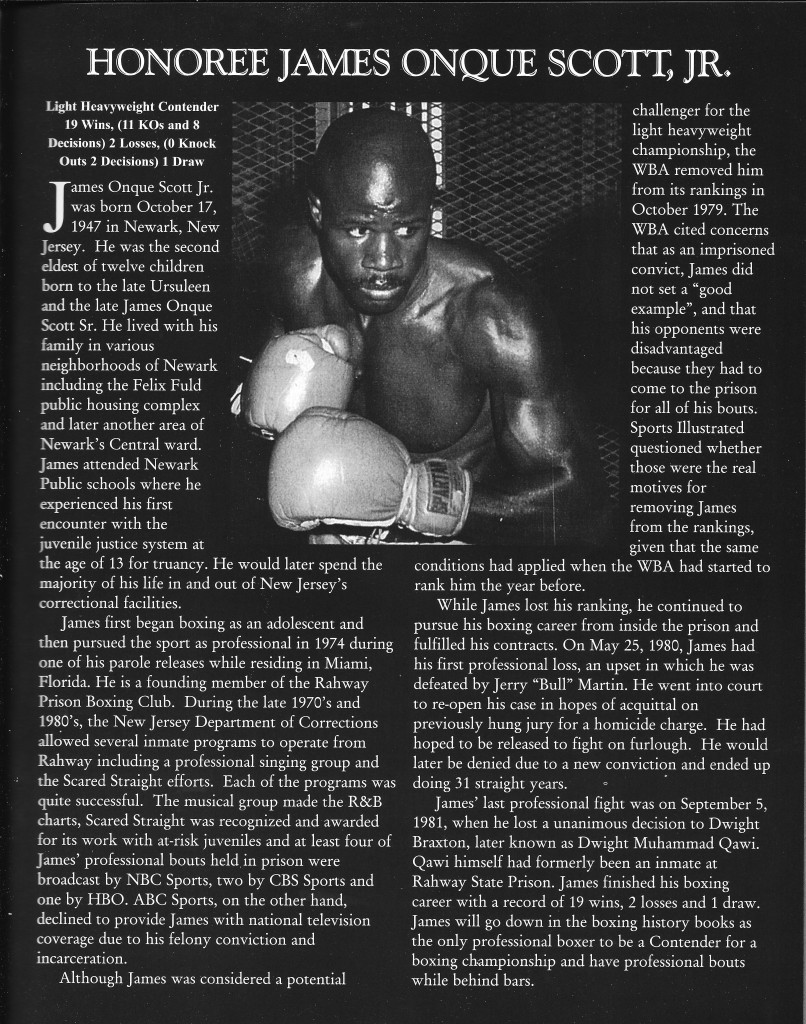 Name: James Scott
Alias: Great
Birth Name: James O. Scott
Born: 1947-10-17
Birthplace: Newark, New Jersey, USA
Hometown: Rahway, New Jersey, USA
Stance: Orthodox
Height: 6′ 1″   /   185cm
Boxing Record: click

Career Overview
James (Great) Scott was a light heavyweight prospect in the 1970s.
Scott reportedly became interesting in boxing after seeing Rubin Carter fight on television. Scott's early record is subject to debate. Official records list his professional start in Miami Beach against John L. Johnson in 1974. However, on July 29, 1968, Scott fought a 4-round exhibition with undefeated Light heavyweight contender Joe Burns(14-0, 7 knockouts)in New Orleans; leaving many to wonder if in fact, Scott was boxing as a pro in the late 1960s.
In 1968, Scott — who had been in and out of prison since age 12 — was imprisoned for armed robbery. While in Rahway State Prison in New Jersey, Scott wrote a letter to Murray Gaby, a former boxer who headed the Mendoza Group, which was in the process of discovering and developing a stable of potential champions.
Scott was paroled in 1973 and moved to Miami Beach, Florida where he "turned" pro for the Mendoza Group (group of Miami business men). In his first match in Miami Beach for promotor Chris Dundee, Scott climbed off the canvas in the opening seconds of the first round to score an upset victory over unbeaten heavyweight John L. Johnson. Scott weighed 178 lbs., while Johnson was 217 lbs.
In his 4th professional fight, Scott won an upset 10 round decision over 5th rated British Commonwealth Light heavyweight contender, Kirkland "Baby Boy" Rolle who had a 28-8-2 pro record. Scott went on to defeat light-heavyweight contenders Ray Anderson, Frankie Evans, and Jessie Burnett.
While in Miami Beach, Scott invited all of his ring opponents out to dinner after their fight; only one declined.
In May 1975, Scott murdered drug trafficker Everett Russ during an armed robbery. He was convicted of the armed robbery and sentenced to 30- to 40 years. In February 1981, he was convicted of the murder and in March 1981 he received a life sentence, to run concurrently with the conviction on the armed robbery.
He was released from prison in 2005. From 1966-2006, Scott was in prison a total of 36 years.
Scott's birth year is subject to debate. In a Fight Program for Scott's match with Kirkland "Baby Boy" Rolle in 1974, Scott was listed as 23 (making him born in 1951). A Miami Herald article reported that Scott was 28 (making him born in 1946). Boxrec lists his birth year as 1947, which is the most likely actual date based on reports from prison officials.