November 10, 1994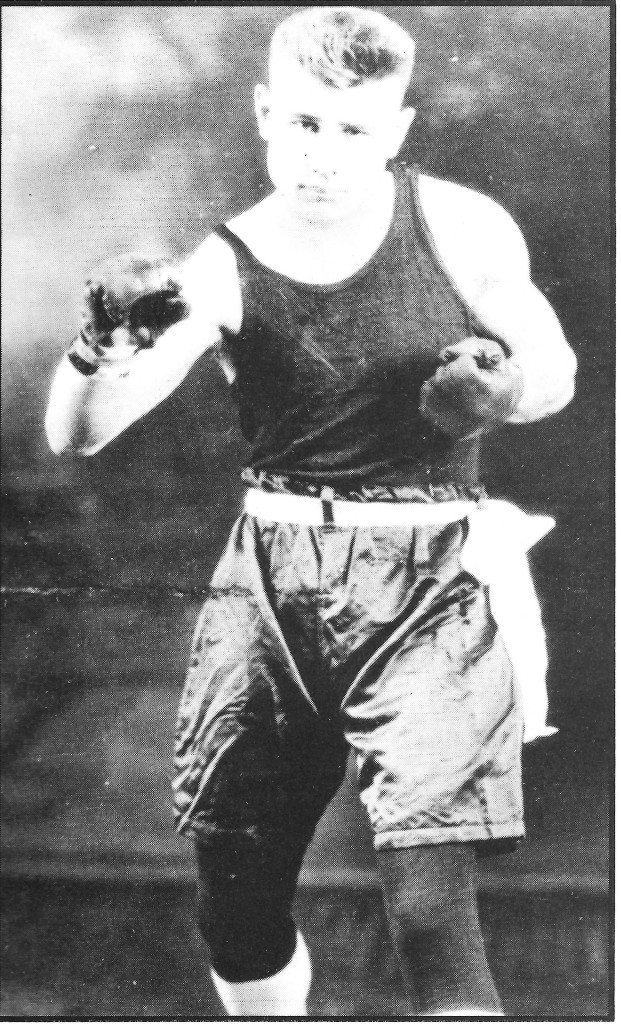 Born Jack Kloby, known in the fight game as Young Ketchel, Jack Tracy and finally Jack Kloby, was also dubbed the "Uncrowned Champ of the World" because he fought all weights. His fighting career spanned approximately 10 years, during which time he held the title of Bantam Weight Champ of N. Y. State, taking the crown away from Frank Jerome. Jack also won the lightweight crown from Ed Stone of Australia and held the Eastern Fleet Crown while in the Navy from 1918 to 1921 taking it away from Jose Javier.
During his ten year career in the fight ring he fought offically 160 bouts, (unoffically the total was closer to 300) winning over 50 by knockouts. His only trainer was K.O. Young Otto. His first manager was Manny Seaman, followed by Barney Lee.
Jack Kloby, also referred to, as the "Blond Tiger" was born in Jersey City, NJ on June 8, 1902, to the late Mr. and Mrs. Martin Klobiszewski. His parents arrived in Colorado from Poland where his father worked in the gold fields. At the age of two, Jack's family moved to St. Mark's Place in New York City, where he attended Stan's Parochial School. At the age of 14 the family finally settled down in downtown Jersey City. Jack then attended S1. Anthony's Polish Parochial School.
He began his boxing career at the age of 14 while in school. In 1915 he began boxing professionally, and continued to star in the ring until 1924 when an accident caused the end of his career.
In 1933, Jack married the former and late Agnes Hefernan of Hoboken. They became the parents of eight boys and one girl Mrs. Russel (Catherine) Root of Toms River. Six sons are still alive: John, Steve, Leo, Larry, Joe and Eddie.
Although Jack could not fight professionally, he still associated himself with the sport, and was sparing partner to such greats as Jack Dempsey as his speed up man at Long Branch. Speaking of Jack Dempsey, they became close friends and Jack will be the Toastmaster of the Testimonial to be held shortly.
Boxing came easy to Jack, for his first cousin was the Immortal Stanley Ketchel, the Middle Weight Champion of the World, who also held the Welter Weight and Light Weight Crowns and was the only boxer to knock down the Heavyweight Champion of the World Jack Johnson, and this with two broken wrists.
Ketchel's and Jack's Mothers were the Oblanski sisters. Jack has said that cousin Stanley had given him some good pointers as a fighter when they met at family gatherings. To list the long string of fighters that Jack fought would take up pages. Suffice it to say that in his three hundred fights, he took on some of the greatest in his weight and other classes. For our fight fans we list a few: Dundee, Frank Jerome, Charlie Beecher, Bennie Valger, Young Montreal, Johnny Buff, Lou Cardel, and the French Flash.
Officially fought in 160 Matches from 1916-1924 (Unofficially the total was closer to 300). His Official record was as follows:
KNOCKOUTS 52
Knocked out by . . . . . . . . . . . . . . . . . . . . . . . . . . . . 3
No Decisions 70
WON 24
Lost 5
Exhibitions 6
The son of Polish immigrants, he fought such notables in his time as Johnny Dundee, Benny Valger, Frankie Jerome and Banty Lewis to name a few! He was given the nickname, the "Blond Tiger." He was married on June 18, 1922 to the lovely "Irish Colleen" Agnes Heffernan. Together they had nine children and 24 grandchildren. His boxing career was cut short in 1924, when he was hit by a Lackawanna train engine receiving a broken collar bone and shoulder blade. His love for boxing never waned.
As you watch from the good Lord's ringside seats, we congratulate you on your earthly accomplishments. Congratulations from the gang, residing here and up there, for your induction into the NEW JERSEY BOXING HALL OF FAME!
Marcin Kolodziejczyk, Father – Katherina, Mother – Agnes Heffernan, Wife – John Walter Kloby, Son – Stanley, Son – Walter Thomas, Son – Joseph, Son – Leo, Son – Lawrence, Son – Catherine Root Daughter – Edward, Son – Eugene, Son
The Grandchildren: Johnny, Michael, Thomas, Judy, Philip, Susan, Gerald, Alex, Joseph, Tommy, Billy, Carolann, Catherine Mary, Kenneth, Toni, Wayne, Johnny, Karen, Kyle, Kevin, Larry, Brian, Roddy, and Colleen.