Inducted on November 5, 1978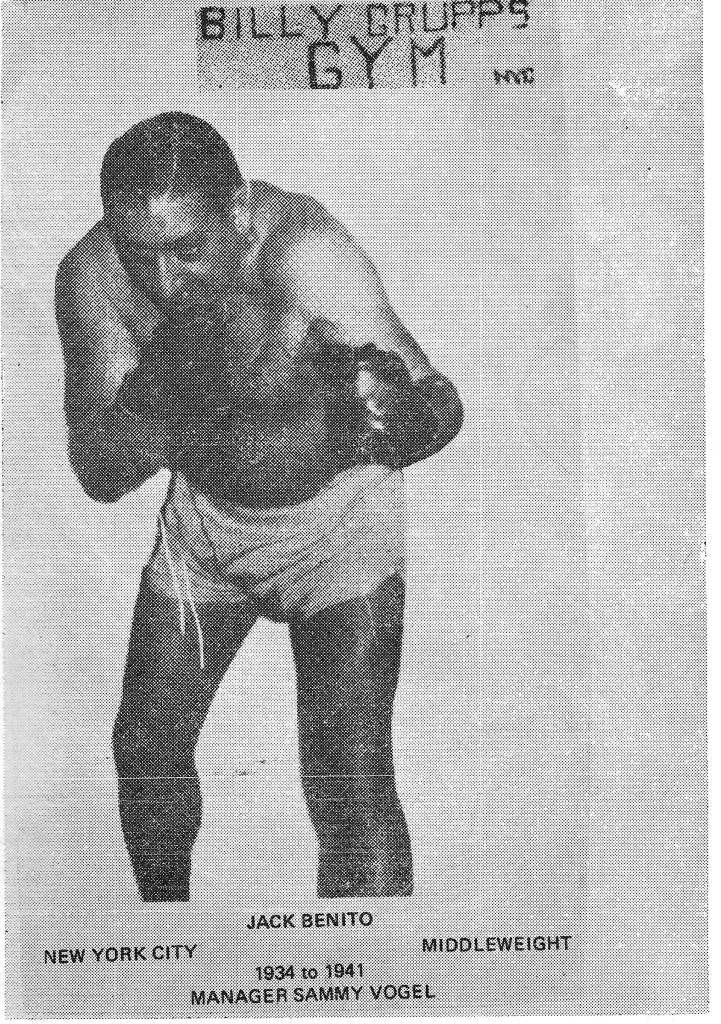 Born February 12, 1910, in Greenwich Village, New York City, lack Benito has had a long and illustrious career in boxing, winning 35 of his 42 professional bouts, scoring 18 knockouts. He boxed from 1929 to 1941, and in the 30s fought in the "bootleg clubs" in Glens Falls Halfway House and in other upstate New York clubs. He says participants never know who they were fighting – it could be a pro using an asumed name or a top amateur. Winners were usually presented with a watch which could later be sold for $20 to $50 in the dressing room. He says that sometimes a boxer would get $10 a round, thus earning $50 for a five-round bout.
Managed by former lightweight contender Sammy Vogel, Jack was trained by Andy DeCarla at Stillman's Gym and at Billy Grupp's Gym in New York City. A World War II Army veteran, he served with the MPs and as a boxing instructor.
He started boxing in the smokers, and in 1932, went to the Quarter Finals in the Golden Gloves at St. Nicholas Arena, sponsored by the New York Daily News. His opponents included Rudy Marshall, leading middleweight contender; Mickey Ashline and Bill Hayes, upstate New York middleweight champs, as well as Marlon Benton, Collegiate Middleweight champ, Eddie Malleck, Pennsylvania National Guard light-heavyweight champ, Kid Kavo, Army middleweight champ, Tommy Yurancy, Frankie Russo, Jackie Herman, Joe Corelli, Paulie Sykes, Kid Conlon, and Frankie Albano.
He sparred with Leo Lomski, Solly Kreiger, Tony Canzoneri, and Jack Renault, Candadian heavyweight champ.
During his successful career Jack boxed at Ft. Hamilton in Brooklyn, St. Nicholas Arena in New Yark City, and i~ Plattsburgh, New York, Burlington, Vt., and Montreal, Canada. He boxed in Golden Glove Amateur fights at Holy Name Club, Ascension Parish Club, Hudson Guild Club, House of the Good Shepherd, etc.
Now semi-retired and living in Newark for the past 26 years, Jack works as a part-time bartender, and serves as Vice President of International Veterans' Boxing Association, Ring 25, of which Willie LaMorte, former world flyweight champion, is President. In 1972 Jack was honored by Ring 25 and presented with a trophy by the late Lou Halper, former middleweight great.
Jack and his wife Ann, married 40 years have a married son, Jerry, who; is a motor vehicle inspector in Newark, and a married daughter, Barhara, also living in Newark. One of Jack's main interests now is fishing and playing ball with his grandchildren.
One of the true greats in boxing, Jack did plenty of charity benefits to raise money for needy causes in his day.