Inducted on October 17, 1976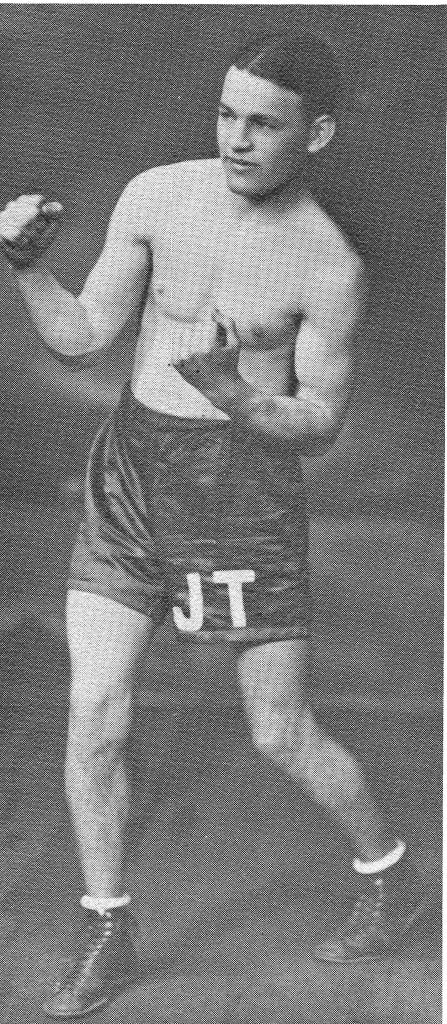 "IRISH JOHNNY" TOYE
John was born on February 17,1909, in Spuyten Duyvil (Yonkers), New York.
In 1923, at age 15, he was boxing as an amateur in Madison Square Garden. He turned "pro" in 1926 and from then to 1933 he engaged in 108 bouts, winning 105 and losing just 3.
He was known as "The Bayonne Celt" and also as "The Clouting Celt".
When asked who his best opponents were, Johnny answered, "Young Zazzarino and Steve Smith". Smith at that time had over 300 bouts. Others he boxed were Tommy Carlo, Young Petie Mack, Johnny Griffiths (several times), Joe Chapman, Artie Miller, Jack Cafone, Ace Buckley, "Irish Johnny" Curtin, Mickey O'Brien, Joey Costa (twice), Tommy Dell, Johnny Ciffereli, Joey Wolfe, Terry O'Brien, Mickey Genaro, Charlie Wells, Jimmy Kelly, Herman Singer, Tommy Jarrett, Mickey Esposito and Jerry White (twice).
He has been a member of the Hudson County Carpenters' Local, Founder of a Political Club and presently owns "Toye Lake" in Sussex County, where he resides.
He is married to the former Gertrude Magner and they are parents of 7 sons and 3 daughters, plus 7 grandchildren.
Boxing Record – Johnny Toye