Inducted on November 14, 2013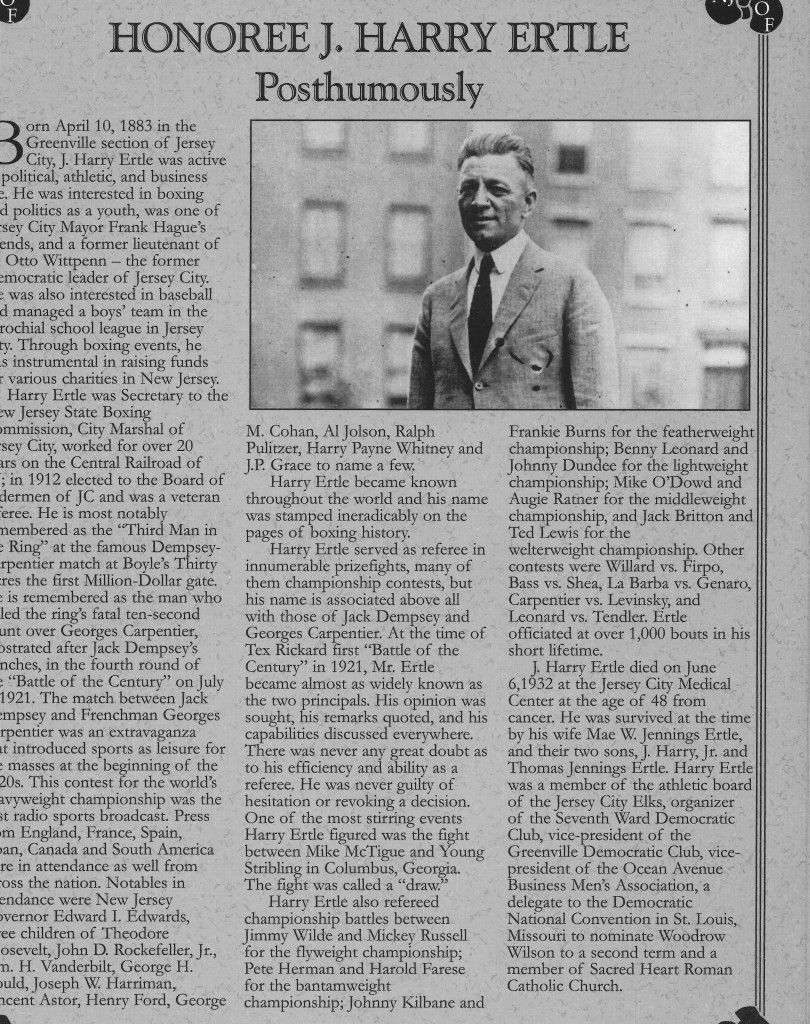 Name: J. Harry Ertle
Nationality: US American
Birthplace: Jersey City, New Jersey, USA
Died: 1932-06-06
Officiating Record: Harry Ertle

For more than 15 years J. Harry Ertle refereed over 1,000 bouts, including the Jack Dempsey–Georges Carpentier world title match at Boyle's Thirty Acres in 1921.
Born in Jersey City, New Jersey, Ertle went to work for the Central Railroad of New Jersey and served 12 years as a conductor on its passenger trains. He became interested in politics and boxing as a youth, and became one of Jersey City Mayor Frank Hague's closest friends, and a former lieutenant of H. Otto Wittpenn–the former Democratic leader of Jersey City. In 1921 Mayor Hague appointed him City Marshal, for which he was reappointed three times.
He was also interested in baseball, and at the time he was selected for the Carpentier-Dempsey bout (over the bitter objections of Dempsey's manager, Jack Kearns), Ertle was manager of a boys team in the Jersey City parochial school league. He was instrumental in raising funds for various charities in New Jersey through boxing carnivals–one of which, held in 1925, featured Harry Wills and Luis Angel Firpo in the main event.
He died June 6, 1932 in the Jersey City Medical Centre at age 48 from complications of stomach ulcer surgery he had undergone the previous October. At the time of his death, Ertle was secretary of the New Jersey State Boxing Commission and still City Marshal of Jersey City. His surviving family included his widow, Mrs. W. Ertle; two sons, J, Harry, Jr., and Thomas; his mother, Mrs. Anna E. Ertle; three brothers, Frank, Eugene and Walter Ertle; and a sister, Miss Edna Ertle. Funeral services were at Sacred Heart Church (Jackson & Bidwell Avenues); he was interred in the Holy Name Cemetery, Jersey City.
Sources: Ring Magazine: August 1932, p. 27; New York Times obituary, June 7, 1932.