Inducted on November 1, 1981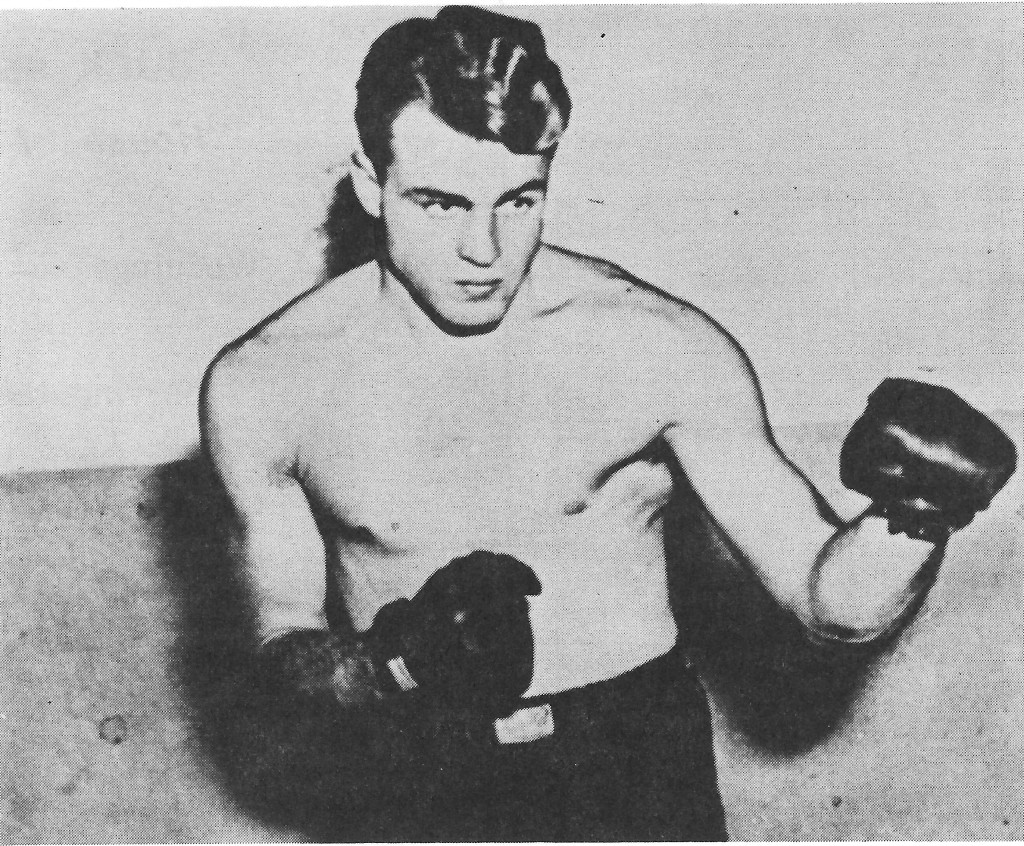 Rat-tat-tat, rat-tat-tat, is the sound heard at the Eastern Union County YM-YWHA in Union.
It's coming from the gymnasium where former Elizabeth Fire Director George J. Forrester works out four days a week. On October 26, he will observe his 71st birthday.
He does calisthenics, jogs 10 laps around the gym,
punches the light and heavy bags 300 times each and then swims in the Olympic-size pool.
Forrester is 5 feet, 11 dnches tall and weighs 178 pounds, just a few pounds over his weight when he was a light heavyweight boxer.
"Physical activity has always been part of my life," he says. "I have never stopped. As people grow older, it is important that they maintain their litheness. If they do not keep active, they age more quickly."
In his youth, Forrester was noted as an amateur swimmer, boxer and wrestler and won widespread popularity.
His brothers were also well-known athletes, Dan
was national YMCA middleweight wrestling champion, and Mark won state championship wrestling titles and was an outstanding diver. Malcolm was an outstanding wrestler and held the junior YMCA record in breast stroke swimming competition.
George Forrester later became a prominent professional boxer in the middleweight and light-heavyweight classes. His reputation as a ferocious fighter gained him the nickname, "The Blonde Tiger." He rose in the ranks to fight for the National Boxing Association light heavyweight title.
Forrester joined the Elizabeth Fire Department on April 16, 1937.
When the written examination for fire captain was given statewide, he ranked No. 1 in the state with five points over his nearest competitor, a remarkable achievement. When examinations for battalion chief and deputy chief were given, he again scored first. He left the fire department as deputy chief in 1962 and went into his own business selLing fire equipment.
He ran for mayor of :Elizabeth on the Republican ticket against Seven Bercik in 1960. There was a large turnout at the polls due in part to Forrester's popularity. Although he did not win the election in a City which was almost 90 per cent Democratic. he received 19,800 votes, the most votes any Republican had ever attained in Elizabeth. In 1961, he won election as Union County freeholder, serving until 1965. He was a candidate for the councilman-at-Iarge in 1961 and lost by just 58 votes. In 1967 he was appointed fire director by Mayor Tom G. Dunn. In February, 1979, he was asked to resign his post by Dunn although he would reach the mandatory retirement age of 10 in October of that year. Forrester refused, and would not give up without a fight. He hired a lawyer and fought it in court.
However the city's administrative code states that the mayor may remove any department head after notice and an opportunity for the appointee to be heard. Forrester, who is planning to move from Elizabeth shortly, lost that battle and had to give up the position just months before reaching ·the mandatory retirement age.
Recalling his years in the fire department, he declares, "I look back with satisfaction to some of my accomplishments and my many friends among the firemen. I enjoyed working with these fine men. However, I never will feel happy about the operations from city hall and have had to fight bitterness within me because of it." When asked what advice he would give people who have setbacks, he says: "Go forward. Have the courage to overcome. Fight your way back."
Boxing Record – George Forrester