Honored in 1994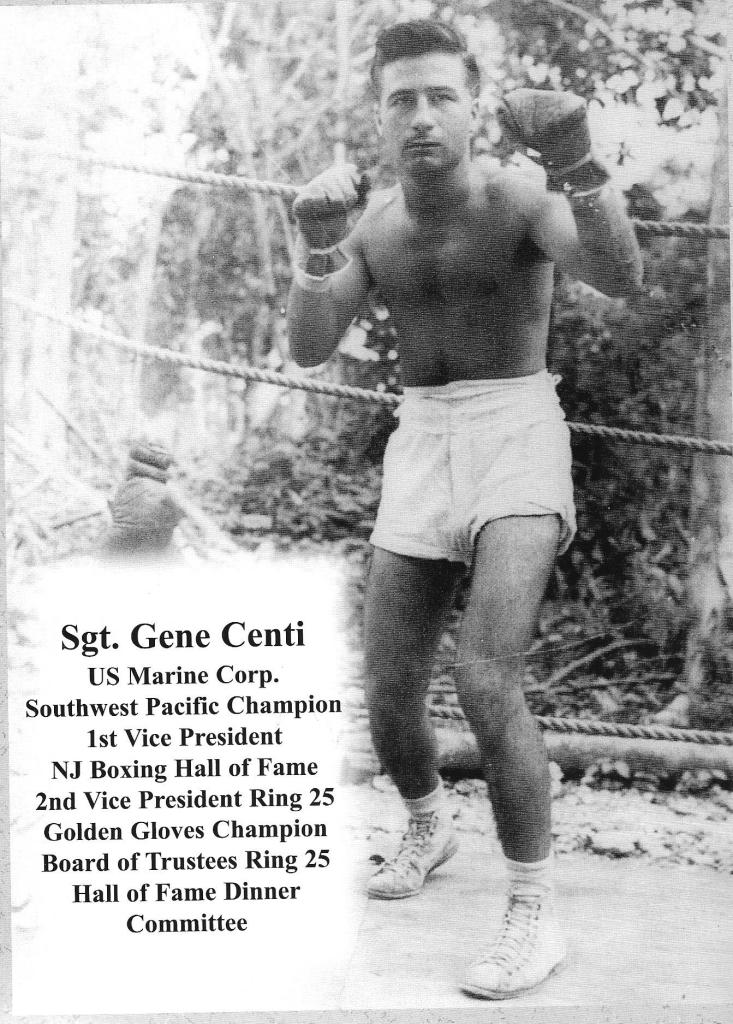 Time particularly for this induction following twenty-three years of dedication, has finaliy revealed (and justifiably so) the consideration and respect the screening committee of the New Jersey Boxing Hall of Fame, has had for Sgt. Gene J. Centi, U.S. Marine Corps.
Always a champion–not only in the Marine Corps responsibilities but also his plaudits in the Boxing profession, and his many fields of daily communication and environment. Though two and a third decades appear too distant during his passage of time, Henry Hascup, President of the New Jersey Boxing Hall of Fame, researched Gene's victory in the Tournament of Champions 118lb title bout; and also his victory in the Golden Gloves held at the Newark Armory in February 1947 … "These two titles and those earned during his career in the Marine Corps plus his contribution to Boxing, should be recognized following his nomination for induction. Though his boxing career was interrupted by war his boxing prowess continued to serve four Hall of Fame Presidents … For these contributions his name will be integrated amongst those Hall of Famers of yester-year, Cavaliere, Galento, Larkin Walker and his brothers Mario and Lou," commented Henry.
Gene's capabilities on the athletic field also were outstanding. Only 114Ibs., playing for the Kearny High School Football team against the oppositions 185lb line end-to-end, he was selected All-County guard over heavier and more experienced candidates. "This was one of my happiest moments," admits Gene. Whether boxing, football or baseball he volunteered his best. Though a reversal or two may have been in evidence the opposition was always aware of competing with a very formidable foe … In victory he was jubilant; in reversal, he acknowledged without protest.
Gene severed with the u.s. Marine Corps from September 1942 to September 1945. His theater of operation was the Philipine Islands and the S. West Pacific. From deployment beneath the torrid sun to searching out the storming adversary and his uncanny accurate weaponry, Marine Gene and his platoon liberated family after family from the criminal and dastardly atrocities of the enemy. During the liberation he and his men exhibited ingenious and courageous military ability; recovering, protecting, then evacuating the Philipinos to freedom.
(Indicative that an ardent boxing enthusiast, explores then exhibits his expertise to assistance, then recognition, and finally is, as in evidenced this evening, remunerated by Induction to the New Jersey Boxing Hall of Fame)
Gene is married to the lovely Doreen Hewitt. They are blessed by three children, Gene Jr., Doreen Jr. and Glenn. They too, are proud of their son-in-law Patrick, and daughter-in-law, Patricia. Yes, they have spoiled their eight grandchildren, Jeffrey, Barbara, Christine, Pat Jr., Allison, Shannon, Daniela and Christopher.
Gene is proprietor of his business, home rug cleaning and carpet sales installation.
CENTI CLEANERS AND DYERS 757 CHESTNUT STREET KEARNY, NEW JERSEY 07032
Board Chairman N.J. Boxing Hall of Fame