Inducted on November 13, 2003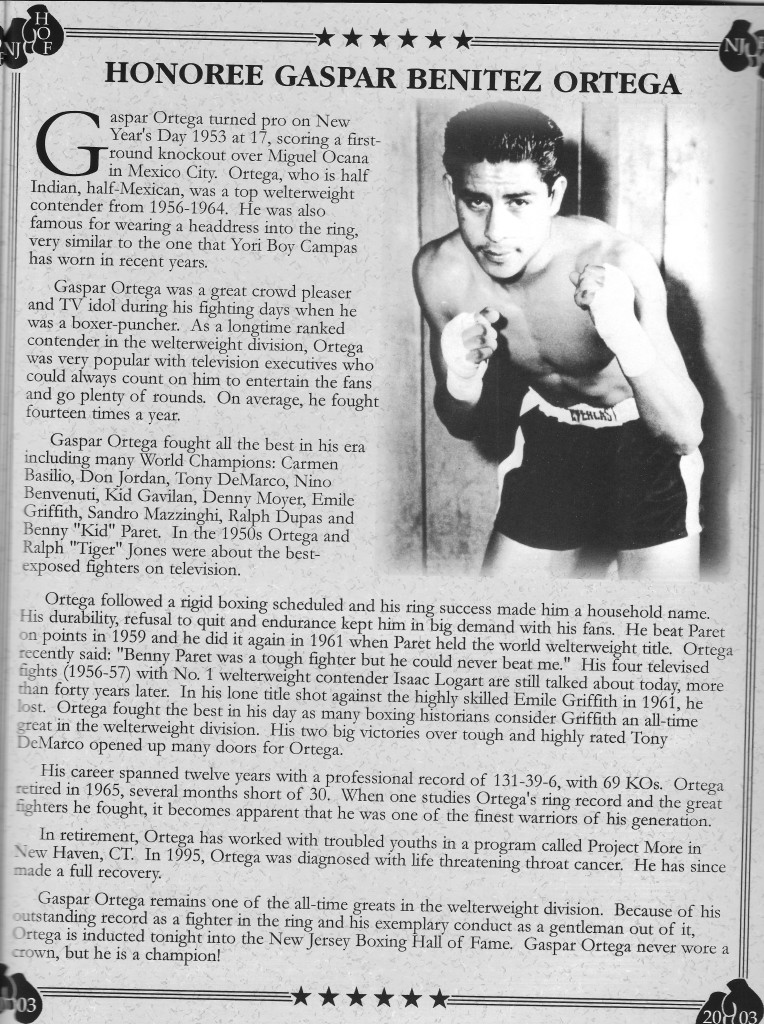 Gaspar Ortega turned pro on New Year's Day 1953 at 17, scoring a first-round knockout over Miguel Ocana in Mexico City. Ortega, who is half Indian, half-Mexican, was a top welterweight contender from 1956-1964. He was also famous for wearing a headdress into the ring, very similar to the one that Yori Boy Campas has worn in recent years.
Gaspar Ortega was a great crowd pleaser and TV idol during his fighting days when he was a boxer-puncher. As a longtime ranked contender in the welterweight division, Ortega was very popular with television executives who could always count on him to entertain the fans and go plenty of rounds. On average, he fought fourteen times a year.
Gaspar Ortega fought all the best in his era including many World Champions: Carmen Basilio, Don Jordan, Tony DeMarco, Nino Benvenuti, Kid Gavilan, Denny Moyer, Emile Griffith, Sandro Mazzinghi, Ralph Dupas and Benny "Kid" Paret. In the 1950s Ortega and Ralph "Tiger" Jones were about the best-exposed fighters on television.
Ortega followed a rigid boxing scheduled and his ring success made him a household name. His durability, refusal to quit and endurance kept him in big demand with his fans. He beat Paret on points in 1959 and he did it again in 1961 when Paret held the world welterweight title. Ortega recently said: "Benny Paret was a tough fighter but he could never beat me." His four televised fights (1956-57) with No. 1 welterweight contender Isaac Logart are still talked about today, more than forty years later. In his lone title shot against the highly skilled Emile Griffith in 1961, he lost. Ortega fought the best in his day as many boxing historians consider Griffith an all-time great in the welterweight division. His two big victories over tough and highly rated Tony DeMarco opened up many doors for Ortega.
His career spanned twelve years with a professional record of 131-39-6, with 69 KOs. Ortega retired in 1965, several months short of 30. When one studies Ortega's ring record and the great fighters he fought, it becomes apparent that he was one of the finest warriors of his generation.
In retirement, Ortega has worked with troubled youths in a program called Project More in New Haven, CT. In 1995, Ortega was diagnosed with life threatening throat cancer. He has since made a full recovery.
Gaspar Ortega remains one of the all-time greats in the welterweight division. Because of his outstanding record as a fighter in the ring and his exemplary conduct as a gentleman out of it, Ortega is inducted tonight into the New Jersey Boxing Hall of Fame. Gaspar Ortega never wore a crown, but he is a champion!
Trainer: Happy Rodriquez
Manager: Nick Corby
Boxing Record: click