Inducted on November 13, 2008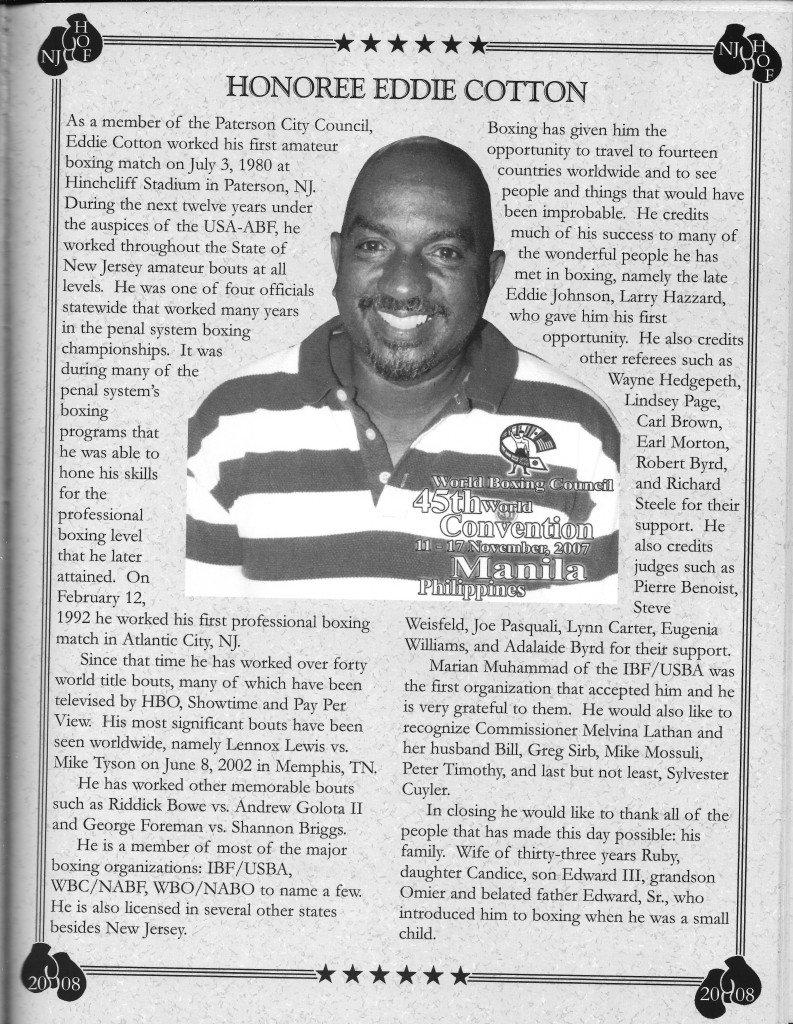 Judging Record: click
Refereeing Record: click
Supervising Record: click
Eddie Cotton is an American boxing referee out of New Jersey. He has worked numerous world title bouts and has proven that he will deduct points or disqualify fighters for repeated fouls. Although he primarily works bouts in the Northeastern United States, he has also refereed in Germany, Romania, Mexico, Poland, Kazakhstan, South Africa, Russia, and the United Kingdom. He is to be distinguished from the well-known boxer of the same name.
Elected as a board member of the IBF at the International Boxing Federation's 2014 convention.
Notable Bouts
2013
2012
2010
2009
2008
2007
2006
2002
Lennox Lewis vs. Mike Tyson for the WBC, IBF, IBO, and The Ring Magazine Heavyweight Titles. – At the time, was the highest-grossing event in pay-per-view history and aired on both HBO and Showtime. Was named 2002 Knockout of the Year by The Ring Magazine.
Eric Lucas vs. Vinny Pazienza for the WBC Super Middleweight Title – It was the last title fight of Pazienza's career.
1999
1998
1997
George Foreman vs. Lou Savarese for the WBU Heavyweight Title – Savarese, who was deducted a point in the eleventh round lost to Foreman via split decision. It would be the last win of Foreman's career.
1996
1995