Inducted on October 29, 1982
EDWARD A. BRENNAN, SPORTSWRITER: BEAU BRUMMEL OF BOXING WRITERS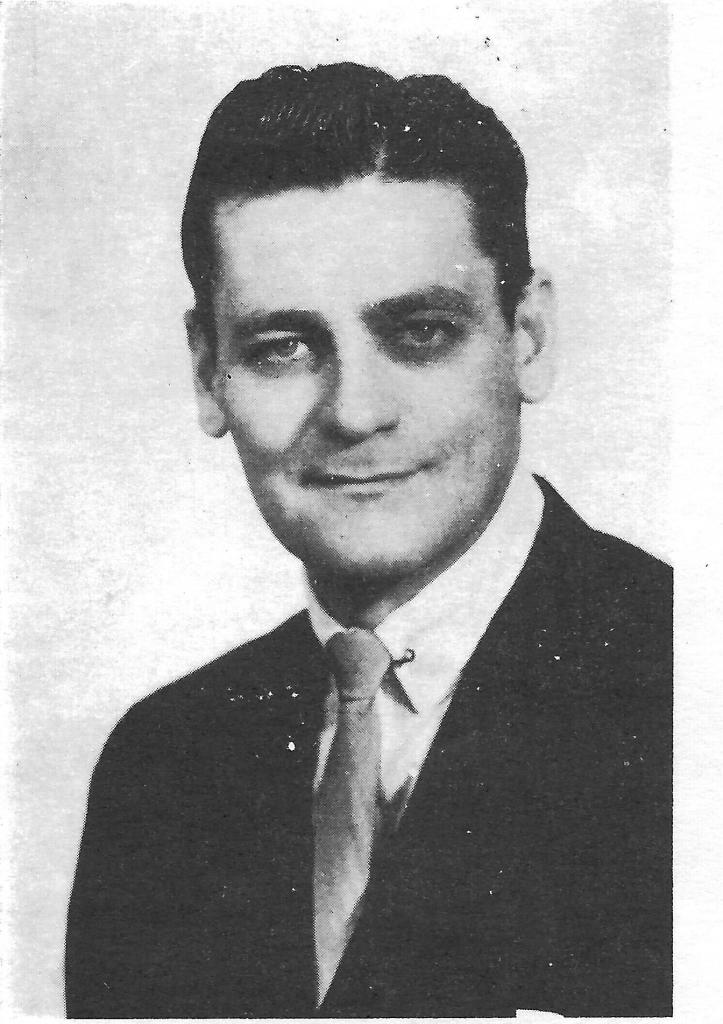 Ed Brennan, a bright and dapper, fiercely Irish, likeable sportswriter; always immaculately groomed, as though heading for a big social affair, and who always had a natural friendly smile; was dubbed Beau Brummel, by his friends at Bickfords, a favorite fight-crowd meeting place in Jersey City.
Ed was born on May 22, 1917, in West Orange, N.J. Subsequently, the Brennan family moved to East Orange, where Ed lived most of his life and attended Our Lady Help of Christian's School, as a little lad.
-Later, he attended the public schools and was very active in sports at East Orange High School. All intellectual, who always had a flair for writing, he was ever eager to acquire more knowledge; so, he attended classes at Seton Hall and Marshall Colleges to further his writing skills.
Following his school days, Ed, whose true love in sports, had always been boxing, became a regular sight at the old Irish Jimmy Brady's Gym, on Market street, in Newark, where he operated as a manager and trainer of fighters.
He handled such fighters as Jimmy Forman, of Rocky Mount, North Carolina; Billy Reid of Newark; Sammy Humphreys, of Washington, D.C.; and George Pacio, a very close and long-time friend, who is presently a captain with the East Orange Police Department; and, Ed, turned them all into fine, and skilled ring-craftsmen.
Ed, who at one time did a little boxing himself, began his career as a writer by taking a job as Sports Editor with several local papers, namely: the East Orange Record; Orange Transcript; and the West Orange Chronicle.
In 1945, his acquired expertise in the field of writing, and his profound knowledge of the sport he loved best, earned him a job as Boxing Editor, with the Jersey Journal in Jersey City, where he worked for fifteen years, up to 1960.
In the interim years, he established himself as perhaps one of the most brilliant and prolific boxing writers on the New Jersey scene; and, without question, one of the most likeable. Residents of Hudson County took a liking to him from the start and adopted him as one of their own, by considering him an "honorary resident."
In 30 years of devotion to sports in general, especially boxing, he was cited numerous times for his writing craftsmanship. Several times he was awarded first prize by the Hudson County Press Club. Twice he received first prize awarded by the New Jersey Sportswriters Association for the best sports story of the year .. And of course he was awarded the placque for his 15 years of outstanding work with the Jersey Journal for his writing.
Ed assisted in the organizing of VBA Ring 14, of Hudson County, and he was a member of the New Jersey Sports Writers Association; New Jersey and New York Boxing Writers Association; Hudson County Press Club; former Secretary of the Hudson County Chapter, American Newspaper Guild; a member of the Board of Governors of the New Jersey Boxing Writers Association; and an honorary member of VBA Ring 14.
After 15 years with the Jersey Journal, Eddie Brennan went to the sports desk at the New York Journal-American … where once again he exhibited his superb writing craftsmanship. While with the New York Journal-American he covered the Benny 'Kid' Paret versus Emille Griffith fight and wrote a story about it in the Monday, March 26, 1962, issue of the paper, entitled:
"Slaughter on Eighth Avenue," by Ed Brennan, and it was a briUiant piece of newspaper writing.
Subsequently, Ed Brennan took a job with Nat Fleischer at Ring Magazine, as Assistant Managing Editor, and once again exhibited his boxing writing expertise. His long-time friend, Captain George Pacio, of the East Orange Police Department, stated recently … "Brennan was a man of great compassion for his fellowman, especially so, for downand-out boxers. A very handsome and distinguished man, he was a virtual boxing encyclopaedia, and I put him on the same level with Barney Nagler, of Ring Magazine."
Ed's family were all boxing buffs, and mainly on account of him. In the family keepsakes, is a picture of Ed's little boy, Brian Brennan, aged four, working out with Hurricane Jackson, at Jackson's training camp in Columbia, N.J. Two of Ed Brennan's other nephews, Tommy Dowd, and Dick Bergen, were also at the camp at the time. When Ed covered the Zale vs. Graziano fight out in Chicago his little nephew, Tom Dowd, accompanied him. (Ed was with the Jersey Journal at the time.)
Subsequently, Ed Brennan became ill . . . stricken with a lung ailment, and he succumbed to it on November 10, 1965. He rests at the Gate of Heaven Cemetery in East Hanover, N.J. His life … though brief, yet was full, because of his love for his family, and his love for boxing, and the people in that world.
In the interim years of his comparatively short life, he established himself as a great sportswriter, particularly in that world of boxing. Rest in peace Ed Brennan-you richly deserve these honors tonight.
His long-time friend, Captain Pacio, paid him the Ultimate compliment when he said: " … in my opinion, he was the best sportswriter who ever lived."
E'd Brennan was unanimously nominated for induction into the "Hall" by the Veteran Boxer's Social Club, of Belleville, N,J. formerly headed by founder Ernie Ratner and presently by President Ray Spencer.
Ed Brennan left behind his wonderful wife, Frances, three beautiful children, Tyrone, Brian and Tara; three lovely sisters, Kathleen, Eileen and Vera. The Wallace brothers' nephew, Robert Lakeland, is married to the late Ed Brennan's niece, Kathy … daughter of his sister Kathleen.
All of Ed Brennan's family, relatives and friends are overwhelmed with joy over his induction tonight.
Research, compiled and written by Walter Wallace, Publicity Staff, New Jersey Boxing Hall of Fame; with an assist from Ed Brennan's Family.