November 15, 1991
Dom was a Lightweight out of Jersey City from 1943 to 1948. He fought and beat some of the best in his division including Carmine Fatta, Al Guido, Joe Peralta, Ruby Garcia and Jackie Leamus just to name a few.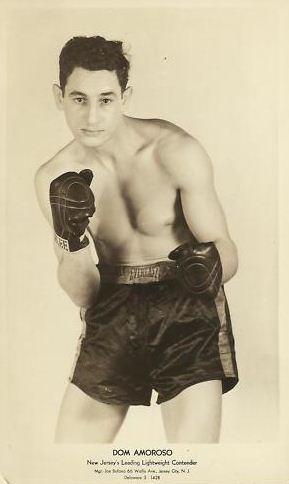 Amoroso proved more dangerous the second time in many bouts. He prides himself on averaging a loss to Marty Pignatore. He also fought a draw with Pat Scanlon, the first time and returned to Scanlon's Fort Hamilton, New York "backyard" to score a second round knockout. Amoroso is said to have had 82 professional bouts in a career curtailed at the age of 28 on advice of eye doctors by the many cuts he suffered around his eyes.
Former World Champion and currently one of the top boxing trainers in the World, Buddy McGirt, once stated that he learn all he knew about boxing from Dom Amoroso.
Boxing Record: Dom Amoroso