Inducted on November 13, 1997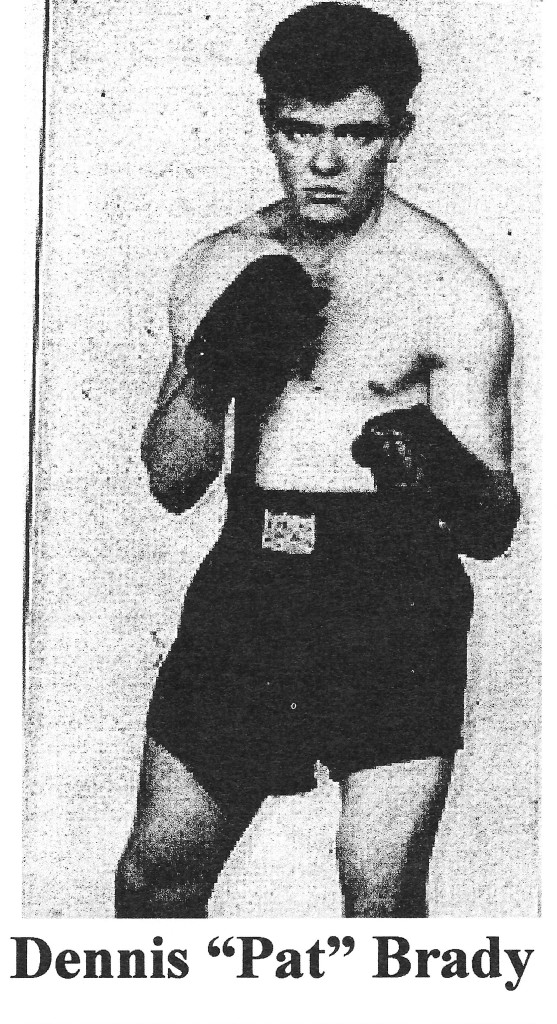 Dennis "Pat" Brady started his professional boxing career on June 20th of 1944 winning by a knockout in 5 rounds over Eddie Reardon. "Pat" was undefeated in his first 25 bouts scoring 21 knockouts. Going by the RING RECORD BOOK he had a total of 109 bouts before retiring in 1956. He fought and beat such standouts as Walter Lewis, Vince Dell 'Orto, Freddie Russo, Lou Alter, Johnny DiGilio, Teddy Davis, Johnny Busso, Terry Young, Solly Cantor, Tommy Tibbs and Spider Armstrong. He also fought and held his own against former world title holders Sal Bartolo, Sandy Saddler, Paddy DeMarco, Ralph Dupas; Ludwig Lightburn, Orlando Zulu eta and Rocky Randell. His terrific punching power and iron chin made him a crowd favorite throughout his career.
Dennis Pat Brady (born January 18, 1928) was a lightweight professional boxer from Connecticut.
Personal life
Brady, a resident of Bronx, New York, was born in New York, New York.
Professional career
Brady made his professional debut against Eddie Reardon on June 20, 1944. His first fight ended with a 5th round knockout win. From there it was off to the races, as Brady won his first 16 fights before suffering a draw against Nick Stato. Brady avenged that draw against Stato in his very next fight, and by January 1946 was sporting a dazzling 24-0-1 record. It was on the 29th of that month that Brady lost for the first time, an 8 round points loss to Victor Flores. As his career unfolded Brady faced such competition as Spider Armstrong, Sal Bartolo, Miguel Acevedo, Jackie Weber, Redtop Davis, Sandy Saddler, Iggy Vaccari, and Paddy DeMarco. By the time of his retirement in March 1956, Brady had compiled a professional record of 79 wins (35 by knockout), 25 losses, and 6 draws.[1]
Boxing Record – Dennis Pat Brady